WINONA AVENUE KICKS OFF THE WINTER WITH NEW SINGLE "DECEMBER NIGHT"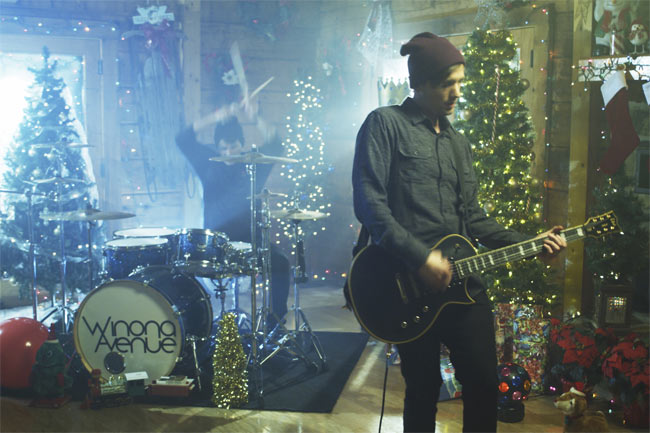 NEWS SOURCE: Winona Avenue
December 4, 2020
INDIANAPOLIS, IN, December 4, 2020 – Winona Avenue has released its new single "December Night." The single is available to stream and download across all major digital music services and can be listened to at http://smarturl.it/wadn. In addition to the single, Winona Avenue has released a Christmas-themed music video for December Night, which can be watched at http://smarturl.it/wadn/youtube.
ABOUT THE SONG
Winona Avenue's latest pop rock single "December Night" is about feeling lost and distant, until a life-changing experience occurs in which you find somebody that cares about you and what you are going through. You finally find a place in your life that you can call home. "We want the song to be a reminder that you are never alone and that there is always hope, no matter what you have been through and no matter what you will go through," says Daniel Deputy, vocalist for Winona Avenue. "We hope this song will encourage you to love others unconditionally, to always be available for others, and to reach out and support those who may be in need."
ABOUT THE MUSIC VIDEO
The music video for December Night takes place at a cabin during the month of December and features a Christmas-themed story about adoption, along a performance by Winona Avenue. The adoption story details the life of a young boy who is without a family and in search a place to call home, later to be adopted into a new family during the holiday season.
ABOUT WINONA AVENUE
Winona Avenue first introduced themselves at the beginning of 2019 as a mix of alternative rock and synth pop. From Indianapolis, Indiana, Winona Avenue is a two-piece band featuring brothers Daniel Deputy and David Deputy. Winona Avenue released their self-titled debut album in 2019.
For more information, visit http://winonaavenue.com
Website | Facebook | Instagram | Twitter | YouTube | Spotify | Apple
###