JOHN COOPER'S DEBUT BOOK SELLS OUT

NEW AUTHOR/ACCLAIMED ROCKER TO APPEAR ON FOX & FRIENDS DECEMBER 12 FOLLOWING MULTIPLE APPEARANCES ON FOX NEWS RADIO, TBN, NEWSMAX AND MORE WITH HUCKABEE, ERIC METAXAS, BRIAN KILMEADE, CBN'S STUDIO 5, TODD STARNES, AMERICAN FAMILY RADIO, WASHINGTON WATCH and MORE
Cooper Stuff Podcast to Feature Special Guest this Monday, Country Star John Rich

Cooper Partners with Compassion Live for 12 Days of Christmas Exclusive Livestream Series on December 11, Challenges Fans to Support Kids in Uganda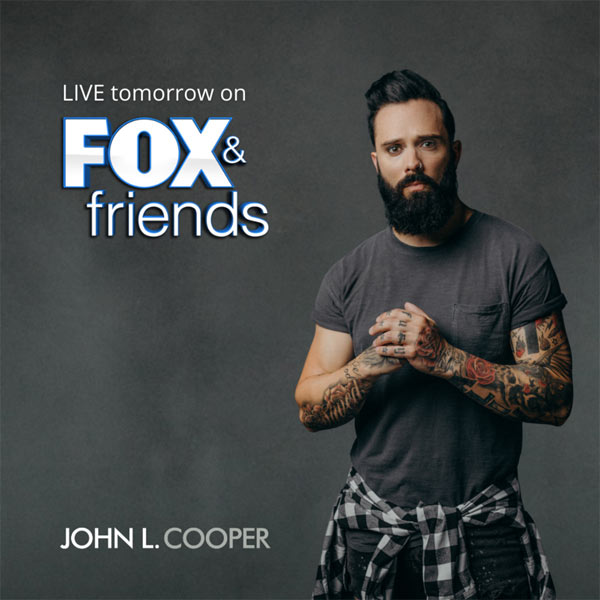 NEWS SOURCE: The Media Collective
December 11, 2020
NASHVILLE, TN.... 12/11/20 - GRAMMY-nominated, multi-platinum rocker
John Cooper's debut book, Awake & Alive to Truth (Finding Truth in the Chaos of a Relativistic World), officially sold out its first print run on release day and a second print run is shipping out today
. Rebelling against relativism in bold fashion, the self-published book can be ordered now by clicking
here
.
In follow-up to his late August appearance when riots broke out in his hometown of Kenosha, WI following the Jacob Blake shooting, Cooper will once again appear on FOX & Friends this Saturday, December 12th to discussing the book. The segment follows a media blitz of interviews including
The Brian Kilmeade Show
on FOX News Radio, Huckabee on
TBN
and Newsmax,
Eric Metaxas radio
and upcoming on TBN,
CBN News' Studio 5
,
The Todd Starnes Show
, Airing the Addisons on
American Family Radio
,
Washington Watch
and more. Cooper has also had some great conversations with top podcasts including
PreachersNSneakers
, Allie Beth Stuckey's
Relatable
, The Billy Graham Association's
GPS podcast
,
Provoke & Inspire
,
Graham Allen's Dear America
,
Edifi with Billy Hallowell
,
Life Today Live
, Keep The Faith's
Contagious Influencers of America Podcast
,
New Release Today
and more.
In the fall of 2019, Cooper launched his Cooper Stuff Podcast following the chain reaction to a popular post he titled "What In God's Name is Happening in Christianity?" dealing with faith leaders and 'influencers' falling away from their faith. Since then, Cooper has taken hot-button issues head-on, and gained an ever-growing audience. This Monday, Cooper will welcome a rare guest, country star John Rich. Rich and Cooper spoke candidly about the state of Christianity in America and more. Watch John Cooper's socials for details, or visit johnlcooper.com.
Capturing the best about the holiday season, Cooper will join Compassion International tonight, December 11 at 7pm CST for their 12 Days of Christmas Livestream Series where he will be sharing personal stories, taking us on a tour of his Marvel/DC life-size memorabilia collection, a tutorial on furniture building, and a live Q&A. In anticipation for the event Cooper challenged his fans to help Skillet sponsor a village of 100 Compassion kids in Uganda, and happily exceeded his goal with almost 150 child sponsorships.
About The Author:

John L. Cooper is the lead vocalist, bassist, and songwriter/producer for Skillet, one of the best-selling rock bands of at the 21st century. The two-time grammy award nominated 12X platinum band was inducted to Pandora's Billionaire club after garnering 2 Billion streams, took home a billboard music award and more. Their breakout single "Monster" remains "one of the most-streamed rock songs of all time" with 285 million global audio streams. John and his wife Korey have been touring together for the entirety of their 23 years of marriage and live in Kenosha, WI with their two children. John and Korey are passionate about sharing the truth of Christ to the world through music, the Cooper Stuff Podcast, two Skillet graphic novels entitled
Eden
and
Eden: The Aftermath
, and now through his debut book,
Awake & Alive to Truth.
Connect with John L. Cooper:
Facebook:
https://www.facebook.com/johnlcooperstuff
Instagram:
https://www.instagram.com/johnlcooper/
Twitter:
https://twitter.com/johnlcooper
Website:
www.johnlcooper.com
###
For more info on Skillet, visit the JFH Artists Database.