4x GRAMMY® WINNERS for KING & COUNTRY ANNOUNCE DELUXE VERSION OF AWARD-WINNING ALBUM BURN THE SHIPS
Including Collaborations Featuring Dolly Parton, Timbaland, and More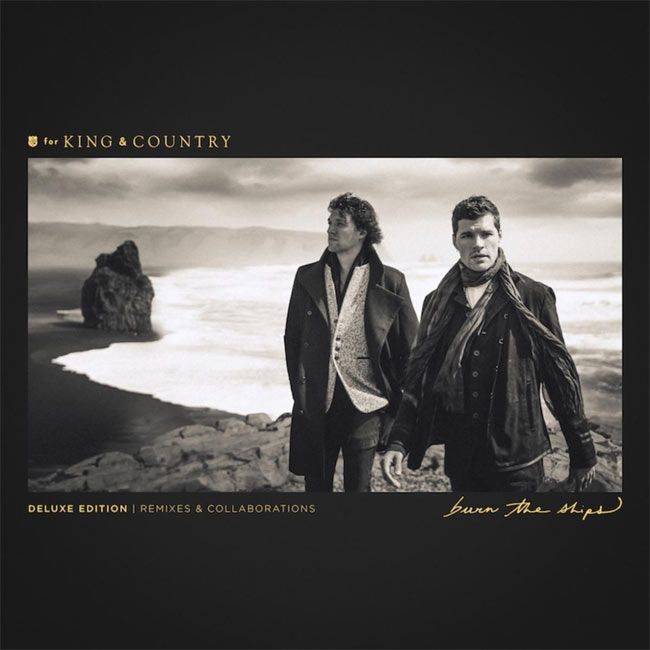 NEWS SOURCE: PFA Media
February 8, 2021
Nashville, TENN. – Four-time GRAMMY Award-winning duo and Curb | Word Entertainment recording artist for KING & COUNTRY today announced the forthcoming release of their latest album Burn The Ships (Deluxe Edition: Remixes & Collaborations), out everywhere on March 26, 2021. Starting with the GRAMMY winning collaboration with Dolly Parton in 2019 for the duo's platinum selling No. 1 track "
God Only Knows
," Joel and Luke Smallbone have spent the last two years bridging gaps and achieving "TOGETHERNESS" with their cross-genre collaborations. The 17-song project includes guest appearances by Dolly Parton, Timbaland, Tori Kelly, Kirk Franklin, and more. Pre-add or Pre-save the album at the link
here
.
"Thank you all for embarking on the Burn The Ships voyage over the last few years," Joel and Luke share in a statement. "Since the album's release, there have been wonderful collaborations bringing with them new and fresh musical moments that we felt deserved to be grafted into this record's story going forward. Our hope is this 'complete edition' brings with it a new emotion, depth, and spirit."
"This album no longer belongs to us or these other incredible voices who lent their talents to it, it belongs to you," Joel & Luke continue. "It's your stories, your heartfelt conversations, texts, FaceTimes and gifts that have inspired and reinspired us along the way - honestly, you have given this catalog of songs a whole new meaning and life, and not only given us the courage to keep stepping forward, but have also helped us find redemption in our own stories."
for KING & COUNTRY brought Burn The Ships to fans across the globe, selling out concerts across the United States, Canada, Australia, New Zealand, Philippines, and Singapore. Burn The Ships produced three No. 1 singles, including the multi-week hits "joy." and "God Only Knows," the latter of which has accumulated over 48 million YouTube views.
Recently, for KING & COUNTRY released their latest
single
and
lyric video
for "Amen (Reborn) [feat. Lecrae + The WRLDFMS Tony Williams]," a song about renaissance and renewal. for KING & COUNTRY first teamed up with Lecrae on his track "Messengers" in 2015, earning the inaugural GRAMMY Award for Best Contemporary Christian Music Performance/Song that year. Earlier this year, for KING & COUNTRY continued to expand their palette by joining with labelmates Hannah Ellis and Jackson Michelson to release "
TOGETHER (The Country Collaboration)
" – a brand new rendition of the duo's multi-week No. 1 hit.
Burn The Ships (Deluxe Edition: Remixes & Collaborations) tracklist:
1. Introit
2. joy.
3. God Only Knows
4. Amen
5. Burn The Ships
6. TOGETHER (feat. Kirk Franklin & Tori Kelly)
7. Fight On, Fighter
8. Need You More
9. Control
10. Never Give Up
11. Hold Her
12. Pioneers (feat. Moriah & Courtney)
13. Amen (Reborn) [feat. Lecrae & The WRLDFMS Tony Williams]
14. God Only Knows (feat. Dolly Parton)
15. Fight On, Fighter (Theatrical Remix)
16. joy. (Shadowlands Piano Remix)
17. God Only Knows (Timbaland Remix) [feat. Echosmith]
About for KING & COUNTRY
Four-time GRAMMY® award-winning pop duo for KING & COUNTRY, comprised of brothers Joel & Luke Smallbone, have garnered seven No. 1 hits, ten Top 10 hits, four GRAMMY Awards, seven GMA Dove Awards, one Billboard Music Award, and two American Music Award nominations. The duo has evolved into a worldwide phenomenon, crafting songs that celebrate all aspects of the human condition – faith, hope, loss, adversity, and the strength of unity in times of hardship. Their multi-week No. 1 hit "TOGETHER" (feat. Kirk Franklin and Tori Kelly) released earlier this year is evidence of that, while the 11-week No. 1 hit "God Only Knows" has become a beacon of hope for folks around the world. The duo's burn the ships | world tour SOLD-OUT over 40 shows across the world including USA, Australia, Germany, Netherlands, and New Zealand. In 2020, Joel and Luke partnered with The Salvation Army to embark on A Drummer Boy Drive-In: The Christmas Tour, raising money and toys for families in need during the holiday season. for KING & COUNTRY has accumulated over one billion career on-demand streams to date.
About Curb | Word Entertainment
In 2016, Curb Records acquired Word Entertainment, combining two of the music industry's most respected brands, and more than a century of collective experience. Today, Curb and Word are two of the world's leading independent music companies. Owned and operated by Mike Curb, the Curb | Word family includes the labels Curb, Word, Squint, Fervent, Sidewalk, MCC and IVAV, as well as Curb Publishing, Word Publishing, 25 Live, Curb Films, Word Films, Word Entertainment, and Curb Sports, representing top artists and entertainers in Country, Christian, Pop, Rock, and Hip-Hop. For more information, visit
www.curb.com
.
For more information on for KING & COUNTRY, go to:
###
For more info on for KING & COUNTRY, visit the JFH Artists Database.