ALTERNATIVE PHENOM ALEX HENRY FOSTER RELEASES "WINTER IS COMING IN"
Song Reveals Foster's Hopeful Wrestling With His Own Broken Childhood, Abuse, Depression, Thoughts Of Suicide

Rolling Stone Calls Lead Single "Simply Fascinating," Glide Magazine Says Foster "Helped Transcend Post-Rock Into A Realm Of Prog Possibilities"

Live Triple-Vinyl / Double-CD, Concert Film Standing Under Bright Lights Releases April 16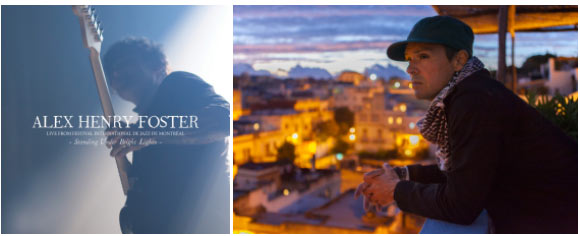 NEWS SOURCE: Hoganson Media
March 12, 2021
Alternative phenom Alex Henry Foster releases today (March. 12) the second video/single, "Winter Is Coming In," from his live triple-vinyl / double-CD and concert film Standing Under Bright Lights that is set to release April 16 and available to preorder now from Hopeful Tragedy Records. The project was recorded live in front of a sold out Club Soda (July 2019) while Foster headlined the Montreal International Jazz Festival.
Filled with an intense, sprechstimme-driven opening followed by hopeful-expressed lyrics sung amidst a wash of instrumentation that melt into a quiet, peaceful resonance, Foster wrote "Winter Is Coming In" after wrestling with his own broken childhood, abuses of which he has been a victim, functional depression and thoughts of taking his own life.
"The amount of time I must have spent musing, contemplating, struggling and raging for that song…I was obsessed with 'authenticity,' the measure of consciousness it requires to be honest, the nature of redemption, the meaning of being free, contrition, confession, the difference between hope and truth," Foster shares. He realized the key to the song "wasn't about understanding the concept of confession and faith…it was allowing those words to loudly carry a burden I was usually holding in the loneliest of all silences…"
I guess in the end, it's not that much about the truth
But how good we became at turning late night illusions into a bright morning view
It's never that easy I suppose, to kneel down with a smile
When we kept denying our souls from the magic shining through
(Lyrics from "Winter Is Coming In")
The song's companion video is featured this week by by Louder Than War, Rebel Noise and Glide Magazine, which calls the track "a vivacious take that is transcending with cryptic electricity that spirals and unravels serendipitously." The magazine also labels Foster a "creative force" that "has helped transcend post-rock into a realm of prog possibilities encompassing the world where Steven Wilson and Porcupine Tree meet Godspeed You! Black Emperor."
"Winter Is Coming In" follows Foster's release of lead single "The Son of Hannah," which was featured by American Songwriter and labeled "simply fascinating" by a Rolling Stone playlist. It also gathered video premiers by both BrooklynVegan and Prog Magazine. "The Son of Hannah" was further featured on multiple Spotify Playlists, including Loudwire's "Weekly Wire-This Week's Best Songs," "Best Of Rock" (along with Foo Fighters, Five Finger Death Punch, Adelitas Way, Breaking Benjamin and more), plus Post Rock, Dark Folk, Progressive, Noise Rock, Sad songs for hopeful nights and others.
Recently featured by Montreal Rocks and named as one of Sound Vapors' top 5 all-time favorite interviews," Foster is from Montreal and now resides in the highlands of Virginia. His full production, 11-piece band concert, Standing Under Bright Lights, was named one of the top five events not to be missed by Canada's national TV/Radio broadcaster CBC. Originally set to release October 8, 2020, which would have been his late father's birthday, Foster decided to utilize the extra time the worldwide pandemic would give him to produce the recording and concert film.
Along with "The Son of Hannah" and "Winter Is Coming In," Standing Under Bright Lights features every song from Foster's debut solo album, Windows in the Sky, which hit No. 1 multiple times on the Billboard Canadian Albums chart, staying in the Top 40 on the chart for a full year after its release. The songs from this celebrated album were re-invented for the live recording as the band performed along with a movie projection produced by Foster. Almost 2 hours and 30 minutes long, the concert at which Standing Under Bright Lights was recorded is now considered among the best concerts throughout the 40 years of the Montreal International Jazz Festival.
Following the release of the album, Foster and his band are preparing to tour internationally with 23 dates in Europe set to begin in May, pandemic allowing.
For all the latest Alex Henry Foster tour, music news and more, go to http://alexhenryfoster.com/, Facebook, YouTube, Instagram, Twitter, Spotify, Apple Music, Bandcamp and Hopeful Tragedy Records Store.
About Alex Henry Foster:
Rolling Stone, Paste, 2021 Montreal Gazette cover-featured Alex Henry Foster launched his debut solo album Windows in the Sky Nov. 9, 2018. The album's critical and mass success would once again propel Foster to the forefront of the Canadian music scene where he stood for about a decade as the lead singer for Juno Awards-nominated, post-rock band Your Favorite Enemies before going on hiatus the moment he left for Tangier to mourn his father's passing. This grieving period, which would last two years, became a journey to the end of his sorrowful desperation and is what would ultimately inspire and give life to the No. 1-selling Windows in the Sky. From Montreal and currently living in Virginia, Foster is using his music and lyrics to bring something greater than ourselves, and shares from personal experiences about depression, dreams, grief and hope. Along with the live album and concert film Standing Under Bright Lights releasing April 16, Foster is preparing to release his book If Only the Voices In My Head Couldn't Lie later this year.
###