CHH Recording Artist and Filmmaker, RHYAN LAMARR Releases Visuals to "DISTANCE" (REMIX) featuring JACK RED & DATIN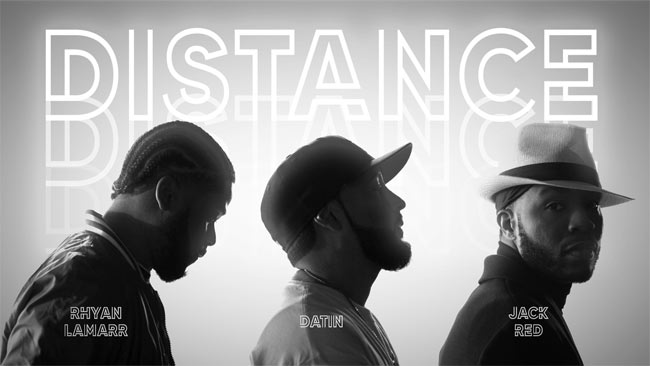 NEWS SOURCE: 2R's Entertainment & Media PR
March 16, 2021
The beautifully-shot black and white "DISTANCE" (REMIX) music video was directed by Rhyan LaMarr and it showcases a short-musical that profiles a groom-to-be in the week before his wedding. The conversation amongst friends takes an interesting twist when a question is raised and every one shares their perspectives on relationships. The group includes men who are divorced, single, married, and engaged. "DISTANCE" (REMIX) was written by Rhyan LaMarr, Datin, Kia Rayford and co-written and produced by Andrew Fridge and Jabari Manu Rayford and is available on all streaming and download platforms now. "Distance" (REMIX) is the lead single from Rhyan LaMarr's upcoming sophomore album.
Proverbs 18:22 says that "For He who finds a wife finds a good thing and obtains favor from the LORD." And for crooner Jack Red, multi-hyphenate artist Rhyan LaMarr and Datin who's arguably one of best lyricists in the CHH space, it was a meeting of the minds. "To create a grown-man vibe that discusses marriage, falling in love during a time where distance is being celebrated and encouraged was a no brainer for the three of us," mentions Rhyan. "In these tough times many are facing, going the extra mile for that special someone is welcomed and well-defined in this coming of age song titled "Distance," he adds.
In 2020, Rhyan LaMarr released his debut album, "Red Guerrilla Entertainment Presents- Rhyan LaMarr's: aPERFECTmess (Volume1)" to rave reviews. "aPERFECTmess" features appearances by Charlamagne the God, Sway,, Jonathan Mcreynolds, Twista, Social Club Misfits, Don Benjamin, Canon, 1K Phew, Destorm Power, Da Brat Shirley Murdock, Ta'Rhonda Jones and more.
"aPERFECTmess" is a motley-crew of unorthodox sounds intertwined with swampy gospel threads, stitched together with R&B and hip-hop fashion. "We set out to create a cinematic representation of what unity sounds like through music when we lift our voices for the kingdom. We wanted to do something fresh and current but still resided in the nostalgia of what made music pop in the 90's and early 2000's," mentions Rhyan, "We threw the rules out the window and just sat in the lab and made music. No matter if the song was 2 minutes or 7 minutes, we just rode the creations until the wheels fell off," he adds. "It took me my whole life to make this album, but this album is my whole life. Personally, my life has been a mess, however God, through His perfection has shown so much grace that has enabled me to get through the storm."
ABOUT RHYAN LAMARR:
A true renaissance man. That's what Rhyan LaMarr proves with the release of his debut musical project, aPERFECTmess. The Chicago-based artist taps into his first love of music to tell his life story through 20 tracks bringing together a list of who's who in the industry. A cross between DJ Khaled-esque curation and Quincy Jones-like craftsmanship, the album unites voices from across genres and regions, including skits from radio personalities Sway and Charlamagne Tha God to tell LaMarr's story of hope and perseverance. aPERFECTmess holds dual meaning to describe the mashup nature of the music and LaMarr's personal journey enduring homelessness on his way toward establishing himself as a reputable filmmaker.
Lead single "Stayed Down" enlists 1K Phew, Social Club Misfits, Jack Red, Mico Wave and Chi-Town legend Twista for an epic posse cut. "The Remedy" brings listeners a reflective note with Jonathan Mcreynolds and Jack Red as LaMarr expresses gratitude for the light he found when he was at his darkest point.
"It took me my whole life to make one album, but this album is my whole life," he shares of aPERFECTmess.
Canal Street the film was released in 2019 and was LaMarr's big break as a producer/director/screenwriter that gave him confidence to continue pursuing his artistry. It allowed him to travel across the country to share his story and build his own entertainment production company Red Guerilla Entertainment with fellow business partner Bishop Eric D. Garnes. After doing projects with late comedian Bernie Mac, Grammy-winning musician Common and Academy Award-winner George Clooney. He's come a long way from having nothing but a pen and notepad.
Rhyan LaMarr and Red Guerilla Entertainment recently signed a multi-million dollar slate deal with OC Consulting. The deal covers seven films over the next four years. The first project from the deal will be the film, North of The 10, filming in Chicago starting later this March. Even the global pandemic can't stop RGE from delivering quality films and music. LaMarr isn't reinventing the wheel by combining his love of music and film. He's following in the footsteps of Kanye West, Pharrell, John Legend and 50 Cent by taking ownership of his craft and putting in his own spin of positivity.
CONNECT WITH RHYAN LAMARR:
Instagram - @RhyanLamarr
Facebook - @RhyanLamarr
Twitter - @LamarrRhyan
Tick Tock-@RhyanLamarr83
aPERFECTmess (Volume 1) - Album
Website- https://rgpentertainment.com/
CONNECT WITH FEATURED ARTISTS ON "DISTANCE":
Rhyan LaMarr - @rhyanlamarr
Jack Red - @lifeofjackred
Datin - @Datin_tripled
###