TITUS SHOWERS HONORED WITH PROCLAMATION BY LOUISIANA'S TANGIPAHOA PARISH GOVERMENT
1 Radio Hit "It's Gonna Be Alright" (Remix) Feat. Jermaine Dolly Nominated in Stellar Awards First Round Voting for Song of the Year and Urban Inspirational Performance of the Year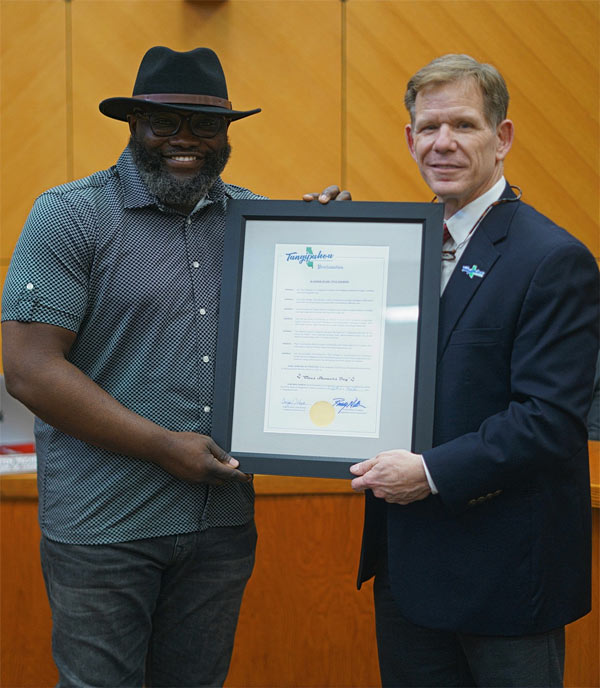 Photo courtesy of A&P Records

NEWS SOURCE: Hardy PR
March 29, 2021
ATLANTA, GA (March 29, 2021) - - Award-winning singer and songwriter Titus Showers was honored with a proclamation by Louisiana's Tangipahoa Parish Government on Tuesday, March 23, 2021 for his continued philanthropic and charitable contributions in the community. The proclamation was presented by Robby Miller, Parish President and CEO. Earlier this month, Showers was also presente with the Key to the City from Hammond, Louisiana Mayor Pete Panepinto, a key to the city from Roseland, Louisiana Mayor Wanda McCoy, a certificate and pocket watch from the Clerk of Court of Tangipahoa Parish Gary Stagna, and a proclamation from Louisiana Governor John Bel Edwards.
Showers is also nominated in the first round of the 2021 Stellar Awards in the categories of Song of the Year and Urban Inspirational Single/Performance of the Year for his 2020 radio hit "It's Gonna Be Alright" (remix) featuring Jermaine Dolly. The song reached #1 on Billboard's Gospel Airplay chart in October, peaked at #9 on the Hot Gospel Songs chart, #33 on Billboard's 2020 Year-End Hot Gospel Songs chart, and has generated over a half a million views on Youtube. SAGMA members can vote by visiting www.thestellarawards.com today. Voting ends March 29th at 11:59 PM EST.
Watch "It's Gonna Be Alright" Official Music Video: https://youtu.be/bwEeGNOtncQ
The Hammond, Louisiana native current radio single "We Need You" from his forthcoming sophomore album is climbing up the charts rapidly. The song, which is produced by Vaughan Phoenix and co-written by Showers, Ernest Vaughan and Owen Nixon is available for digital download and streaming now and the live performance music video for "We Need You" is streaming now on Youtube.
Download or stream "We Need You": https://smarturl.it/weneedyou
Watch "We Need You" Live Performance Music Video: https://youtu.be/xC7J6XHRrag
Connect With Titus Showers:
Facebook: /TheTitusShowers | Twitter: @TheTitusShowers | IG: @IAmTitusShowers
###