BIG DADDY WEAVE ANNOUNCE THE "ALL THINGS NEW" TOUR WITH SPECIAL GUEST ANNE WILSON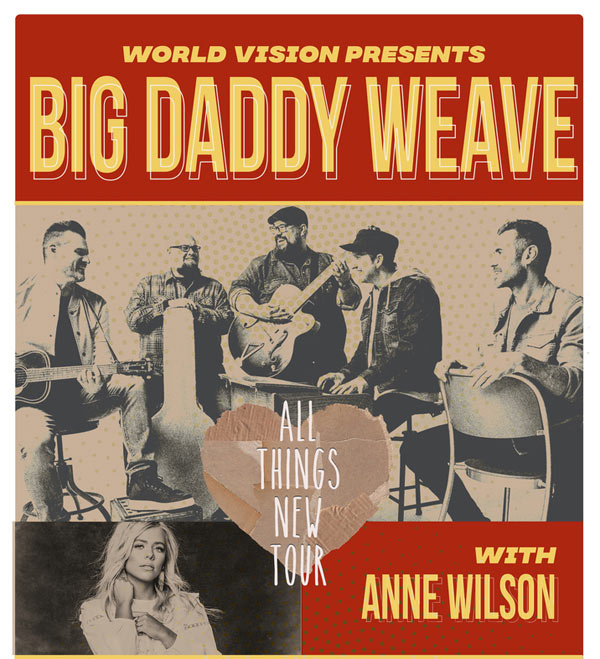 NEWS SOURCE: Merge PR
May 27, 2021
NASHVILLE, TENN. (MAY 27, 2021) Big Daddy Weave announce today their upcoming fall headlining tour with special guest and newcomer Anne Wilson. The 25 city "All Things New" tour, presented by World Vision and promoted by Transparent Productions, will kick off on September 22nd and conclude November 14th. After more than a year without consistent touring due to the global pandemic, the beloved group is thrilled and ready to hit the road sharing their No. 1 songs and more.
"It's exciting to get to go back on the road," shares Mike Weaver of Big Daddy Weave. "It'll be great to connect with so many people we have missed during this time. Nothing is the same as being with people in person, looking into their eyes and having the exchange that happens when we all sing together. It's going to be great! We're excited to have Anne Wilson out with us. Anne carries the testimony of Jesus in her life in such a powerful way. She has been through heartbreak, and we're coming through a season like that as well."
A new artist on Capitol Christian Music Group, Anne Wilson has made a huge impact already with her debut single, "My Jesus," which entered the iTunes chart at No.1 and received the most radio adds by a new artist on their debut week in the last three years. Her powerful story and voice will be a perfect addition to this special tour, which is named after Big Daddy Weave's song "All Things New."
"We had written our song 'All Things New' for my dad as he was fighting pulmonary fibrosis," explains Weaver. "To have it be the name of this tour as we're coming out of the pandemic, and with the passing of Jay's and my mother a little over a week ago, brings whole new meaning to it. As we sing over each other every night of this tour, over our communities, our churches, our country and world, we'll move forward together believing and trusting that God is the God who makes all things new."
"I'm so excited to be a part of this tour with Big Daddy Weave," Anne Wilson shares. "What an honor it will be to join them on stage each night. I have been a huge fan of theirs and their ministry for many years. This is definitely a dream come true moment and a dream tour for me. I can't wait to see what God is going to do each night on this tour as we lift the name of Jesus high!"
Tickets are now online and more information can be found at
BigDaddyWeave.com
. Tickets purchased for postponed When The Light Comes Tour shows will now admit the ticket holder to the All Things New Fall 2021 tour. If there has been a city change for the ticket holder's show or for any other ticketing-related questions, ticket holders may contact
tickets@transparentproductions.com
for assistance.
9/22 Wooster, OH
9/23 Greenwich, CT
9/24 Ocean City, NJ
9/25 York, PA
9/26 Martinsburg, WV
10/6 Greensburg, PA
10/7 New Castle, DE
10/8 Durham, NC
10/9 Jacksonville, NC
10/10 Rock Hill, SC
10/20 Elizabethtown, KY
10/21 Clarksville, TN
10/23 Meridian, MS
10/24 Marietta, GA
11/10 Fort Smith, AR
11/11 Jackson, MO
11/12 Quincy, IL
11/13 Dundee Township, IL
11/14 Heath, OH
*Additional five shows will be added in South Florida
ABOUT BIG DADDY WEAVE: Big Daddy Weave is one of Christian music's most beloved artists. A mainstay at radio, the band has achieved multiple No. 1 singles, including "Alive," "Love Come To Life," "Redeemed," "The Only Name (Yours Will Be)," "Overwhelmed" and "My Story." RIAA Platinum-certified "Redeemed" became an anthem of unprecedented impact when it spent 11 weeks at No. 1, was dubbed "Song of the Year" at the first annual K-LOVE Fan Awards, and earned Dove Award and Billboard Music Award nominations. Their follow-up hit, "The Lion and The Lamb," has become one of the genre's most-streamed songs. The band's song catalog has an astounding 285 million career on-demand streams.
Big Daddy Weave members are Mike Weaver (lead vocals, guitar), Jay Weaver (bass, vocals), Jeremy Redmon (guitar, vocals), Joe Shirk (saxophone, keys, vocals) and Brian Beihl (drums). The band has released nine full-length projects. They have amassed more than one million units in album sales and have received numerous honors, including a Dove Award, ASCAP and BMI Awards, and the prestigious Rich Mullins Artist Impact Award, among others.
ABOUT ANNE WILSON:
Singer/songwriter Anne Wilson knows the healing power of music firsthand. The lyrics of Hillsong Worship's "What A Beautiful Name" became a lifeline for the Lexington, Kentucky native after her brother was tragically killed in a car accident at the age of 23. Although she spent much of her childhood behind a piano, Wilson sang in front of an audience for the first time at her brother's funeral. It was in that moment that she realized what she was born to do. A video of her moving performance organically circulated, eventually landing her a record deal. With a mesmerizing voice and a visible hunger for Jesus, the 19-year-old relies on personal journal entries and time spent in nature for songwriting inspiration. Her rootsy sound reflects her strong southern upbringing and her admiration for country royalty like Johnny Cash and Dolly Parton married with the heart-on-your-sleeve transparency of Steffany Gretzinger and Lauren Daigle. Wilson's introductory track, "My Jesus"—which she co-wrote with Jeff Pardo and Matthew West—is a warm invitation to experience her Savior in the same intimate way she knows Him. For more information on Anne Wilson - visit
annewilsonofficial.com
.
###
For more info on Big Daddy Weave, visit the JFH Artists Database.