URBAN INSPIRATIONAL RECORDING ARTIST KENT OSBOURNE NEW DIGITAL SINGLE "YOU DIDN'T HAVE TO DO IT BUT YOU DID"
AVAILABLE NOW ON ALL DIGITAL & STREAMING PLATFORMS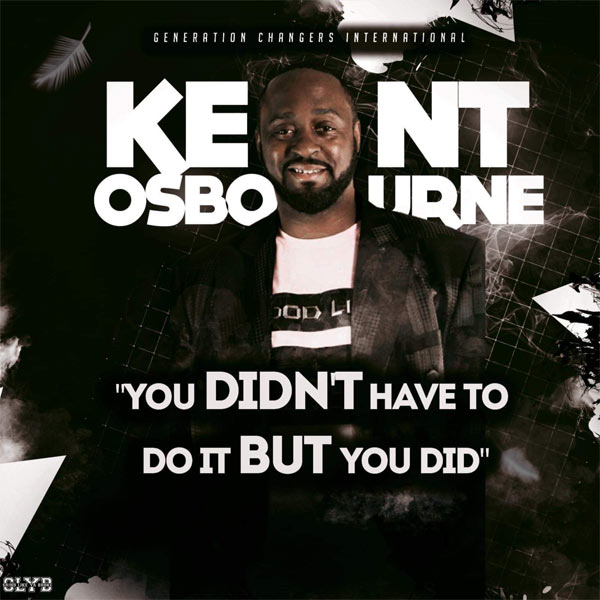 NEWS SOURCE: Hardy PR
May 28, 2021
ATLANTA, GA (Friday, May 28, 2021) -- Urban Inspirational recording artist Kent Osbourne releases his long-awaited new single "You Didn't Have To Do It But You Did" today on all digital and streaming outlets. Released on his own independent record label Generation Changers International, the song is written by Osbourne and produced by Luke G.
Download or Stream "You Don't Have To Do It But You Did": https://kentosbourne.hearnow.com
"You Didn't Have To Do It But You Did" is the follow-up single to his debut self-titled single "Soaring," which featured GRAMMY® nominated superstar Canton Jones. The song along with its concept music video generated an immense amount of social media buzz, which has now positioned the emerging artist as a definite mainstay in the gospel music arena.
Along with his Generation Changers International record company the Atlanta native and entrepreneur is also the founder and CEO of several successful businesses including K.O. Trucking LLC and Prison to Profit, Inc., a non-profit organization.
Osbourne lost his parents at a very young age. He lived with his aunt until he ran away at age 14 because of aunt's strict rules. He was in and out of jail for the next few years until he landed in prison for a two year sentence. During his incarceration, he started writing and performing rap music. While incarcerated a second time, he realized that there was more to life than going to prison. It was at this point that he gave his life to God.
In addition to his entrepreneurial endeavors Kent Osbourne travels internationally as a Motivational Speaker and author impacting people of all ages with his music and #1 Amazon best-selling book From Prison To Power. "I'm a living proof that no matter what you have been through, God can still use you and be successful," states Osbourne.
CONNECT WITH KENT OSBOURNE:
| Facebook |Twitter | YouTube | Website |
###