Amazon Releases Exclusive New Koryn Hawthorne Single, "Falling In Love With Jesus"
Amazon Music Honors Black Music Month with New Music, Live Streams, and More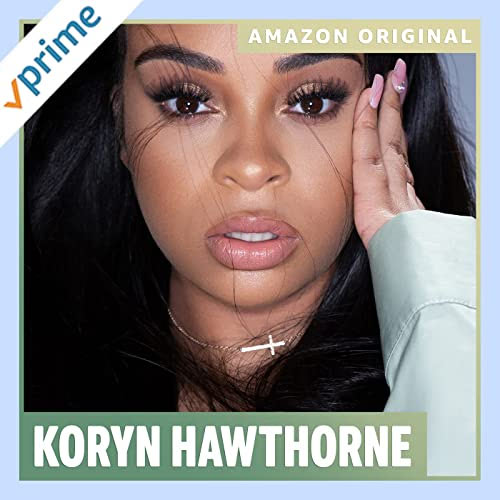 NEWS SOURCE: W&W PR
June 4, 2021
SEATTLE, WA – June 4, 2021 – Each June, music fans around the world come together to celebrate the indelible influence that Black musicians have made on culture with Black Music Month. To mark the month, Amazon Music has worked to put together a brand-new slate of content that honors the legacy of the Black artists whose music soundtracks our lives and defines our culture.
New Playlists and Never-Before-Heard Black Music Month Songs
Throughout the month of June, Amazon Music has invited some of the most exciting Black artists across a wide spectrum of genres to record a new collection of brand-new Amazon Originals songs. Debuting Fridays in June, the series kicks off today with a brand-new cover of "Falling in Love with Jesus" from two-time GRAMMY®-nominated gospel artist Koryn Hawthorne. A soulful take on Jonathan Butler's gospel classic, the song can be heard exclusively on Amazon Music on the Gospel Now playlist. Fans can hear acclaimed R&B artist serpentwithfeet's cover of Labi Siffre's "Bless the Telephone" now, which was released as a part of Black Music Month and Pride. Next Friday, soulful singer/songwriter Yola will deliver a reimagined version of her recent single, "Diamond Studded Shoes."
"This song is so special to me because it's what I live for. Regardless of life's circumstances the love and comfort of Jesus has pulled me through," said Koryn Hawthorne. "Releasing this song during Black Music Month is also important to me because Gospel music is the foundation of Black American music, and the message is a reminder of healing and strength."
Amazon Music's music experts have also worked to curate Made in the…, a new collection of playlists celebrating a different American region and its influence on hip-hop, R&B, and beyond. Debuting weekly throughout Black Music Month, fans can listen to the first two playlists in the series—Made in the East and Made in the West—now to hear the Black music that has defined the sound of the East Coast and West Coast. Additional Made in the South and Made in the Midwest playlists will roll out through the month, spotlighting the best in Southern and Midwest hip-hop and R&B. Customers can also tune in to Amazon Music's Black Music Month station, which features a hand-curated selection of contemporary and classic contributors across genres, by asking "Alexa, play the Black Music Month station."
Simultaneously, Amazon Music has also curated a series of new [RE]DISCOVER playlists to correspond with each region featured in the Made in the… series. Amazon Music's [RE]DISCOVER playlists take listeners on a career-spanning journey of musical discovery—or re-discovery—through an artist's body of work. Debuting alongside Made in the East, playlists like [RE]DISCOVER Teddy Pendergrass and [RE]DISCOVER Billy Paul will take Amazon Music fans through a career-spanning trip through Philadelphia Soul, while new [RE]DISCOVER playlists for Master P, UGK, and Big Freedia will cover everything from Houston Rap to New Orleans Bounce music.
Wayno and Erick The Architect Join Amazon Music for Two, New Live Streamed Shows
Amazon Music is also excited to launch two, new live streamed shows for Black Music Month. Premiering on 6/23, CONNECTED with Wayno is a new, bi-weekly show airing on Amazon Music's Twitch Channel that connects the dots between ideas, people, and music through stories told by artists and innovators at the forefront of hip hop and R&B. Hosted by Wayno, each episode of CONNECTED is grounded in conversation and storytelling. Called "The Phil Jackson of Hip Hop," Wayno is renowned as hip-hop's ultimate connector, whether it's by running his own management company Triangle Offense, discovering new artists in his role as VP of A&R at Asylum Records, or formerly hosting Complex's hip-hop debate show, Everyday Struggle. Each episode, Wayno will draw from his extensive music industry experience to lead in-depth conversations with artists and people behind the scenes—whether they're legendary rappers or the behind-the-scenes figures that define hip-hop culture.
"I'm truly excited about this opportunity, being able to have honest conversations with artists regarding music, transparency and life is something I pride myself on," said Wayno. "I'm hoping this platform is not only a way to amplify my voice but also a way for up and comers to get an opportunity to shine."
And launching today, Amazon Music will debut The Goods, a new series hosted by prolific musical polymath and founding member/primary producer of Flatbush Zombies, Erick the Architect that explores how artists grow, connect and trust their gut. Each week, Erick will connect with a panel of musicians across genres from hip hop and R&B to electronic to also explore essential topics like the intricacies of how artists and producers work together to the growing influence that Afrobeats has on music worldwide. The series kicks off at 5pm ET today on Amazon Music's Twitch Channel, with a discussion with Yung Baby Tate and Maliibu Miitch about how their hometowns have influenced them and guided their music and craft and the importance of women in music banding together.
Black Music Collective and Amazon Music Offer Your Future Is Now HBCU Scholarship
As part of Black Music Month, Amazon Music and The Recording Academy's Black Music Collective is also currently accepting applications for the Your Future Is Now HBCU Scholarship. Announced earlier this year, three students attending historically Black colleges or universities and pursuing a career in the music industry will receive a $10,000 scholarship. The scholarship recipients will also participate in a two-week immersive rotation program with Amazon Music department leads, who will provide each student a detailed look at their particular field work at Amazon Music. The scholarship is available to any future music creators, recording professionals, and executives. To coincide with these scholarships, the BMC and Amazon Music will also award two HBCUs a $10,000 grant each for equipment for their music programs.
Amazon Music Canada Honors Black Music Month and National Indigenous Heritage Month
In Canada, Amazon Music has invited some of the most exciting Black Canadian artists to curate The New Black, Amazon Music's playlist spotlighting up-and-coming Black musicians. Debuting each Friday, fans can now hear the first The New Black playlist curated by Toronto R&B singer/songwriter Liza. Additional curated playlists will roll out each Friday in June from artists like Nigerian-Canadian rapper and singer Tobi, the Montreal-based artist collective Moonshine, and artist, actor, DJ, cultural producer, activist and advocate, TiKA. And for National Indigenous Heritage Month, also taking place in June, Amazon Music in Canada has recruited four artists to takeover Amazon Music's recently launched Indigenous Voices playlist. Throughout the month, artists like Logan Staats, Shawnee Kish, Jayli Wolf, Prado, and more will curate a playlist of the best music from Indigenous artists in Canada.
###
For more info on Koryn Hawthorne, visit the JFH Artists Database.