BUILDING 429 RELEASES NEW SINGLE "NOT FINISHED YET" TODAY
Single Releasing to Radio and DSPs as Band Returns to the Stage for Summer Festivals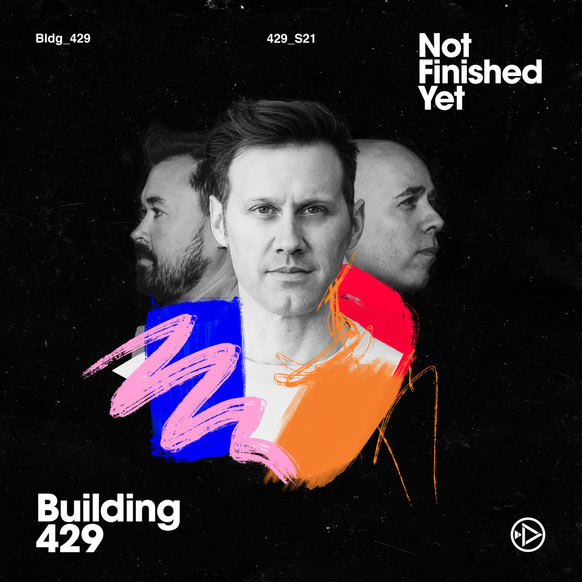 NEWS SOURCE: Merge PR
June 11, 2021
11 June 2021 - Nashville, TN - Today, GRAMMY®-nominated band
Building 429
releases their newest single "
Not Finished Yet
." Continuing the band's tradition of delivering big songs with big emotion, the new song is a stirring, hopeful pop anthem about how even when we stray far away, God is there, ready to draw us close to Him. "Not Finished Yet' was written by Building 429 frontman Jason Roy along with Riley Friesen, who also produced the song.
"At a certain point in life, we all get a moment to take a cold, hard, unflinching look in the mirror and take stock of who we really are," shares Jason Roy. "On a good day, I know that I can see love, joy, peace, forbearance, kindness, goodness, faithfulness, gentleness, and self-control. The next day, if I'm honest, I might see the exact opposite. The truth is that the COVID pandemic gave us all a LOT of time to look in the mirror and see the things that we wish we knew how to change. I realized that the beginning of freedom and hope was the moment I finally admitted I didn't have it all together and I still needed Jesus to complete the work in me."
A lyric video for "Not Finished Yet" also releases today and can be viewed below.
Excited to be returning to the stage, Building 429 will be playing a full schedule of festivals this summer. The most current tour dates are below, but be sure to stay up to date on their
tour page
for any updates.
6.5 – Lifelight – Watford City, ND
6.11 – Resound Fest – Bethany, MO
6.27 – Elevate 2021 – Scottsdale, AZ
7.7 – SOAR Conference – Dallas, TX
7.11 – STAR – Fort Wayne, IN
7.17 – Hills Alive Festival – Rapid City, SD
7.18 – Hills Alive Festival – Rapid City, SD
7.20 – Fair Jam – Bucyrus, OH
7.25 – Six Flags – Darien Center, NY
8.6 – Feel Good Friday Summer Series – Van Wert, OH
8.7 – Williamston Worship Festival – Williamston, MI
8.13 – 5th Annual Pulse FMs Downtown Summer Series – South Bend, IN
8.20 – Kendrick Park – Sheridan, WY
8.28 – Christian Fest – Woodford, VA
9.10 – T. Further Center – Angola, IN
9.18 – Shippensburg Fairgrounds – Shippensburg, PA
About Building 429: Since the release of its debut album in 2004, Building 429 has garnered widespread popular and critical acclaim, receiving numerous accolades all while delivering lyrically-driven, anthemic hit songs with a consistent message of hope along with high-energy concerts in sold-out venues internationally. The band received a 2013 GRAMMY nomination for Best Contemporary Christian Music Album for We Won't Be Shaken, which debuted at No.1 on Billboard's Christian Albums chart and launched the title track to No. 1 at radio. Building 429 also received a 2014 and multiple 2012 "Song of the Year" Billboard Music Awards for "We Won't Be Shaken" and "Where I Belong respectively, two BMI "Song of the Year" Awards ("Where I Belong" in 2013 and "Glory Defined" in 2005), a 2014 "Group of the Year" K-LOVE Fan Award nomination, and a "Best New Artist" GMA Dove Award in 2005. RIAA-certified gold single, "Where I Belong," became one of the longest-running Christian No. 1's in Billboard's history at 15 weeks and landed on Billboard's Top 10 Songs of the Decade. "Fear No More," the band's 2019 independent single, was one of the biggest independent artist singles to ever hit Christian radio with an astounding 35 adds in its debut week. The song climbed to No. 4 on Billboard's National Christian Airplay chart and remained in the Top 5 for nine weeks. The band is also endorsed by Fender Guitars, Gibson Guitars, PRS Guitars, Orange Amps, Ampeg Amps, DW Drums, Guitar Center, and many others.
###
For more info on Building 429, visit the JFH Artists Database.