Carolyn Arends Releases Rootsy New Single, GOD'S SPEED
New Tongue-in-Cheek Video has Fans Seeing Double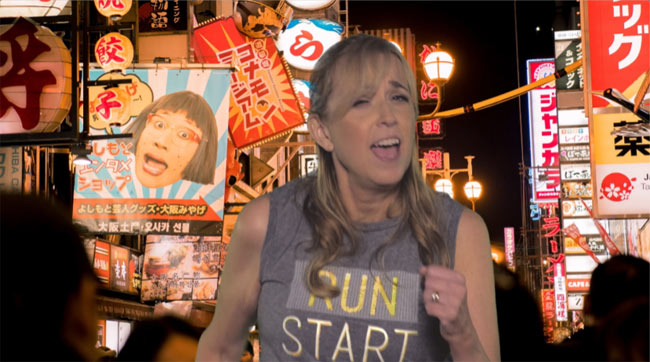 NEWS SOURCE: Carolyn Arends PR
July 2, 2021
2B Records | Vancouver, BC | Seattle, WA ... Canadian recording artist Carolyn Arends has released GOD'S SPEED to streaming platforms, the fourth single from her RECOGNITION project. Featuring a soulful mix of mandolin, horns, and gospel backing vocals from The McCrary Sisters, GOD'S SPEED playfully reminds listeners to "slow down to catch up" to the gentle work of God.
Alongside the single, Arends is also releasing a video, her third collaboration with filmmaker THE ARCTIC. Employing a genre that Arends and THE ARCTIC call "Awesomely Terrible 1980s Green Screen," the video depicts Carolyn running a "snailathon" around the globe. Cameos include veteran worship artist Brian Doerksen as "The Farmer," and Carolyn's son, Ben Arends, in the dual roles of "The Ref" and "The Fan."
Some fans may be surprised to see such a light-hearted release from the artist who only recently offered TO CRY FOR YOU—an exploration of grief that has struck a chord with the more than 500,000 people who have watched the video on Facebook. But anyone who has followed Carolyn's 25+ year career will know that her work is witty as often as it is gut wrenching.
"The chorus of GOD'S SPEED includes an invitation to grow young in order to grow up," Arends explains. "It's a reminder not to take ourselves too seriously, and to trust that God is much more patient with us than we are with ourselves. It seemed only right that we have a little fun with it."
View the GOD'S SPEED VIDEO.
GOD'S SPEED can be heard wherever you listen to music online. It comes from the new full-length project, RECOGNITION. While singles from RECOGNITION are being released one at a time to streaming platforms, the full project is available at www.carolynarends.com.
ABOUT CAROLYN ARENDS
"One of the most affecting communicators in any genre." – Billboard Magazine
Carolyn Arends has released 14 albums and is the author of 3 critically-acclaimed books. 15 of Arends' songs have become top 10 radio singles on the Canadian pop and US Christian charts. Arends has earned 2 Dove Awards, 3 Juno Nominations, and was recognized as the West Coast Music Awards' Songwriter of the Year. Her prose has been recognized by The Word Guild, The Evangelical Press Association and The Canadian Church Press Awards.
Carolyn is celebrating the release of RECOGNITION (an album of twelve new rootsy and melodic originals) and IN THE MORNING (an acoustic worship EP).
In addition to her busy touring and speaking schedule, Carolyn serves as the director of education for Renovaré, a far-reaching organization that encourages and nurtures personal and spiritual renewal. She has also been a regular columnist for Christianity Today and Faith Today, and has served as an adjunct professor at a number of universities. She lives in Surrey, BC with her husband, Mark, and their young adult children Benjamin and Bethany.
###
For more info on Carolyn Arends, visit the JFH Artists Database.