Project 86 Announces Fan-Funding For Final Album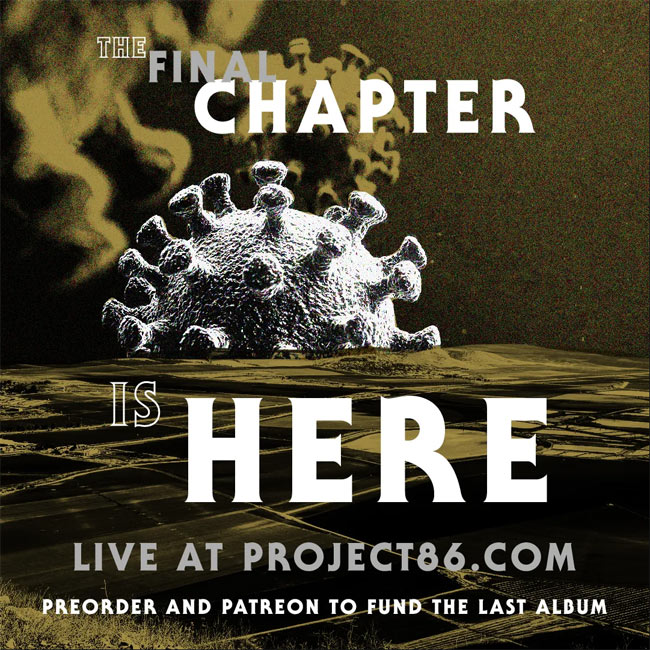 NEWS SOURCE: Project 86 / Jesusfreakhideout.com
July 25, 2021
After announcing recently that the band's final album was forthcoming, Project 86 has finally launched their official campaign to fund their new project, which includes a new book and music videos, too.
To preorder the album, visit https://project-86-merch.myshopify.com
Check out the band's announcement below:
Twenty-five years has led us to this, the eleventh, and FINAL CHAPTER.
"Into the maelstrom we breathe with fire and audacity. We will be the respite, the hiding place. The collision which has spread division has not consumed us...We call all those who CAN. NO. LONGER. IGNORE The real, the true...
We will champion the one, rightful heir to justice and freedom. With banners aflight, our senses heightened...WE WILL NOT GO QUIETLY INTO THE NIGHT..at the hands of the pure, your fleeting victory becomes your extinction. We will unify while your divide becomes your demise."
In a world of chaos and division, allow us to be your SAFE HAVEN, once more. In a time of all-out war, aid us in being the beacon of light, truth, hope, and justice in a time where civilization crumbles. These are our swan songs. Let us sing them together...with throats of aflame.
Join WITH us, one last time...
We are partnering with YOU for THE FINAL SONGS, THE FINAL SHOWS, THE FINAL CHAPTER CAMPAIGN.

There is no way to put into words what these last 25 years heave meant...

We are going to put all we have into making this last chapter memorable and worthy of the P86 legacy...
PREORDER HERE TO FUND THE CAMPAIGN, OR SUBSCRIBE ON PATREON. ONCE WE RAISE $60,000.00 (Our break-even point for all production and fulfillment), we will begin creating everything...The album, the book, the final music video trilogy, the final shows.
Your pre-order will go toward studio costs, fulfillment, and video production costs! WE CANNOT SAY THANK YOU ENOUGH FOR BEING THE MOST IMPORTANT PART OF THIS EPIC JOURNEY!
Visit THE FINAL CHAPTER CAMPAIGN on Patreon here. Subscribe and receive the Bi-weekly P86 Podcast, Live studio feed, hear the music as we make it, and MUCH more.
###
For more info on Project 86, visit the JFH Artists Database.