Free public event on Sunday, August 1 added to Lifest Music City schedule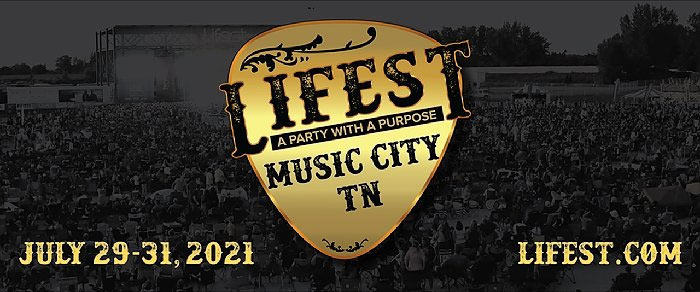 NEWS SOURCE: Adams Group PR
July 27, 2021
For Immediate Release (Bon Aqua, TN) — Music fans from over 34 states and three countries will be making their way to the Nashville area July 29-31 for the Lifest Music City festival to be held at the legendary Hideaway Farm, previously owned by country music great Johnny Cash. On Sunday, August 1, a morning event featuring Lifest founder Bob Lenz and others will be offered free to the public—no ticket required.
The free Sunday event will be held at 9:15 a.m. In addition to Lenz, featured speakers include Tina Griffin and Bob Kilpatrick along with recording artist Natasha Owens. Griffin is a former Hollywood actress, national trainer for L'Oreal Cosmetics, and has worked on numerous TV shows and movies. She speaks at schools and other organizations revealing how pop culture and the entertainment industry is glamorizing harmful behaviors. Kirkpatrick is a renowned pastor, author, and songwriter whose song "Bring Them Home" was sung at Mother Teresa's funeral. Owens, who is releasing a new album in early August, hosts a national Christian women's event called The Warrior Event and has been seen on Fox News, Headline News, and Newsmax, among others.
Life Promotions is host of the 3-day festival featuring artists such as Newsboys, Michael W. Smith, Skillet, Matthew West, Joe Nichols, Mandisa, Lecrae, I AM THEY, Sidewalk Prophets, and many others. This family-friendly event will mark Hideaway Farm's first music festival and will benefit Dignity Revolution, a movement supporting mental health and wellness which educates youth to overcome bullying and stand up for the value of every person.
Lenz says they are expecting between 5,000 and 7,000 people at the 3-day festival.
"We are thrilled to be bringing this event to the Middle Tennessee area," says Lenz. "We just had another successful Lifest in Wisconsin with over 27,000 people in attendance each day. It is our aim to make this an annual event in the Nashville area just as the Wisconsin one has been for over 23 years."
Camping will be available for the duration of the festival, as well as food vendors, marketplace shops, and activities for children. For ticket information visit https://lifest.com/music-city.
About Life Promotions:
Life Promotions is a nonprofit organization focused on instilling hope in today's youth. Founder and Chief Visionary Officer, Bob Lenz, is featured each year as a keynote speaker at Lifest, and speaks year-round in public schools, conferences, community outreaches, and other events. Visit https://lifepromotions.org for more information.
###