GRAMMY-WINNING MUSIC AND MEDIA ICONS TEDDY AND TINA CAMPBELL ANNOUNCE NEW SINGLE "21," TO BE RELEASED AUGUST 21st
WITH AN EXCLUSIVE WORLDWIDE VIDEO PREMIERE ON THEIR FACEBOOK PAGE FRIDAY AUGUST 20th AT 8PM PST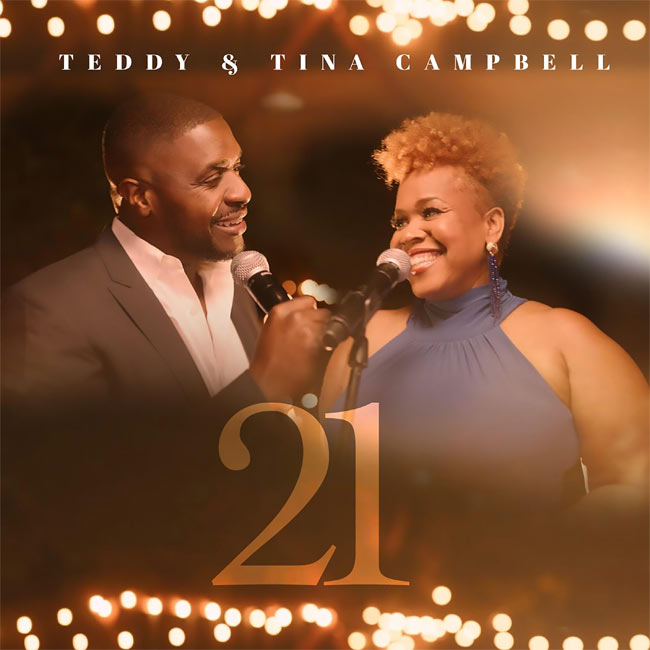 NEWS SOURCE: Plan A Media
August 20, 2021
Los Angeles, CA - August 20th, 2021: Celebrating 21 years of marriage, music's inspirational power couple Teddy and Tina Campbell have announced a new single, "21," set to be released Saturday, August 21st. The single will be preceded by a worldwide video premiere this Friday, August 20th at 8pm PST on the couple's Facebook page. The new ballad, the first in a planned schedule of releases from the couple, is a passionate expression of love and dedication.
The couple's marriage was a centerpiece of the WE tv series Mary Mary — co-created and produced by Tina — for 6 seasons, as millions of fans watched as the couple worked through challenges, found the grace to forgive, and came out the other side with an even stronger union. The pair's follow-up web series 10 Minutes With Teddy and Tina continued to encourage and inspire countless viewers online.
"At times marriage is conflicting, hard, and seemingly pointless. At others, it's blissful, fulfilling, and totally worth it," the couple expressed. "A truly valuable and lasting love takes time to develop, so never let the immature, inconsistent emotions of your growing pains keep yours from becoming mature, priceless, and lasting. We didn't, and that's how we made it to 21."
Teddy Campbell is a legendary drummer best known as the house drummer for 10 seasons of FOX's hit series American Idol, as well as for the final 3 seasons of The Tonight Show with Jay Leno along with countless other tours, albums, TV shows, and movie scores and soundtracks to credit. Tina Campbell is a GRAMMY-nominated solo gospel artist, songwriter, author, speaker, and 1/2 of the internationally iconic, Platinum-selling, multi-GRAMMY and multi-award winning gospel duo Mary Mary.
Join Friday's video premiere at Teddy and Tina's Facebook page at https://www.facebook.com/TeddyAndTina and join the countdown to Saturday's release of "21" on all digital platforms athttps://ffm.to/tnt21.
###