ANNE WILSON RELEASES NEW VERSION OF HER NO. 1 SONG "MY JESUS" FEATURING 3X GRAMMY®-NOMINATED ARTIST CROWDER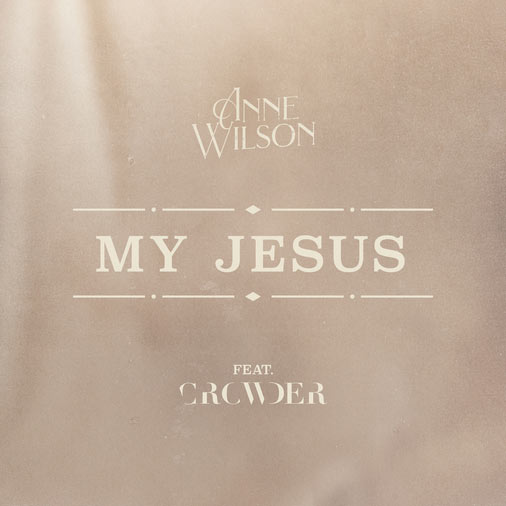 NEWS SOURCE: Merge PR
October 22, 2021
"I'm so excited to share 'My Jesus' featuring Crowder with you all," states Anne Wilson. "This song has been such a beautiful testimony to what God has done in my life and the ways He is working in your life too. Crowder has always been one of my favorite artists so this feature is truly such a dream come true. I hope this song leads you closer to Jesus and His love. The same Jesus that I call My Jesus, can be YOUR Jesus too."
ABOUT ANNE WILSON: Singer/songwriter Anne Wilson knows the healing power of music firsthand. The lyrics of Hillsong Worship's "What A Beautiful Name" became a lifeline for the Lexington, Kentucky native after her brother was tragically killed in a car accident at the age of 23. Although she spent much of her childhood behind a piano, Wilson sang in front of an audience for the first time at her brother's funeral. It was at that moment that she realized what she was born to do. A video of her moving performance organically circulated, eventually landing her a record deal. With a mesmerizing voice and a visible hunger for Jesus, the 19-year-old relies on personal journal entries and time spent in nature for songwriting inspiration. Her rootsy sound reflects her strong southern upbringing and her admiration for country royalty like Johnny Cash and Dolly Parton married with the heart-on-your-sleeve transparency of Steffany Gretzinger and Lauren Daigle.
Wilson's introductory track, "My Jesus"—which she co-wrote with Jeff Pardo and Matthew West—is a warm invitation to experience her Savior in the same intimate way she knows Him. She released a debut three-track single—also titled My Jesus—for Capitol Christian Music Group in early 2021 and followed it up with a live EP, My Jesus (Live in Nashville). Her song "My Jesus" has charted on the Spotify Viral 50, Shazam Top 200, and Rolling Stone Top 25 Trending charts. Her story was also featured recently with the Religion News Service and The Washington Post. She also made her Opry debut on the iconic stage last month.
###
For more info on Anne Wilson, visit the JFH Artists Database.