Awakening Events Announces The Stand Together Tour With Newsboys
Danny Gokey, Mac Powell, Adam Agee Join As Special Guests For The 24-City Tour Kicking Off Feb. 4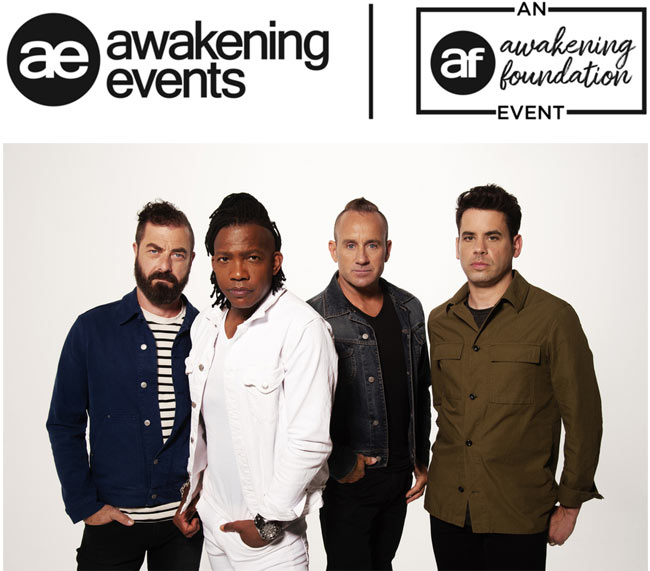 NEWS SOURCE: Merge PR
January 12, 2022
12 January 2022 - Nashville, TN - The Awakening Foundation and Awakening Events announces the Stand Together Tour featuring the multi-award-winning and chart-topping band Newsboys. They will be joined by Danny Gokey, Mac Powell, and Adam Agee as the tour's special guests*. The anticipated Stand Together Tour will hit 24 markets this spring, kicking off in February and running through April. Concertgoers will get to experience the unparalleled high-energy show Newsboys offer every night they take the stage, and get to hear many of their biggest hits along with newer songs from their latest album, Stand, such as the title track and the album's debut radio single, "Magnetic."
Each concert stop offers VIP Gold Circle tickets, which include early entry to the concert along with the best seating along with an exclusive VIP lanyard. Also included is a Pre-Show Meet & Greet and photo opportunity with Newsboys, Danny Gokey, Mac Powell, and Adam Agee. All Gold Circle ticket holders must arrive by 5pm. For tickets and further details about the Stand Together Tour, please click
HERE
.
Please note: all Awakening Events / Awakening Foundation shows are required to follow local health and venue requirements as it relates to COVID-19. These may include but are not limited to vaccine and/or testing requirements and face coverings. Local health & venue guidelines are subject to change at any time. Changes in local COVID-19 health guidelines or venue policies are not grounds for a refund. Thank you for your understanding and please know that Awakening Events takes the health and safety of their guests, employees, and community very seriously.
*The artist lineup is subject to change
ABOUT NEWSBOYS
: Newsboys are one of the biggest bands in Christian music history, having sold more than 10 million units across 23 recordings and garnering boundless accolades, including one RIAA® Platinum certification and eight Gold certifications, 33 No. 1 radio hits, four GRAMMY® nominations, two American Music Award nominations, and multiple Dove Awards. With signature songs like "We Believe," "Born Again" and the unstoppable mega-hit "God's Not Dead"—which birthed a film franchise of the same name—Newsboys have continued to collect career-defining accolades at full speed ahead. For over three decades, the band has toured extensively throughout the world to present their unparalleled high-energy shows, from their formation in Australia to their current residence in the United States, and everywhere between. Most recently, members Michael Tait, Duncan Phillips, Jeff Frankenstein, and Jody Davis return to the marketplace with their latest album,
Stand
, featuring the title track as well as "Magnetic," an up-tempo pop song about the consistent love of God. Visit
Newsboys.com
for more information.
ABOUT AWAKENING FOUNDATION
: The Awakening Foundation exists to share the message of hope and resources with individuals and families in local and international communities by bringing together artists, fans, and like-minded organizations through live events and missional endeavors to serve and empower those in need. Find out more at
AwakeningFoundation.com
.
ABOUT AWAKENING EVENTS: Since its inception, Awakening Events has remained focused on its mission of producing events that impact people in a positive way while glorifying God. That focus has led to rapid growth over the last decade, catapulting Awakening Events towards the top of the Pollstar Charts, most recently ranked No. 3 in the world in total tickets sold.
By providing our artist partners a platform to share their message and creating a great fan experience, Awakening Events hopes to have a lasting impact both locally and globally. Long-term partnerships with great organizations like Food for the Hungry, Altrua HealthShare, the Salvation Army, and many others have allowed Awakening Events and the Awakening Foundation to help transform the lives of thousands of people both domestically and abroad. For more information on Awakening Events or for any of the shows they produce, please visit
AwakeningEvents.com
.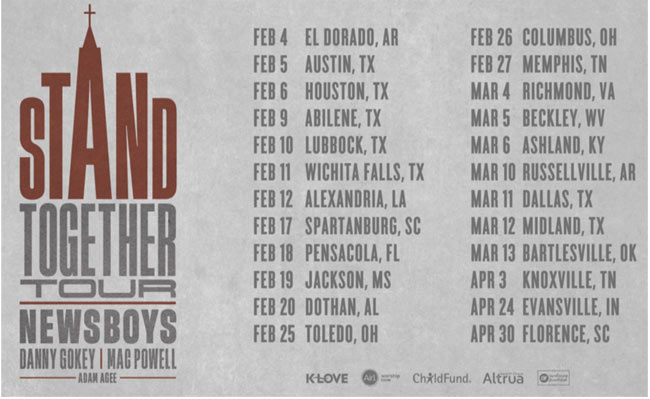 ###
For more info on Newsboys, visit the JFH Artists Database.