KEVIN QUINN DROPS MUSIC VIDEO FOR NEW SINGLE, "IT'S ABOUT TIME"
The Rising Pop Artist Pays Homage to "The Breakfast Club" in New Visual for the Lead Single Off His Debut Studio EP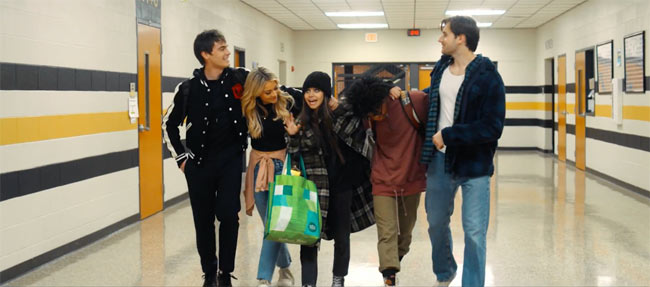 NEWS SOURCE: Rogers & Cowan
January 21, 2022
LOS ANGELES (January 21st, 2022) – Today, Capitol CMG's breakout pop artist, Kevin Quinn, released a brand new music video for his recently-released single "It's About Time." The music video pays playful tribute to John Hughes' "The Breakfast Club," one of Quinn's favorite films. Directed by acclaimed director, Roman White, (who has worked with artists such as Taylor Swift, Justin Bieber, Carrie Underwood, and Maren Morris), the video is set against the hallowed halls of high school, and accompanied by a cast of characters reminiscent of the 1980s classic film. In his effort to honor the coming-of-age fan-favorite, the video for "It's About Time" further highlights the song's message of living life to the fullest, and making the most of the time we have.

"This song serves as a reminder that life is equally fragile as it is beautiful, and we should never take a single day for granted," said Quinn. "I hope the fans fall in love with the music video, as well as our little nod to those universal themes in 'The Breakfast Club.'"

"Kevin is one of the most driven, creative people I've worked with; and watching him grow as an artist is incredible," said director Roman White about making the video. "I knew 'The Breakfast Club' was one of his favorite films, and thought it would be fun to create an homage video that spoke to the teens of today, and spoke to how time is so incredibly important in building relationships and TRULY seeing each other."

Quinn released "It's About Time" last week, alongside an anticipated debut EP of the same name. Available now, the five-track studio record features Quinn's 2021 hits "Wildfire," "I'm Still Breathing," "Over and Over Again"and "Fuego En Mi Interior," in addition to the new standout single, "It's About Time." Quinn is currently touring as a special guest on the 41-date Winter Jam 2022 tour, bringing his "pure pop sound that swirls with irresistible melodies" (American Songwriter) to arenas all across the U.S.

Watch the music video for "It's About Time" here.

About Kevin Quinn:
At 24 years old, Chicago-born rising star, Kevin Quinn, is a recording artist, singer/songwriter, instrumentalist and actor, uniquely merging the genres of pop and inspirational. Known for his varied range of television, film and stage work, Capitol CMG's breakout artist showcases his vocal talents on his debut EP, "It's About Time," featuring his debut single, "Wildfire" (2021) qnd follow-up singles "Fuego En Mi Interior" (2021), "I'm Still Breathing" (2021), and "Over and Over Again" (2021) alongside the new title track, "It's About Time." With an upbringing that includes more musical theatre than any other activity, Quinn's natural penchant for performing ushered him straight into Hollywood. He starred on primetime hits including "Shameless" and "Chicago P.D.," and Disney's top sitcom, "Bunk'd," whose theme song he also recorded for the multi-season run of his series regular role as "Xander." As his love of music continued to show up in his work, he released an independent solo EP titled, "Edge of the World" in 2020. In 2021, he signed with Capitol CMG, and quickly joined the North American leg of the popular Winter Jam tour. Most recently, he starred as troubled teen-redeemed in Netflix's feel-good musical, "A Week Away," leading the vocals on 11 of 13 tracks on the soundtrack, seeing 51 million+ global streams and 72 million+ TikTok views. Adored for his earnest songwriting and natural showmanship, this year, the heartthrob multi-hyphenate aims to make good on widespread industry predictions citing Quinn as pop acoustic's next big name. Quinn currently splits his time between Los Angeles and Nashville.
###
For more info on Kevin Quinn, visit the JFH Artists Database.