SKILLET'S DOMINION IMPACTS CHRISTIAN AC RADIO WITH "REFUGE"
American Songwriter Applauds Project's "...expressive textures.. scorching soundscape.. poetic and unapologetically candid songwriting"

John Cooper Appears on FOX & Friends, debuts 5-Day Dominion Bible Study with YouVersion, will Join NRB 2022 Panel Discussion "Engaging A Hostile Culture" March 10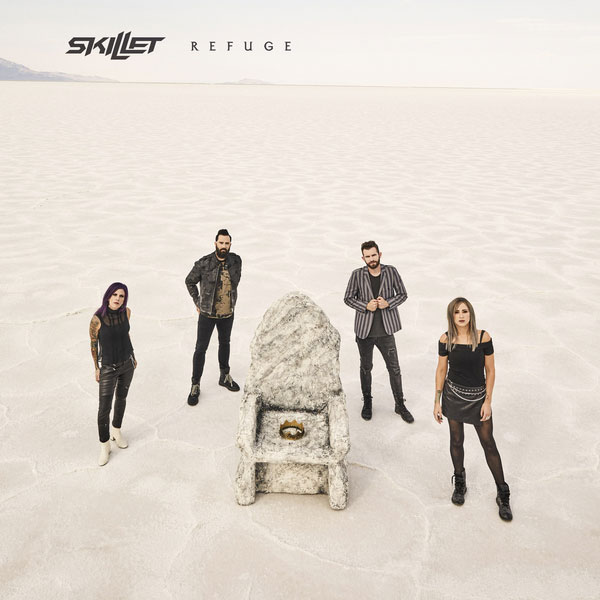 NEWS SOURCE: The Media Collective
February 8, 2022
Get Connected with Skillet:
Website:
www.skillet.com
Facebook: @Skillet
Twitter, TikTok & Instagram: @skilletmusic
SKILLET is one of the best-selling rock bands of the 21st century. The two-time GRAMMY® Award-nominated, Pandora Billionaires Club members, multiplatinum rockers have an undying spirit that has humbly asserted and affirmed them as one of this generation's most successful rock acts. However, as all classic underdog stories do, it happened quietly under the radar. By 2019, they not only garnered a pair of GRAMMY® Award nods and sold over 12 million albums worldwide, but they also took home a Billboard Music Award for the double-platinum Awake. Its breakout single "Monster" remains "one of the most-streamed rock songs of all-time" with over 3 BILLION global audio streams. 2016's Unleashed bowed at #3 on the Billboard Top 200. Hitting #1 on Rock Radio, the lead single "Feel Invincible" cracked 643 million global audio streams and went platinum. Meanwhile, the gold-certified Unleashed became their fourth consecutive album to receive either a gold, platinum, or double-platinum status. Their 2019 release Victorious included the top ten rock radio hit "Legendary," which lived up to its name with over 108 million streams. To date, nine original tunes earned RIAA recognition in tandem with high-profile syncs by everyone from WWE and Marvel to ESPN and NFL. Between selling out arenas in 26 countries and four continents, the group performed on CONAN and graced the pages of USA Today and The New York Times, Skillet debuted their first graphic novel, EDEN: A Skillet Graphic Novel with Z2 Comics, which became the publisher's best-selling book of all time, followed by EDEN II: The Aftermath.
###
For more info on Skillet, visit the JFH Artists Database.