INDEPENDENT NASHVILLE RECORDING ARTIST HEATHER BURWELL RELEASES INTROSPECTIVE, POETIC TUNE "THE FLOOD"
Singer/Songwriter Shares Emotional Insight To Grief And Growth

Due Friday, March 25, 2022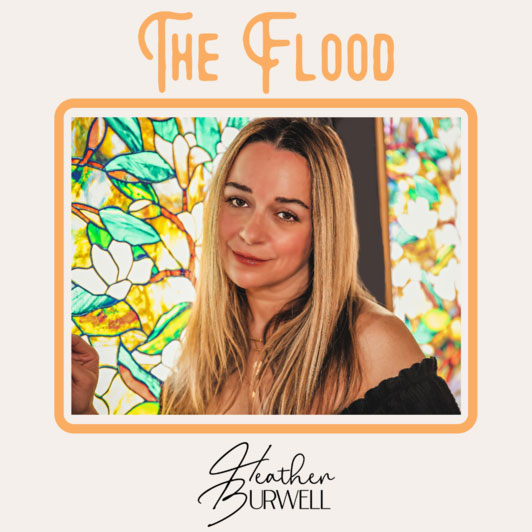 NEWS SOURCE: Music City Media
February 10, 2022
NASHVILLE
, Tenn. — Singer/songwriter and independent recording artist,
Heather Burwell
, announces the scheduled release of her soulful and poetic tune, "The Flood,"* due
Friday, March 25, 2022,
via all digital outlets and streaming platforms. (Distribution by Ed Gertler/Digital Stream Services.)
Burwell, who is also a model, film and television actress, chaplain and inspirational author, wrote the song following the tragic, unexpected and heartbreaking loss of her spouse. Amidst the mourning process, she turned to her long-time passion, her music, as a therapeutic measure and internal source of healing.
Produced by Kolt Barber and Buddy Hyatt, and featuring performances by Nashville award-winning, A-list musicians, "The Flood" spotlights a simplistic production that leaves wide open space to let raw and emotional lyrics breathe, and showcases Burwell's unique and expressive vocals. The instrumentation (a combination of piano and acoustic subtleties) translates enlightenment that emerges from darkness.
"This song is extremely personal,"
said the Nashville native, Burwell. "It represents the emotional downward spiral of experiencing the unexpected death of a loved one; the desperation and outreach for an understanding and spiritual guidance; and the breath of fresh air that comes with healing. While I wrote the words as an outpour of my rainbow of emotions, I hope this song transcends to help to heal others.
Laid on the ground, raised my hands
Asked the clouds, "do you understand?"
On a dime, He lifted me
The nick of time,
A wellspring
In the water, underneath the water
I asked God for a raindrop
He sent the flood
The sentiment of the track coincides with the purposeful release of Burwell's second book titled "Grief Doesn't Do Math" reflecting an intimate introspect and embrace of her own navigation, with an immeasurable timeline and no expiration, and shares mutual insight from those who have endured similar sorrow.
"The Flood" (Heather Burwell Ent.) due Friday, March 25, 2022
Written by Heather Burwell
Produced by Kolt Barber and Buddy Hyatt
Featured Performances:
Buddy Hyatt - Keyboards/Piano/Organ (former member of Toto/JoDee Messina/Tracy Lawrence)
Brent Mason - Guitar (Blake Shelton/Luke Combs/Justin Moore/Aaron Lewis)
Scott Sanders - Guitar (Chris Young/Dustin Lynch/Alan Jackson)
Lonnie Wilson - Drums (Willie Nelson/Trace Adkins/Blake Shelton)
Bob Terry - Mandolin (Kenny Chesney/Garth Brooks)
Duncan Mullins - Bass (Luke Bryan/Lonestar/Colt Ford)
"Grief Doesn't Do Math"
Available at Amazon, Barnes & Noble, and Wal-Mart
ABOUT HEATHER BURWELL
Heather Burwell is an author, singer, actress, model and chaplain. Her latest book, "Grief Doesn't Do Math" reveals her unpredictable journey of unexpected life tragedy and shares encouraging words from a personal perspective and those who have traveled along the same path. The young author put pen to paper to write her first inspirational book, titled "Undeniable Presence: I Don't Know Where God Is Not" (released in 2019). Heather shares words of comfort and meaningful, uplifting insight to those at the most critical time in their winter season.
Burwell launched her music career in early 2000 as a member of the Nashville children's choir, "Kids Connection" (10 years). She toured with Sandi Patty, was support act for Gary Morris and Randy Travis, and sang backup with Tanya Tucker at Nashville's most notable venues--Grand Ole Opry and Bridgestone Arena. Burwell sang on projects with Michael W. Smith, Steven Curtis Chapman, Steve Green, Larnelle Harris, Dolly Parton and Alabama. Working alongside legendary, award-winning producer Jerry Crutchfield (of Glen Campbell, Lee Greenwood, Tanya Tucker fame), Heather recorded and released two independent recording projects. She made her debut with her self-titled EP in 2012 and followed with two singles "Beginning To See The Light (Heather Holland/2020) and "I Don't Know Where God Is Not" (Heather Holland/2020).
As an actress, Burwell has appeared in lead roles in film and television (including "Homicide Hunter: Lt. Joe Kenda"/ Discovery Channel • "Snapped"/Oxygen • "Murder Comes To Town"/ Discovery Channel), music videos ["Addict's Knot" (Nicky James) • "I Believe It Now" (Sidewalk Prophets)] as well as various corporate advertising campaigns (Dollar General • ServPro • First Tennessee Bank, among others).
FOR MORE INFORMATION/FOLLOW:
###