TRINITY RELEASES DESERT RAIN FEB. 25 VIA THE FUEL MUSIC
First Album To Be Released Internationally In Over Two Years From These "Craftsmen Of Heavenly Parties"

Album Features Single "Metropolitain" Releasing Today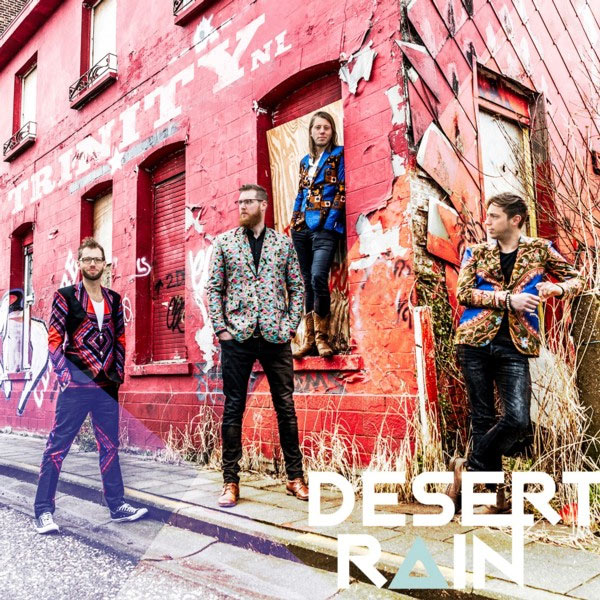 NEWS SOURCE: Hoganson Media
February 11, 2022
Awards-winning, Netherlands-based band Trinity releases Desert Rain globally Feb. 25 from The Fuel Music. First released in the Netherlands in 2016, and having already received three Dutch, Silver Dove Awards, including "Album Of The Year," the album is available to pre-save / pre-add now via https://slinky.to/DesertRain. The recording from these "craftsmen of heavenly parties" mixes music styles from all over the world to create a magnetic sound, blending genres into an eclectic music experience that is sweet to the ears and uplifting to the soul.
The world-music pop flair of Desert Rain was inspired by the band's travels internationally, jamming with immigrant-musicians wherever they were in time and space. The resulting warm-blooded, passionate rhythms and melodies are steeped with lyrics birthed in real-life stories, all offering hope for a brighter future.
"When we recorded Desert Rain, we set out to create an album that captures our experiences and faith in songs; an album that shows both the darkness of the world we live in and the light piercing through it," says Trinity's Elbert Smelt (lead vocals, flutes, saxophone). "It shares the conviction that we as human beings are meant for more. When people make peace, join hands and stand against injustice, and feel hope rising up -- when someone is healed and when you hear beautiful music: then the real world is visible."
The lead single from the album, "Metropolitain," written with Senegal-based artist Bernard Cissa and featuring lyrics in both English and French, is available now at digital retail and streaming outlets everywhere.
"I think I have a love-hate relationship with cities," says Elbert, who crafted the song's chorus while in Paris, France. "The city is this creativity-magnet just for the buzz. But it will drive you crazy just as easily. If you can't keep up in the rat race you end up in the gutter. At the same time cities can be birthplaces of art, culture and new ideas that help humanity improve life."
Je suis un metropolitain; Je prie, je mange, je me repose pas
("Metropolitain" chorus English translation:
I am a city dweller, I pray, I eat, I never rest.)
The full Desert Rain track listing follows:

1. Desert Rain
2. Rise Again
3. Metropolitain
4. A Miracle
5. Satellite Television
6. The Way That I Do
7. El Sonido De Mi Tierra
8. It's All Gonna Change
9. Shooting Stars
10. We Are Born
11. Gloria
12. I Carry Your Heart
The first album released internationally in over two years, Desert Rain precedes a series of new recordings and appearances from Trinity slated for this year and to be announced soon. It also follows 2019's globally acclaimed album The In Between that was produced by Grammy-nominated, multiple Dove Award-winning Ian Eskelin and Barry Weeks. The album features singles premiered by outlets like Parade, CCM Magazine, and more: "Living To Love," "Are You," "Anthem Of Love" and "Wherever We Go," as well as the radio favorite, "Alive Again, " which has been heard on WAY FM, 94 FM The Fish, 95.1 SHINE FM and many more stations coast-to-coast across America.
For all the latest news about Trinity, including tour dates, music, videos and more, go to https://bandtrinity.com/, Facebook, Twitter, Instagram, Apple Music, YouTube and Spotify.
About Trinity:
Formed by three Dutch brothers raised as missionary kids in Lima, Peru, Elbert, Johan (acoustic guitars) and Niek Smelt (Drums, percussion), along with Dutch-raised Bert Bos (bass), Trinity fuses South American and Irish folk with African beats and pop grooves to create a unique, acoustic music experience that will disarm and free any crowd. Craftsmen of heavenly parties and experts at making people's feet move, Trinity has received three back-to-back Dutch "Best Album" Silver Dove Awards for Desert Rain (2016), Mundo (2014) and Que mas (2012).
Accustomed to leading in front of large gatherings, Trinity performed at the 2019 World Youth Day, an event for young people organized by the Catholic Church that reportedly drew 600,000 people to Panama City, Panama. Recording its "Anthem Of Love" video at this event, the band has also performed on the main stage at Creation Festival (USA), the Netherlands' Xnoizz Flevo Festival (2010, 2012) and EO-Youth Day event (2013, 2016), and has played at Big Church Day Out festival (UK), the Himmelfarht Festival (Germany), the CREA Festival (Switzerland) and Seaside festival (Norway). The band further shared its music live at events in Russia, Kenia, Cambodia, Gambia, Peru, Senegal, France, Ireland and more.
About The Fuel Music:
Established in 2008, The Fuel Music & Management, LLC, is a leading artist management and artist solutions company that independently distributes music internationally. Based in Nashville, TN, the Fuel team brings well over 70 years of combined music industry experience in record label operations, major label distribution and marketing, and artist management for artists ranging from upstart bands to GRAMMY Award-winning, multi-Platinum artists. More information on the company can be found at www.thefuelmusic.com.
###