Artist Hannah Kerr Joins Curb | Word Entertainment Roster
Brian Thiele Joins Curb | Word Entertainment as VP, Christian Promotion; Jeri Cooper Upped to SVP, Christian Promotion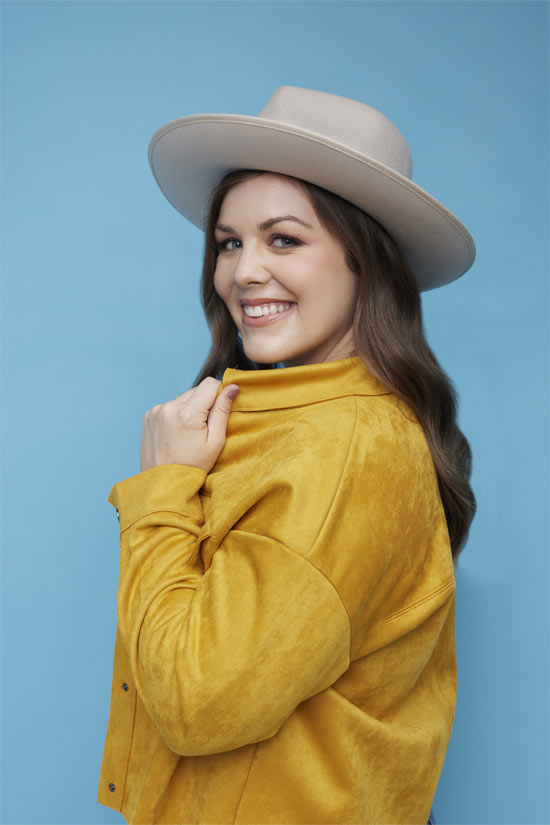 NEWS SOURCE: Curb | Word Entertainment
March 1, 2022
Nashville, Tenn. (March 1, 2022) – Curb | Word Entertainment and Black River Entertainment are proud to announce Black River Christian's Hannah Kerr will join the Curb | Word Entertainment roster. Brian Thiele also joins Curb | Word Entertainment as VP, Christian Promotion while Jeri Cooper is upped to SVP, Christian Promotion. Both Jen Allen and Samantha Evangelista continue in their respective roles as National Director, Promotion and Coordinator, National Promotion.
"We welcome Hannah to the Curb | Word family," shares Mike Curb, Chairman of Curb | Word Entertainment. "Black River has done a tremendous job establishing Hannah, and we look forward to building on that success in the future."
Gordon Kerr, Black River Entertainment President and CEO, also adds, "When we created Black River Christian, we did so with a servant's heart. Our goal was to create music that is mission minded and to follow wherever God leads us. We've heard countless testimonies over the years from people whose lives have been touched by this ministry. With this next step, we know there is potential to reach countless more lives with her ministry."
Curb | Word Entertainment most recently had the #1 and #2 songs across the Billboard Hot Christian Songs, Billboard Christian AC, Billboard Christian Airplay, Mediabase Christian AC and Mediabase Christian Audience charts with for KING + COUNTRY's "Relate" and We Are Messengers' "Come What May," the latter of which spent 16 weeks at #1 on the Mediabase Christian Audience chart. In addition, Curb | Word Entertainment has five songs within the Top 30 at Christian radio.
For more information, visit www.curb.com.
About Hannah Kerr:
Touted as a "compelling" and "encouraging" artist by CCM Magazine, artist/songwriter Hannah Kerr is currently on tour with Matthew West, Cain, Jordan Felix and Anne Wilson on "The Brand New Tour" throughout 2022. Kerr released her Top 30 radio hit "Same God" in the spring of 2021and released "Grave" that fall. With more than 115 million total streams, Kerr's released two full-length albums and two EPs, including her recent release, Listen More, entirely co-written by Kerr, and featuring the Top 20 radio hit "Split The Sea." Kerr made her debut in 2016 with the release of Overflow, which earned her more than 40 million streams and featured her Top 15 hit "Warrior," as well as her version of Matt Maher's Top 5 hit "Your Love Defends Me." Co-written by Kerr, "Your Love Defends Me" propelled her to win the award for Most Played Song award at the 2018 ASCAP Christian Awards. Kerr has shared the stage with major Christian artists, including Casting Crowns, Matt Maher, Building 429, Jonny Diaz, Matt Hammitt, for KING + COUNTRY, Newsboys, and Kari Jobe. A graduate of Belmont University with a degree in Christian Leadership, Hannah Kerr married songwriter/musician Jason Earley in March 2020. Kerr and her husband currently reside in Nashville, TN. For more information, visit www.hannahkerrmusic.com.
About Black River Entertainment:
Underneath the Black River Entertainment umbrella is a family of state-of-the-art recording studios, record label, management company, and a multi-GRAMMY award-winning publishing company. Black River Records' roster of artists includes Kelsea Ballerini, Ray Fulcher, Josiah Siska, and MaRynn Taylor. Black River Records is also home to the 6-time GRAMMY award-winner and 3-time Country Music Association Male Vocalist of the Year, Ronnie Milsap. Thrive Management provides artist management services to Christian artist Hannah Kerr. Part of the Pegula Sports & Entertainment company portfolio, which includes the NFL's Buffalo Bills, NHL's Buffalo Sabres, AHL's Rochester Americans, NLL's Buffalo Bandits, and Rochester Knighthawks, LECOM Harborcenter, Buffalo Marriott at LECOM Harborcenter, ADPRO Sports, KeyBank Center, and New Era Field, Black River Entertainment and its Nashville, TN based entities. For more information, please visit www.blackriverent.com, and follow them on Facebook, Twitter, and Instagram.
About Curb | Word Entertainment:
In 2016, Curb Records acquired Word Entertainment, combining two of the music industry's most respected global brands, and more than a century of collective experience. Today, Curb and Word are two of the world's leading independent music companies. Owned and operated by Mike Curb, the Curb | Word family includes the labels Curb, Word, Squint, Fervent, Sidewalk, MCC and IVAV, as well as Curb Publishing, Word Publishing, 25 Live, Curb Films, Word Films, Word Entertainment, and Curb Sports, representing top artists and entertainers in Country, Christian, Pop, Rock, and Hip-Hop. For more information, visit www.curb.com.
###
For more info on Hannah Kerr, visit the JFH Artists Database.