TOMMY WALKER RELEASES THE THIRD CHAPTER OF GENERATION HYMNS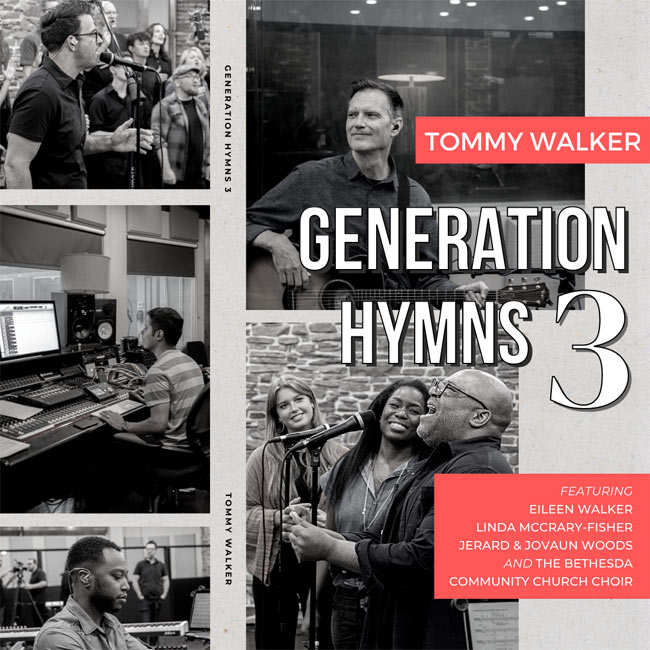 NEWS SOURCE: Marketing with Wisdom
March 17, 2022
LOS ANGELES (MARCH 17, 2022) -
LA-based worship leader and songwriter, Tommy Walker, is releasing a new album on March 18th – the third chapter of his Generation Hymns series. Generation Hymns 3 was recorded live in the studio at Bethesda Community Church.
All participating parties including artists Eileen Walker, Linda McCrary-Fisher, Jerard and Jovaun Woods and The Bethesda Community Church Choir hope the album will bring generations upon generations to worship and connect with God together.
"The album is full of expressions of joy and celebration," Walker said. "It's arranged to remind listeners and worshipers of the power of the simple gospel."
This is the third Generation Hymns project Walker is partnering with Prism Music, a company that creates music products for church music ministries, to provide choral resources. Walker would like to give a huge nod to Ray Jones at Prism Music for encouraging him to go forward with another project.
"The great thing about choirs is they give opportunities for more people in our local churches to be a part of what God is doing!" said Walker.
Generation Hymns 3 was produced by a culmination of ideas. The joyful atmosphere of laughter, creativity and worship gave way to beautiful arrangements and choruses.
From ages 8 to 108, this album will encourage listeners to enjoy singing while absorbing God's promises and the foundations of the Christian faith. To listen to the album, please visit
liinks.co/tommywalkerministries
About Tommy Walker
Tommy Walker is a worship leader, singer/songwriter, speaker, author and has served at his home church, Christian Assembly in Los Angeles, CA, for over 30 years.

Tommy has written over 300 songs that are currently tracked by C.C.L.I. and are sung in churches around the world. His most popular songs include: He Knows My Name, That's Why We Praise Him, Only A God Like You, Mourning into Dancing, I Have A Hope and We Will Remember. Tommy has recorded worship music albums and singles for, Maranatha! Music, Integrity Music, Brentwood and LifeWay Worship.

On about any given Sunday around the world, you are likely to hear the choir and congregation singing one of Tommy's songs.

Tommy Walker's songs have been recorded by such artists as - Israel Houghton, Paul Baloche, Ron Kenoly, Don Moen, Crystal Lewis, Alvin Slaughter and countless others.

He has had the privilege of leading worship with such Christian leaders as: Franklin Graham, Rick Warren, Andraé Crouch, Jack Hayford, Fred Luter, Joni Eareckson Tada and Greg Laurie. Tommy has held worship concerts and mercy ministry outreaches in more than 20 nations.

Tommy graduated from Christ for the Nations Bible Institute with an associate's degree in Practical Theology, a degree in Jazz-fusion Guitar from Musicians Institute, received an honorary Doctor of Divinity degree from Life Pacific College in 2013 and an honorary Doctorate in Music Arts from Shepherd University. He was nominated for a Dove award for his album, "Great and Marvelous - Celebrating the songs of Tommy Walker vol. 2."

Tommy and his wife Robin live in Los Angeles, CA and have four children. To be found faithful to His God, his family and the local church will always be his greatest achievements!
###