JOHN BERRY'S UPLIFTING AND EXHILARATING FAITH-BASED ALBUM, FIND MY JOY, AVAILABLE NOW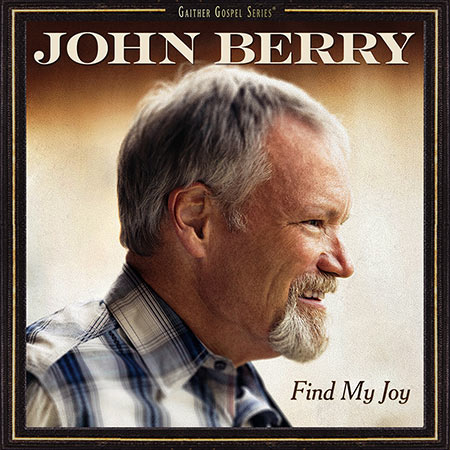 NEWS SOURCE: B! Noticed PR
March 25, 2022
NASHVILLE, Tenn. (March 25, 2022) -- GRAMMY® Award-winning country singer/songwriter, John Berry, has recorded and released an inspiring, faith-based album, Find My Joy, featuring heartfelt renditions of Gospel classics that have inspired him offstage and grounded his lauded musical journey. Best recognized for his hit song, "Your Love Amazes Me" and his incredible rendition of the Christmas classic, "Oh Holy Night," Berry seamlessly delivers timeless standards "How Great Thou Art," "Great Is Thy Faithfulness," "I Surrender All" and several new songs sharing the jubilation he has found personally with listeners everywhere.

The new album, Find My Joy, features his unmistakable voice that has garnered Platinum records and 20 hit singles. The uplifting and exhilarating project was arranged and produced by multi-award-winning producer and Songwriter Hall of Fame inductee, Steve Dorff and distributed by Gaither Music Group - Gaither Gospel Series. The album is available to purchase on Johnberry.com, Gaither.com and Amazon.com, as well as independent Christian retailers and is available for download and streaming on all digital music platforms at https://smarturl.it/findmyjoyjb.

"I love the opportunity I have had to create new music, and it is awesome to look back here at the beginning of a new year and see that for 10, 20, 25 years I have had new music to share. To be able to create this project with Steve Dorff -Amazing!" exclaimed John Berry.

"Gaither Music Group is honored to partner with John and his team for this special recording," stated Paul Sizelove, president of Gaither Music Group. "John has impacted countless people with his songwriting, performances and radio hits. He has developed a brand of faith and family that brings uplifting entertainment, as well as encouragement to listeners, and we are excited to introduce his renditions of these timeless songs on the Gaither platforms."

Track List - Find My Joy
Great Is Thy Faithfulness - Traditional arrangement by Steve Dorff / John Berry
I Surrender All - Traditional arrangement by Steve Dorff / John Berry
Find My Joy - Steve Dorff / Jack Cassidy
Turn Your Eyes Upon Jesus - Traditional arrangement by Steve Dorff / John Berry
It Is Well With My Soul - Traditional arrangement by Steve Dorff / John Berry
Something Bigger Than Me - Steve Dorff / Marty Panzer
How Great Thou Art - Stuart K. Hine
Blessings - Laura Story
Blessed Assurance - Traditional arrangement by Steve Dorff / John Berry
Live Like You - Steve Dorff / Jack Cassidy
Backstory: John was deep in the middle of his throat cancer treatment during Spring 2019 and as one can imagine, he was not in a good place as it was very hard for him physically, emotionally and mentally facing his future as an entertainer. Fast forward to 2020 and the world was deep into Covid-19, and as a touring artist, he was dealing with the issues of tour dates canceling and the unknown future; as much of the world as we know it was shut down. John found himself looking for ways to keep productive and he was ready to dive into recording a new project. The single, "Find My Joy," was written in September 2020 by Steve Dorff and Jack Cassidy. Jump ahead to January 2021, Steve Dorff played the song to John and his wife, Robin, while meeting to discuss Steve arranging the songs for John's new project. John immediately knew he wanted to record this song for his new faith-based album. It was shortly thereafter, they discussed Steve producing the whole project. Hailing from New York City, Steve had not grown up listening to the traditional (Christian) versions of some of these songs and had not even heard a few of them before, but was drawn to the beautiful melodies, which allowed for him to bring a unique sound to the production of these standards. Creative elements were added by Steve to the production, including the performance of "Something Bigger Than Me" which includes a 60-piece Utah Symphony Orchestra arranged by Larry Herbstritt, piano by in-demand concert and studio musician Gordon Mote and conducted by Steve Dorff. The end result is this music project is incredible!

"I really loved the idea of putting my own musical spin on some of these incredible pieces of Musical art," added Steve Dorff. "John was so very collaborative in letting me be inventive in my approach to the overall sound and Production of the project.".

Recording of the new project took place at Dorffmeister Studio, Sound Stage and Masterfonics and was engineered by Craig White, with assistance from David Bates and Joel McKenney. Studio musicians included keyboards by Jimmy Nichols, guitars by B. James Lowry and Justin Ostrander and background vocals by Tania Hancheroff, Kim Keyes, Joe Chemay, Robert Bailey and Gene Miller with programming and additional keyboards by Steve Dorff. Caelan Berry played drums on "Live Like You" and "How Great Thou Art."

Stay current with John Berry on his website johnberry.com and follow him on social media platforms Facebook, Twitter and Instagram.

John Berry music is available for streaming on Spotify, Apple Music, Pandora and YouTube Music. Download on Amazon Music and iTunes and watch video content on YouTube.
About Gaither Music Group:
One of the largest independent Christian music companies in the world and a household name for millions of fans, Gaither Music Group, in partnership with Primary Wave Music Publishing, is known worldwide for its award-winning and top-selling recordings, including the Gaither Gospel Series, of which 133 products have been certified gold, platinum or multi-platinum. These recordings, which encompass more than 177 video copyrights, showcase gospel music pioneers; many of the finest performers in the gospel and country genres; up-and-coming acts; and country artists including The Oak Ridge Boys, Jimmy Fortune, Joey+Rory, Alabama, Alan Jackson, The Statler Brothers, George Jones, Vince Gill, Josh Turner, Tennessee Ernie Ford, The Isaacs and others. The brand has partnered with Sandi Patty, Gloria Gaynor, Steven Curtis Chapman and a host of acclaimed talents from various fields of music. Gaither Music Group has garnered sales of more than 40 million DVDs and CDs, including such PBS stalwarts as Billy Graham: God's Ambassador, the only authorized video autobiography of Reverend Billy Graham; The Gospel Music of Johnny Cash; and three Elvis Presley projects, including He Touched Me and The Gospel Music of Elvis Presley, in conjunction with the Elvis Presley Estate.

About John Berry:
Grammy award-winning country star, John Berry is gearing up for the release of his new album in 2022 and just wrapped his 2021 Christmas With John Berry, The Silver Anniversary Tour. He took advantage of being off the road for the bigger part of 2020 and created new opportunities to continue his reach to his fan base as well as new ones. Highlights include partnering with Monroe Carell Jr. Children's Hospital at Vanderbilt for his weekly series, "Songs and Stories For Kids," which charted multiple times on the Pollstar Live Stream Chart. He released a new video and re-recorded a new single for "The Graduation Song," started a new podcast, Faith, Family & Friends with John & Robin Berry and ended the year with his 24th annual Songs and Stories with John Berry Christmas. In 2019 John Berry celebrated the 28th anniversary of signing his first record deal. He released "The Richest Man," dedicated to his father from the new album Thomas Road. In 2019, Berry was diagnosed with throat cancer, requiring 35 treatments combined with radiation and chemotherapy. In 2018 charted at #30 on the Music Row Breakout Charts with the single, "Beautifully Broken," which is featured in the soundtrack for the movie of the same name. Berry has placed 20 singles on the country hit parade charts, six of which went Top 5 as well as a No. 1 on the Billboard and Radio & Records country charts. He has earned numerous Gold and Platinum records. Berry's co-written "A Mind Of Her Own" and "Kiss Me In The Car" introduced him to radio audiences in 1993. Then, "Your Love Amazes Me," "What's In It For Me" and "You And Only You" thrust him to stardom in 1994. "Standing On The Edge Of Goodbye," "I Think About It All The Time," and "If I Had Any Pride Left At All" were all major hits the following year. "Your Love Amazes Me" earned Berry a 1995 GRAMMY nomination. In 1996, he scored a GRAMMY win for his participation in Amazing Grace: A Country Salute to Gospel Vol. 1. Berry took "Change My Mind" into the country music Top 5 in that same year. "She's Taken A Shine" became an even bigger hit in 1997. The same year he was nominated for CMA Vocal Event of the Year for "Long Haired Country Boy" with Charlie Daniels and Hal Ketchum. Both fans and the media took note when "There He Goes" was released as a 1999 duet with Patsy Cline. Berry's two most recent albums, What I Love The Most and his holiday album, Christmas, are both available now on his website and iTunes and other digital retailers. Berry's TV show, Songs & Stories with John Berry, aired weekly for two years on Heartland Television, The Family Channel, The Country Network, Roku (via Heartland), AMG TV, Country TV (New Zealand), and Keep It Country TV (UK). For more information, visit songsandstories.com. Follow John on his website at www.johnberry.com.
###