7 April 2022 - NASHVILLE, TN -
On Tuesday, April 5,Red Street Records' artist
Cade Thompson
received the opportunity to perform his song, "Anything Yet," at the movie premiere of "
The Mulligan
." Held in Augusta, Georgia - the site of the Masters Golf Tournament which is currently in full swing through this weekend - "Anything Yet" is a big part of the movie, playing during the film's ending and closing credits. "The Mulligan" will air in more than 800 theaters across the U.S. for two nights only - Monday, April 18 and Tuesday, April 19 - via Fathom Events. Click
HERE
for ticket information.
Based on the popular book by Ken Blanchard and Wally Armstrong, the film's title comes from a popular golfing term meaning a do-over or receiving a second shot. The message of "The Mulligan" reminds us that second chances are only one shot away.
From producer Rick Eldridge ("Bobby Jones: Stroke of Genius," "The Ultimate Gift," "The Running of the Sahara"), "The Mulligan" has an all-star cast including Eric Close (TV's "Nashville"), entertainer Pat Boone, PGA champion Tom Lehman, and broadcasting legend Jim Nantz, who attended the movie's premiere just hours after calling the national broadcast of the NCAA Men's National Championship basketball game.
"It was such a great surprise to have someone want to use my song on a movie," Cade Thompson shares. "The premiere was great to be part of and to perform at while getting to meet legends in the entertainment world as well as new upcoming talent. When Pat Boone looked at my shoes said, 'You know, I started all that with the white bucks shoes back in the day. Maybe you will start a new trend with your two tones!'" Boone had his own illustrious career that spans the decades, including his hit song "Love Letters" from 1957, which hit No. 1 on the pop charts.
"Anything Yet," which appears on Cade Thompson's 2021 album
Bigger Story
, was written by Thompson, Micah Kuiper, and Krissy Nordhoff and produced by Kuiper and Bryan Fowler. The song found its way to Eldridge last fall. "I'm friends with Cade's manager and got a copy of his album," Eldridge explains. "I listened to his music and loved it. When I heard 'Anything Yet,' I was in the movie's post-production. I got everyone to agree that the song fits the moment of the movie's conclusion. It works perfectly." Click
HERE
to find out more about "The Mulligan."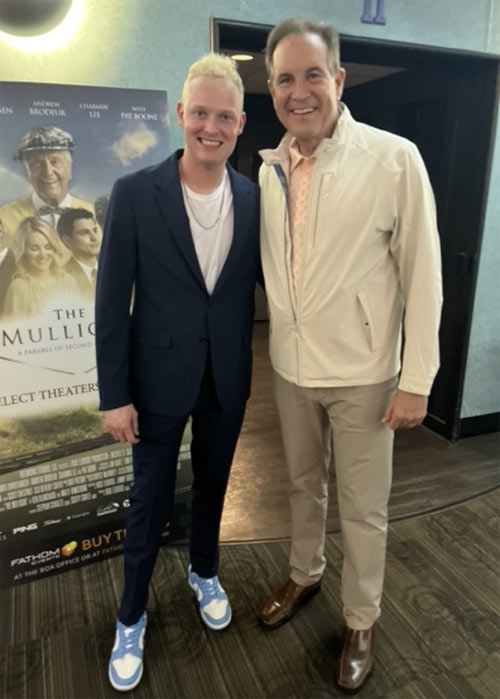 Thompson with Jim Nantz
ABOUT CADE THOMPSON: Red Street Records artist Cade Thompson is an energetic and soulful contemporary Christian music artist with a sound that appeals to believers and mainstream pop audiences alike. His effortless style promotes his personal musical influences, which draw heavily from the church. Thompson also has an admirable ability to transform his thoughts and faith into a powerful collection of melodies and lyrics that inspire people of all ages to step into all that God has for them.
Thompson has had an affinity with music since his toddler days when a preschool teacher noticed him frequently harmonizing early on, which eventually progressed through piano, guitar, and drum lessons. After joining the youth worship team in sixth grade, a music mentor came into his life who emphasized the importance of seeking God through the Bible outside of a worship setting. This understanding placed Thompson on a deeper course of encountering the love of the Father and seeking His presence more intently. In these early teen years, he knew God was calling him into music ministry and giving him opportunities to grow in that calling.
God has continued to reveal Thompson's heart, the outpouring has resulted in a strong connection to his generation sonically and lyrically. Shortly after finishing high school, he moved to Nashville, where he signed with Red Street Records, an independent Christian label founded by Rascal Flatts member Jay DeMarcus. In February of 2020, Thompson made waves across the Christian music community with the release of his debut single, "Provider," and that August he earned his first Top 20 Billboard single with his second single, "Every Step of the Way."
Cade Thompson has also seen huge success online, where his music has earned more than 35 million streams to date. By 2021 he hit the ground running with a lineup of shows across the nation opening for some of CCM's biggest names, while his debut album,
Bigger Story
, was released September of 2021. For more information, visit
CadeThompsonMusic.com
ABOUT RED STREET RECORDS:
The desire of Red Street Records is to touch lives and spread the Gospel of Jesus Christ through music. To that end, they seek to partner with artists who share this aim and who strive to achieve it through their innovative and visionary craft. Red Street Records supports their artistry and ministries by providing a label that will give access to the highest standards in the recording industry.
RedStreetRecords.com
.
ABOUT "THE MULLIGAN":
Paul McAlister is a success at everything—except what really matters. Separated from his wife and estranged from his son, Paul keeps his focus on his next boardroom mega-deal. Like an errant tee shot on a difficult hole, Paul's life could use a do-over … a "mulligan." A retired golf pro tries to point this successful businessman who is far from God toward what really matters in life. Through their new friendship, the Old Pro helps Paul discover there's hope for second chances in the One who offers us "the ultimate mulligan." See it in theaters for two nights only: Monday, April 18 or Tuesday, April 19. Learn more at
themulliganmovie.com
.