FUTURES WORSHIP ANNOUNCES SPECIAL EASTER EP LOVE LETTERS FROM AN EMPTY TOMB
A NEW SINGLE RELEASING EVERYDAY OVER EASTER WEEKEND

UNPRECEDENTED RELEASE LOVE LETTER STYLE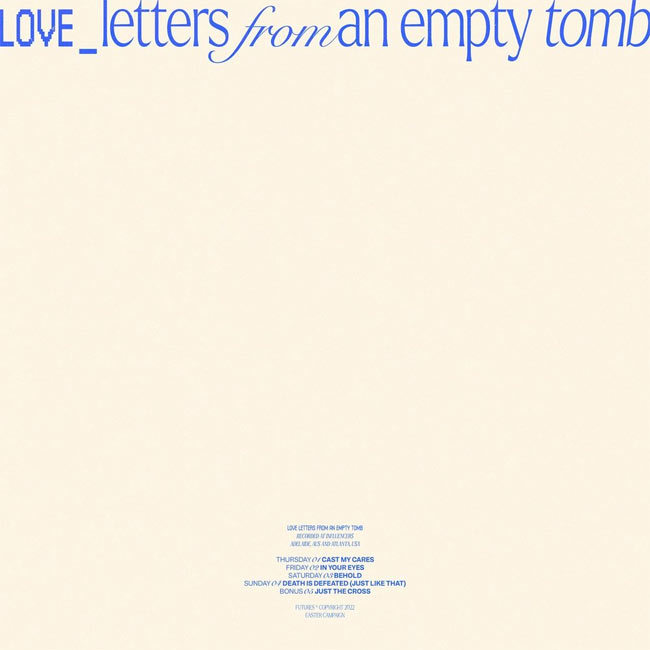 NEWS SOURCE: Wortman Works PR
April 13, 2022
NASHVILLE, Tenn. (April 13, 2022)
- Dream Records worship group Futures announce that their upcoming EP entitled
Love Letters From An Empty Tomb
will be releasing over the Easter weekend. In lieu of releasing the EP on one release date, the group will be releasing each single off the EP individually everyday over Easter weekend, "love letter-style." The project is an inspired homage to Jesus, from Futures, for Easter.
Click here
to view the official "Love Letters" website.
The inspirational project is following Future's most recent release "Hills + Horizons" which saw great success across streaming platforms as well as buzz at radio. The Australian-native group, now based in Atlanta, GA, is continuing to give the glory to God through their awestruck melodies and faith-inspired lyrics. See below for the track listing as well as release schedule for the Love Letters From An Empty Tomb EP.
Thursday, April 14th - "Cast My Cares"
Friday, April 15th - "In Your Eyes"
Saturday, April 16th - "Behold"
Sunday, April 17th - "Death Is Defeated (Just Like That)"
Bonus Track - "Just The Cross"
Click here
to stream and download
Love Letters From An Empty Tomb
Click here
to view the
Love Letters From An Empty Tomb
Official Trailer
ABOUT FUTURES:
Futures formed when lifelong friends from Australia made the move to Atlanta. What began to emerge was a unique Aus-merican blend of Pop/CCM that sonically stands alone with lyrical depth to boot. Along the way they've topped the Australian Inspirational iTunes charts as well as the USA Christian Singles Chart with the release of Imaginations (2017), followed by their live album Just the Cross (2019), they're just getting started. 2021 was a significant year for the band as they completed their debut studio LP Hills & Horizons. The Futures are looking bright. Releasing worldwide on January 7, 2022, the record has been 2 years in the making; its genesis traced back to writing retreats from the oceanside cafes of Savannah, Georgia to the wine regions of South Australia along with many an overseas zoom session.
ABOUT DREAM RECORDS:
DREAM provides artists with a genuine approach to how real artist development should be done. By allowing for a partnership as a business model, DREAM artists empower themselves to develop and carry out a real vision for their lives as they affect other people's lives with their music and message. Incorporating social media, press, radio and touring, DREAM is helping its artists grow together as a family. DREAM was founded in 2008 and has grown into multiple labels and a publishing company.
###
For more info on Futures, visit the JFH Artists Database.