RUDY CURRENCE RECEIVES HONORARY DOCTORATE
CELEBRATES SECOND CONSECUTIVE #1 GOSPEL RADIO HIT "NO GREATER LOVE" WITH CHRISETTE MICHELE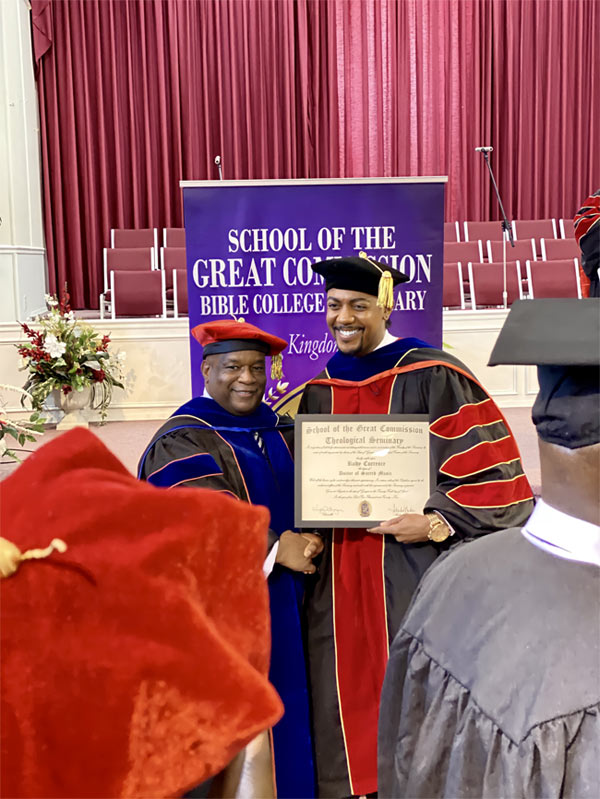 Photo courtesy of Mike Chek Entertainment

NEWS SOURCE: Hardy PR
May 4, 2022
ATLANTA, GA (Wednesday, May 4, 2022) - - - After touring and performing on hundreds of college and university campuses nationwide Rudy Currence received, from The School of The Great Commission, an Honorary Degree of Doctor of Sacred Music.
This recognition is on the heels of Rudy Currence's recent second consecutive #1 gospel radio single "No Greater Love" with Chrisette Michele. The song landed on both the Billboard Gospel Airplay and Mediabase Gospel radio charts (3 weeks). Currence solely wrote and produced it. The Grammy Nominated songwriter, Grammy, and Dove Award-winning producer released the official music video for "No Greater Love" on Friday (March 25). Watch the music video here!
"Although 'cancel culture seems to be a trend, 'No Greater Love' reminds us that even after our mistakes and failures, there is still room for grace," Currence tells Billboard. "We've all been in need of a second chance and even when we falter, it's comforting to know that God's unfailing love is readily available to us."
Currence scored his first No. 1 with "I Belong Here" in 2021. This is Currence's third Gospel Airplay entry. "My Testimony" reached No. 18 in February 2018. The Atlanta-based singer-songwriter, originally from Rock Hill, South Carolina, also landed on Billboard's Gospel Songwriters chart (dated Feb. 13) for "I Belong Here." He has penned songs for artists including two that he co-wrote on Lecrae's 2012 album Gravity (the title track and "Lucky Ones," featuring Currence). The set led Top Christian Albums for two weeks that September.
Currence and Chrisette Michele are gearing up for an official live music performance video of "No Greater Love" set to be released soon. Watch the announcement here.
Download or stream "No Greater Love" now: https://ffm.to/nogreaterlove
About Rudy Currence:
With well over three million YouTube views, two #1 gospel radio singles, a Grammy Award, and Dove Award Rudy Currence is a triple threat singer-songwriter, musician, and producer. A native of Rock Hill, SC, the Atlanta-based musician has written and produced songs for R&B singer Ray J, The Bourne Identity starring Matt Damon, Hip Hop Producer David Banner, and Multi-Platinum Grammy and Emmy Award-winning producer, Quincy Jones. He also produced on Lecrae's Grammy Award-winning album GRAVITY and composed the Grammy-nominated song "Sunday AM" (pronounced as "Sunday Morning") performed by Grammy winner Karen Clark Sheard. He has appeared on ABC's "The View," The Breakfast Club, and toured nationally and abroad, including renowned US venues like the House of Blues and The World Famous Apollo Theatre. Rudy is currently endorsed by Kawai Piano, the second-largest piano distributor in the world.
Connect with Rudy Currence:
Facebook: /RudyCurrence | Twitter: @Rudy_Currence | IG: @RudyCurrence | Youtube: /RudyCurrence | Website: www.RudyCurrence.com
###