RENOWNED WORSHIP ARTISTS, SONGWRITERS COLLABORATE FOR CENTRICITY WORSHIP AND FRIENDS EP
Debut Centricity Worship EP Features: Patrick Mayberry, Seth Condrey, Chris McClarney, Rita Springer, Kristian Stanfill, More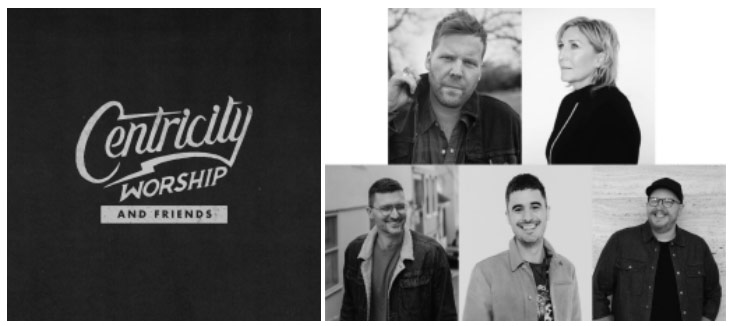 Select Centricity Worship And Friends EP songwriters/artists are pictured (l-r): (Top Row) Patrick Mayberry, Rita Springer. (Bottom Row) Seth Condrey, Kristian Stanfill, Chris McClarney.

NEWS SOURCE: Hoganson Media
May 13, 2022
Centricity Worship, a division of Centricity Publishing, releases its debut EP, Centricity Worship And Friends, today (May 13) to digital and streaming outlets everywhere via https://fanlink.to/cwfriends. All of the songs were composed at Centricity Worship writing retreats where many well-known artists and songwriters from various record labels and publishing companies gathered to create music for the Church to sing.
Produced by Patrick Mayberry, the collaborative tracks on Centricity Worship And Friends include the Heath Balltzglier and Seth Condrey-led "No Other King." Written by Mayberry, Chris Renzema and recent GRAMMY Award-winner Mitch Wong, the song was originally released on the current North Point Worship live album Our God Will See Us Through.
"King Jesus continues to defy our expectations," says Wong. "We wrote this song about the mystery of who Jesus is; the humility, the kindness, the compassion that we wouldn't first come to expect from royalty. No other king has loved as deeply, served so humbly, or triumphed as unequivocally as our King. We hope that this song will bring you back into wide-eyed wonder of Jesus."
Jesus, no one is like You
Jesus, no one beside You
Of this I am convinced
No greater love exists
Forevermore my hope is in no other King
(From the "No Other King" chorus)
"The Centricity Worship And Friends EP is a beautiful collection of worship songs for the Church, filled with biblical truth and singable melodies," remarks Mayberry, who not only produced the EP, but also co-wrote and is featured on some of the tracks.
The full Centricity Worship + Friends track listing and corresponding artists and songwriters follow:
1. You See Me (In Focus)
Artists: Seth Condrey, Rita Springer, Centricity Worship
Writers: Matt Armstrong, Seth Condrey, Rita Springer
2. Only Jesus
Artists: Patrick Mayberry (featuring Chris McClarney), Centricity Worship
Writers: Mike Grayson, Patrick Mayberry, Chris McClarney
3. Here At This Table
Artists: Seph Schlueter, Centricity Worship
Writers: Seph Schlueter, Rita Springer, James Tealy
4. First Love
Artists: Frankie Barranco, Gary Rea, Centricity Worship
Writers: Frankie Orella, Gary Rea, Kristian Stanfill
5. I Come Running
Artists: Patrick Mayberry, Kristian Stanfill, Centricity Worship
Writers: Mike Grayson, Patrick Mayberry, Kristian Stanfill
6. No Other King
Artists: Heath Balltzglier, Seth Condrey, Centricity Worship
Writers: Patrick Mayberry, Chris Renzema, Mitch Wong
Centricity Worship was created as a platform for song discovery with the goal of equipping the global Church with new and powerful worship songs. It's foundation dates back to a series of songwriter retreats which birthed songs like Lauren Daigle's "Come Alive (Dry Bones)" and Corey Voss's "Nothing But The Blood." These retreats have since become a part of Centricity Worship's DNA.
"Centricity Publishing has been doing these worship retreats for years, and out of them have come some really powerful songs that have gone on to inspire worshipers around the world," says Chad Segura,Vice President, Centricity Publishing. "Along with our own team of writers, we always like to invite other talented songwriters from around the industry as well. We love getting to do this with our friends. And in recording some of the favorite tunes from the resulting collaborations, our hope is that people will discover and connect with these songs, incorporating them into both their personal and corporate worship settings."
For more about Centricity Worship, including chord charts and other resources, go to: https://centricityworship.com/, Instagram, YouTube and Facebook.
About Centricity Publishing:
Centricity Publishing is an independent publishing company based in Franklin, Tennessee, and sister company to Centricity Music. With a talented roster of both artist and staff writers including Lauren Daigle, Jordan Feliz, Paul Duncan, etc., Centricity's writers have had numerous No. 1 radio singles, significant sync placements; and have received GRAMMYs, Billboard Music Awards, Dove Awards and more. For additional information, visit https://centricitypublishing.com/.
###