STRYPER GOLD DISC PRE-ORDERS START AT 6PM (EST), THURSDAY, MAY 19 2022
Special $18.99 price for the first few days, while supplies last. THERE ARE ONLY 1,000 EA. TITLE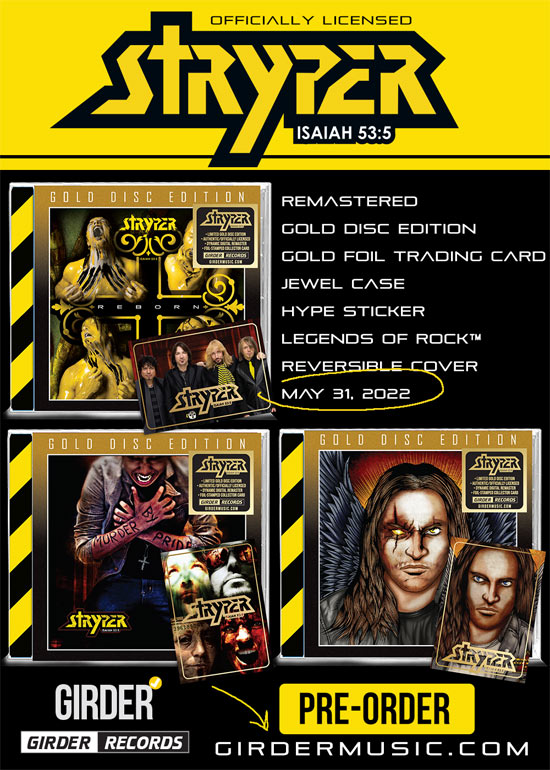 NEWS SOURCE: Girder / Jesusfreakhideout.com
May 18, 2022
Girder Music announces Stryper Gold Disc Pre-orders, which start at 6PM (EST), Thursday May 19th. They launch with a special $18.99 price for the first few days, while supplies last.
THERE ARE ONLY 1,000 EA. TITLE
Remastered by Rob Colwell (Bombworks)
Gold Disc Edition
Jewel Case CD w/Hype Sticker
Reversible Cover
Special Striped Print, Gold Foil LTD Collectors Trading Card
?2022 Girder Records
Legends of Rock™
Release Date: May 31, 2022
About the release, Girder says:
If you have been following us for a while and paying attention to our 100+ releases a year, you most likely are either aware of the quality of product we put out or have actually experienced it first hand. We've received a ton of reviews touting the "Girder Treatment" as some affectionately call it on the PETRA, RICK CUA and REZ releases. So given the opportunity to officially license and remaster these three Stryper Gold Disc, we pulled out all the stops, spared no expense and went overboard to make these the quintessential collectors editions.
When we approached the label about licensing these, we new that it wouldn't be cheap nor easy but we did it, and now REBORN, MURDER BY PRIDE and THE COVERING are all getting the coveted Girder treatment. Yep, I'm bragging.
Officially licensed from Big3 Records, these Girder Records Legends of Rock™ releases come in a jewel case with 12-page booklet insert that includes readable lyrics, photos, liner notes, The Covering comes with a fold out poster (no lyrics) All 3 come with a special LTD edition UV enhanced striped print, gold-foiled collectors trading card sealed inside, limited to only the first pressing of 1000 units. Each release is a Gold Disc and comes with reversible full cover if you prefer not to display the gold border cover.
You won't have to wait very long for these as they will begin shipping on May 31.
Stryper is most celebrated Christian rock band there is. Anyone reading this most likely knows the impact that Stryper has had on the scene. From the soaring vocals of Michael Sweet, the guitar attack of Oz Fox to the visual timekeeping (a show all on its own) of Robert Sweet, this band plowed a lot of ground and few would debate their legacy or impact. When the band reunited, the Christian rock community had massive reason to celebrate. Stryper 2.0 was here. Although many thought that Stryper's first album back would be the next To Hell With the Devil or In God We Trust album. What we actually got was something altogether different. Stryper was Reborn. After Reborn dropped in 2005 most were just thrilled for something new, however some had complaints that it wasn't the same ole Stryper. I for one am glad that we aren't still living with Blockbuster, MySpace, AOL, Netzero, Buicks, and flip-phones. I'm glad we've evolved and so should music. In my book, Stryper did it right, they reinvented themselves. Reborn, Murder By Pride and The Covering are quintessential Stryper history in the making and now in Gold Disc, they are the quintessential releases to own. Remastered with a free LTD collectors card included, Reborn, Murder By Pride and The Covering are a collectors dream and limited to just 1000 units, meaning these will be gone in no-time. Both Reborn and Murder By Pride come with 12 page booklets and The Covering comes in a 8 panel fold out poster. All 3 come with reversible full cover if you prefer not to display the gold border cover.
PRE-ORDERS START AT 6PM EST MAY 19, 2022
###
For more info on Stryper, visit the JFH Artists Database.