Steven Malcolm Cranks The Heat with "Summertime," Featuring All-Star Collaboration with Snoop Dogg and Jay-Way, Available Today
Music Video Premiere's Today with Vibe Magazine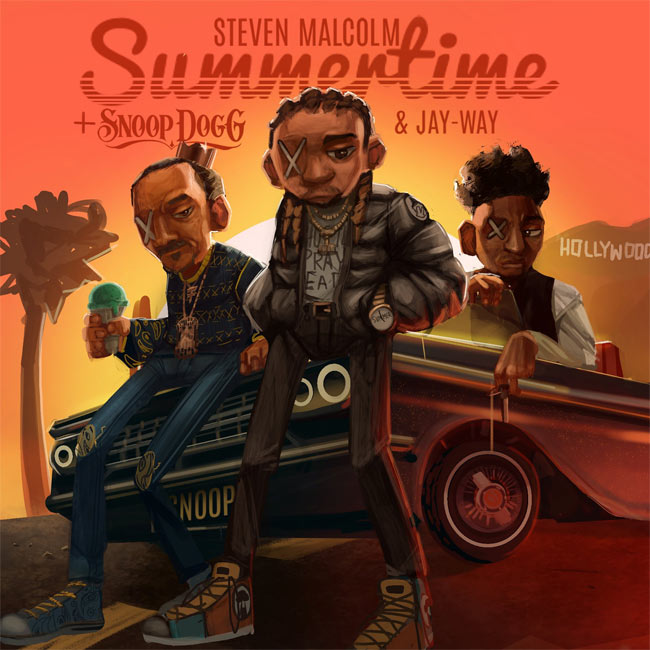 NEWS SOURCE: Curb | Word Entertainment
May 27, 2022
Nashville, Tenn. (May 27, 2022) — IVAV recording artist Steven Malcolm releases California-kissed anthem "Summertime," featuring a show-stopping appearance from global rap star Snoop Dogg, available today. The track's music video also premiere's today with Vibe Magazine – watch it HERE. Listen to "Summertime (feat. Snoop Dogg & Jay-Way)" HERE.
"It's surreal to hear Snoop on this song!" Malcolm says of his childhood hero. "I'm a legit fan. I made my mom buy me Chuck Taylor All-Stars in 5th grade because of Snoop. I had a huge afro growing up because of Snoop. I wore flannel because of Snoop."
The track's accompanying music video, premiering with Vibe Magazine today, was shot on location in Los Angeles, with additional scenes filmed during Snoop Dogg's stop in Tulsa, Oklahoma, on the "Mount Westmore Tour." For Malcolm, "Summertime (feat. Snoop Dogg & Jay-Way)" marks a new milestone in a career that continues to expand and electrify.
"When I got signed and began traveling as an artist, I fell in love with LA," Malcolm explains. "It's my crush! As a Midwest guy, I find every excuse to go out there, and the West Coast music that comes out of that city has always been amazing."
Listen to "Summertime (feat. Snoop Dogg & Jay-Way)" HERE. Pre-Order/Pre-Add/Pre-Save Tree HERE. Watch the music video premiere with Vibe Magazine HERE.
About Steven Malcolm:
Steven Malcolm makes faith-driven hip-hop that's as unique as his multi-cultural background. It's a diverse sound grounded in rap's rhythmic delivery, pop's modern melodies, and God's word, glued together by a street-smart artist whose music has earned five Dove Award nominations and more than 70 million streams.
Released in 2021, All Is True blurs the boundaries between Christian music and larger-than-life hip-hop, delivering universal songs about faith, family, and fidelity. This is hip-hop with a heart, mixing the spirituality of Sunday morning with the energy of Saturday night. It's also an extension of the sound Malcolm has spent the better part of a decade crafting. Raised by a family whose Jamaican-born patriarch was deported back to the Caribbean when his son was only 9 years old, Malcolm first turned to music for a source of stability. He found success in the hip-hop underground with his independent debut, Monster's Ink, then built a larger audience with 2017's self-titled Steven Malcolm. Nominated for three GMA Dove Awards, Steven Malcolm was followed by The Second City, which debuted at Number 11 on Billboard's hip-hop chart in 2019. Tracks like "Fuego'' highlighted his Jamaican roots and reggae influences (both of which were showcased on several remixes, which found Malcolm working alongside collaborators like Shaggy, R3HAB, The SoulBots, and Melanie Pfirrman), while a Dove-nominated remix of "Even Louder" featured his duet with seven-time Grammy nominee Natalie Grant.
About Curb | Word Entertainment:
In 2016, Curb Records acquired Word Entertainment, combining two of the music industry's most respected global brands, and more than a century of collective experience. Today, Curb and Word are two of the world's leading independent music companies. Owned and operated by Mike Curb, the Curb | Word family includes the labels Curb, Word, Squint, Fervent, Sidewalk, MCC, and IVAV, as well as Curb Publishing, Word Publishing, 25 Live, Curb Films, Word Films, Word Entertainment, and Curb Sports, representing top artists and entertainers in Country, Christian, Pop, Rock, and Hip-Hop. For more information, visit www.curb.com

For more information on Steven Malcolm, go to:
Steven Malcolm online:
###
For more info on Steven Malcolm, visit the JFH Artists Database.