EEM Launches "55:11 Podcast" to Encourage Christians to Recommit to Reading Their Bibles
Inspiring Stories Remind Listeners That God's Word is Powerful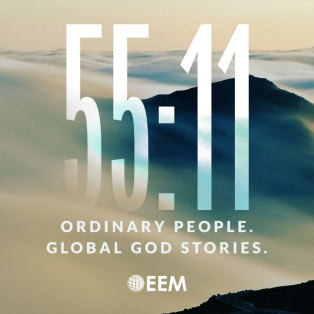 NEWS SOURCE: A. Larry Ross Communications
May 31, 2022
HURST, Texas, June 1, 2022 — Eastern European Mission (EEM), a ministry that has steadfastly worked for more than 60 years to supply free Bibles to former Communist bloc countries, announces their new "55:11 Podcast," launching July 12, 2022.
Hosted by EEM team members Dirk Smith, Brooke Kehl and Payton Armstrong, the "55:11 Podcast" shares inspiring stories of God's power being poured out globally through the lives of ordinary people. Aptly named after a verse in the Bible, Isaiah 55:11, the podcast seeks to provide encouragement to listeners regarding the continuing power of God's living Word in our daily lives and the role each believer can play in sharing.
"In the U.S., we can access the Bible anywhere and everywhere, whether it is online, in a bookstore or on our bedside table," said Dirk Smith, Vice President of EEM. "When I remember that there are people around the world without access to even one Bible, it causes me to examine my heart. How much do I crave and value listening to God through reading the Bible? Enough to read it daily? Enough to share with others about how it transforms people's lives? This is the inspiration for the '55:11 Podcast.'"
The conversations between Smith, Kehl and Armstrong will remind listeners that spending regular time reading the Bible is vital to the health of one's relationship with God. The stories they share point back to the truth of Isaiah 55:11, which states that God's Word never returns without having fulfilled its purpose.
"Whether we read one verse, a full chapter or one passage, God wants to use the Bible to fulfill His purposes in and through us," shares Smith. "This truth is the backbone of EEM. God's Word is breath and life and the whole world should have access to it! We're so excited to launch this podcast to encourage ourselves and others not to take the Bible for granted. Together, let's renew our commitment to read the Word daily and embrace the powerful stories within it that give glory to God."
To listen to the "55:11 Podcast," visit www.eem.org/5511podcast or find it on Apple, Spotify or Google by searching for 55:11 EEM.
About Eastern European Mission
Eastern European Mission (EEM) was established in 1961 to provide Bibles and Bible-based materials throughout the former communist bloc countries in Eastern Europe. Today, EEM publishes and prints Bibles and New Testaments as well as Teen Bibles, Children's Bibles and coloring books, distributing them through a vast network of partner churches and organizations reaching more than 32 countries in 23 different languages, including Farsi and Arabic. www.eem.org.
###