NORTH POINT WORSHIP RELEASES "THIS IS MY SONG (FEAT. MAC POWELL AND HEATH BALLTZGLIER)"
Remix From Current Album, Our God Will See Us Through, Hits Radio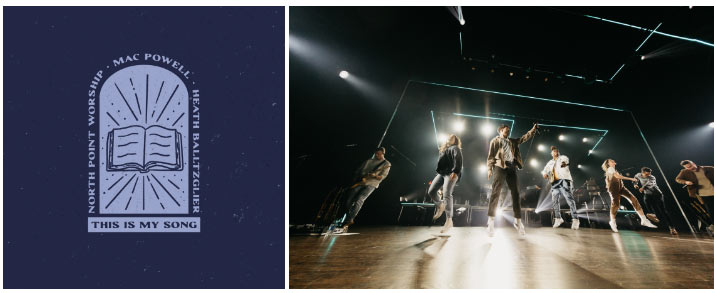 NEWS SOURCE: Hoganson Media
June 17, 2022
Internationally known North Point Worship releases today (June 17) a remixed version of "This Is My Song" from its first album of 2022, Our God Will See Us Through, on North Point Music® and Centricity Music. Going for adds at radio and available at digital and streaming outlets globally now via https://fanlink.to/NPWlive, the resounding anthem is led by Heath Balltzglier and Capitol Christian Music Group artist Mac Powell, former frontman of four-time GRAMMY®-winning band Third Day.
"My great grandparents, my grandparents on both sides and my parents were all gospel singers. I was raised and saturated in old gospel music and hymns growing up," shares Balltzglier. "At the beginning of the pandemic, so many of those old songs began resurfacing in my soul again and anchoring my heart to hope. That's where this song comes from.
"When I was 16 years old, I saw a band called Third Day in Atlanta," Balltzglier continues. "That night they performed a song called 'Agnus Dei.' It was the first time I had experienced worship in a setting like that. It deeply impacted my life. I knew then that that was what I wanted to do, so having my friend Mac Powell on this song is such a full circle moment! So grateful to share this with him. No matter what we face, God's people will always have a song of hope to sing, because He lives!"
"From the moment Heath sent me 'This Is My Song,' I knew I wanted to be a part it," adds Powell. "Having strong roots in worship music and being on staff at Church of the Apostles in Atlanta, I'm excited to see how this song is used to encourage the church and the body. I'm honored to be a part of it with Heath and my North Point friends!"
Like the new, radio-ready "This Is My Song (feat. Mac Powell and Heath Balltzglier)" remix, all the songs on Our God Will See Us Through share a common encouraging and hopeful message that the pathway to God is never far away as He is always calling His children home. The album was recorded live Oct. 14, 2021 at North Point Ministries' Woodstock City Church campus and features, in addition to "This is My Song," the singles "God is Love," "Deliverer" and "Prodigals."
For more of the story behind these North Point Worship songs, as well as song tutorials and more news, visit https://northpointworship.com/, Facebook, Twitter, Instagram, Spotify, YouTube and Apple Music.
About North Point Worship:
Originally formed out of North Point Community Church's high school ministry, InsideOut, the worship band from North Point Ministries now serves over a million people online, via television and at the multi-campus, metro Atlanta area North Point Community Church every week. It also serves a growing and diverse, multicultural group of worshippers reaching well-beyond its network of 90 local churches.
Known for worship anthems like "Death Was Arrested," "Abundantly More" and "Love Come Down," North Point Worship's first recording, No One Higher, released in 2012 and hit the Top 20 on Billboard's Christian Albums chart. The album was followed by 2015's Hear that soared to No. 2 on the chart while further hitting the Billboard Top 200 for the first time. Signing with Centricity Music in 2017, the group released the EP Nothing Ordinary, which features its song "Death Was Arrested" that has been re-recorded by artists like Aaron Shust and Laura Story. Along with the Find A Reason (2020) and Our God Will See Us Through (2022) LPs, six more EPs have released to critical acclaim, including Nothing Ordinary, Pt. 1 (Live) and Pt. 2 (Live), the Christmas offering Ring The Bells (2018), North Point InsideOut (2018), Abundantly More (2019) and Live From Decatur City (2021).
About North Point Music:
In 2010, North Point Ministries launched North Point Music as a way to share the songs and talents of its unique collection of gifted worship leaders, musicians and songwriters. The Alpharetta, GA-based record label and music publishing company offers music publishing services, including but not limited to licensing, royalty collection, copyrights and translations. Their publishing services are administered through Music Services, Inc. and Capitol CMG Publishing.
About Centricity Music:
The No. 1 Billboard Top Christian Albums Imprint for three consecutive years, Centricity Music is an independent Christian music company based in Franklin, TN. Founded in 2005 with a commitment to artist development and stylistic diversity, its artist roster includes Andrew Peterson, Apollo LTD, Brandon Heath, Chris Renzema, Coby James, Cross Point Music, Jason Gray, Jordan Feliz, Katy Nichole, Lauren Daigle, North Point Worship, Patrick Mayberry, PEABOD and Unspoken. Providing label and publishing services, Centricity is a family-owned organization, and they like it that way. The committed work of its staff and artists has yielded successes such as Grammy Awards, Billboard Awards, Dove Awards, K-Love Fan Awards, and multiple Gold and Platinum Albums and Singles. For more Information on Centricity Music, visit https://centricitymusic.com/.
###