The Ongoing Concept, Fallstar, The Undertaking! & Meadows Tour.

Solid State VS Facedown Records bands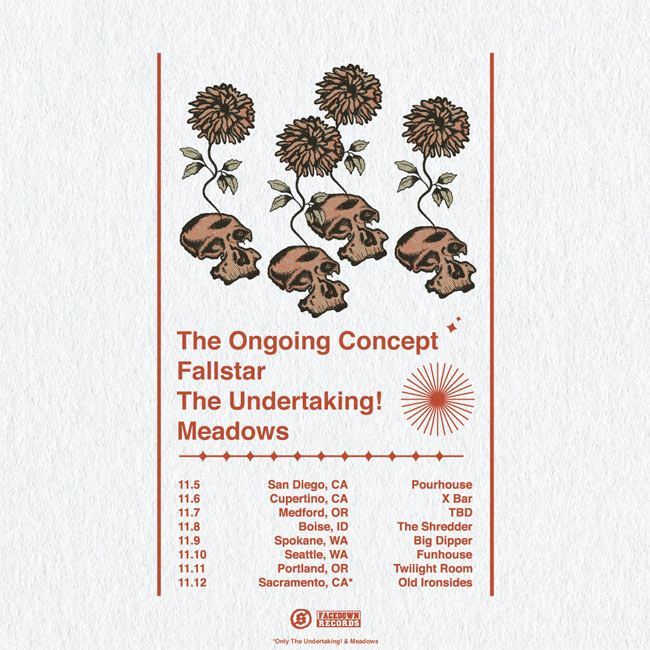 NEWS SOURCE: Rat Family Records
June 22, 2022
This November, The Ongoing Concept (Solid State Records), Fallstar (Facedown Records), The Undertaking! (Solid State Records), and Meadows (Facedown Records) will tour the west coast. All 4 bands bring a different flavor of aggressive music to each night of the tour. This is dope cause new records for TOC, Fallstar, and the Undertaking! are coming out early 2023, with singles trickling out starting this fall. Also TOC hasn't toured in 6 years, and have reformed to their original lineup. This too is dope. All shows are free provided fans can speedrun Zelda: Ocarina of Tme in 15 minutes. This tour will be a bloodbath as the bands fight to show concert attendees which label is better and more cool. Nothing is off limits including physical violence and insults. All 4 bands sound nothing like the mainstream metal core nonsense, thus aren't the biggest bands in the world, but all 4 boast cred for staying legit and original. Anyway, this tour is gonna rule hard.

TOC was formed in 2009 and will release their 4th studio album on Solid State records in early 2023.
Fallstar was formed in 2005 and will release their 5th studio album on Solid State Records in early 2023. Their last release was SUNBREATHER on Facedown Records in 2021.
The Undertaking! Released their debut album FUNERAL PSALMS on Solid State Records in 2021.
Meadows Released their debut Album IN THOSE DAYS & ALSO AFTER on Facedown Records in 2021.

TOC - An eclectic, progressive, Christian metalcore outfit from Rathdrum, Idaho, the Ongoing Concept were formed in 2010 around the talents of siblings Dawson, Kyle, and Parker Scholz and their childhood friend TJ Nichols. The quartet became active while all of the members were still in high school. In 2011 they issued a debut EP, Arrows Before Bullets, which led to a deal with Solid State Records, who put out the band's debut studio long-player, the Wild West-themed Saloon, in 2013. The LP received positive reviews and managed to land at the number 38 slot on Billboard's Heatseekers chart. Released in 2015, Handmade, the band's sophomore studio outing, garnered even more acclaim, with critics citing the group's masterful playing and inventive songwriting. Led by the fiery single "The Print," the Ongoing Concept returned in late 2017 with their third LP, Places. ~ James Christopher Monger, Rovi

Fallstar - Portland, Oregon anarchist band Fallstar has signed with labels, toured the US playing the smallest dirtiest venues for years, put out 4 studio releases and still travel overseas for shows. Fallstar combines styles of Legacy Nu Metal with rock & Roll sounds influenced by Jimmy Eat World, Saosin, and Anberlin. Founded by Chris Ratzlaff in 2005, he and his brother Bryan Ratzlaff, Cody Carrier, and Morgan Weisz continue to tour and release albums.

The Undertaking! - The Undertaking! is a chaotic rock band with a can-do attitude. San Diego. Solid State Records.

Meadows - Classic hardcore influence woven into melodic rock and atmospheric guitars—Meadows delivers it all while tending toward the current of modern hardcore. The Birmingham, Alabama 5-piece have been compared to contemporaries Counterparts and Defeater, as well as genre masters mewithoutYou and La Dispute.
Meadows is bringing a three-part EP to Facedown Records. The first two parts, previously self-released by the band, will be re-released through the label on June 11. The third part will be released as a brand new EP, followed by additional tracks which will join all three segmented releases and come together as one complete LP. "In Those Days & Also After" released in full on September 3, 2021.
###
For more info on The Ongoing Concept, visit the JFH Artists Database.
For more info on Fallstar, visit the JFH Artists Database.
For more info on The Undertaking!, visit the JFH Artists Database.
For more info on Meadows, visit the JFH Artists Database.