NAUTICAL ROCKERS RUSTY SHIPP RELEASE THE KRAKEN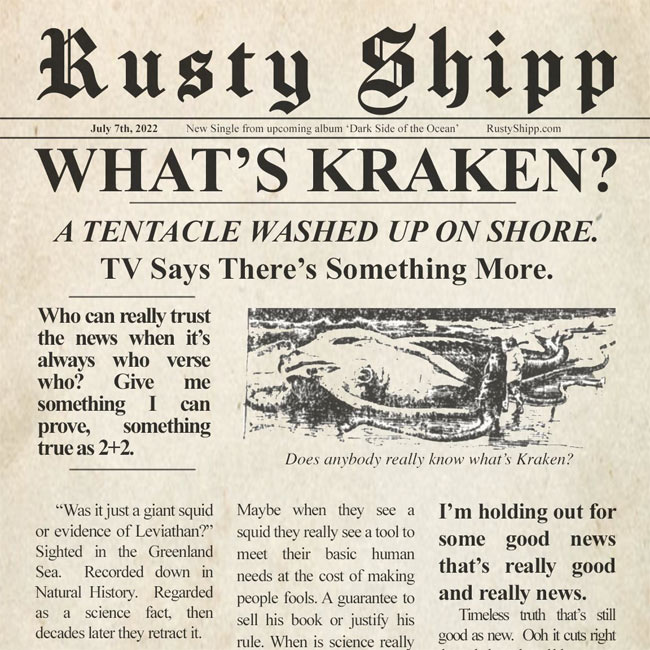 NEWS SOURCE: Rusty Shipp
July 7, 2022
"What's Kraken?" – Rusty Shipp's latest single (accompanied with an animated lyric video) -- is the response to many of the band's nautical rock 'n' roll fans who have understandably begged the band for a song about the Kraken for years. Being written in the pandemic though, the song became more of a political and philosophical statement using historical news reports of "The Kraken" as a symbol which challenges our trust in truth released by the authorities, whether that be from the news, government, science, politics, or religion. Truth seems more elusive than ever during these pandemic times, and this song laments that angst while pointing our attention to the timeless truths that have undeniable proof and transcend our current circumstances.
"What's Kraken?"Official Lyric Video: https://youtu.be/E7JjVNIm0GI
Sonically and melodically reminiscent of grunge and post-grunge era rock in the fashion of Foo Fighters, Alice in Chains, etc., "What's Kraken?" is on Rusty Shipp's more aggressive side with an obvious punk influence and a Van-Halen-styled guitar solo, but not without the group's iconic surf-guitar sounds and emphasis on catchy, Beatlesque vocal lines. The single was released with an official lyric video that brings out the message behind the lyrics through animated illustrations. "What's Kraken?" is taken from the larger story of the upcoming concept album "Dark Side of the Ocean," which is being released song by song in 2022.
"The truth will always lead to love and never to abuse.
I'm holding out for some good news that's really good and really news."
- Lyrics of "What's Kraken?"
Past Accolades: "Bottom of the Barrel," the first single from the upcoming album, broke through the Top 25 list on Christian Music Weekly's Rock chart and rose to #6; it also made it to #1 on RadioU's Top 10 Most Wanted Songs (per listener requests), and #5 on BigBigHit's USA National Rock chart. The music video premiered exclusively for an early release on CCM Magazine and on the CCM Magazine weekly newsletter, and was added to RadioU TV. To promote the single, the band did many interviews for radio and online publications (RadioU, Effect Radio, 102.9FM The Buzz--Nashville's Rock station, and more).
Rusty Shipp is a Nashville-based hard rock band that combines Beatlesque melodies, surf and grunge riffs, and philosophical lyrics to create what they call Nautical Rock 'n' Roll. List of press and publicity: www.rustyshipp.com/press
RUSTY SHIPP
What's Kraken? (single)
RELEASE DATE
July 7th, 2022
CREDITS
Produced & Engineered by Stephen Leiweke at Yackland Studio in Nashville, TN.
Mastered by Alex McCollough with True East Mastering.
FOR FANS OF
Switchfoot
Thrice
Foo Fighters
The Beatles
Alice in Chains
WEBLINKS/SOCIALS
###
For more info on Rusty Shipp, visit the JFH Indie Artists Database.