STEVEN MALCOLM DEBUTS EPISODE 2 OF 'FROM THE ROOTS' [DOCUSERIES]
NEW ALBUM, TREE REACHES 11.7 MILLION COMBINED DSP STREAMS

"SUMMERTIME" MUSIC VIDEO FT. SNOOP DOGG AND JAY-WAY

RACKS UP 1.3 MILLION COMBINED DSP STREAMS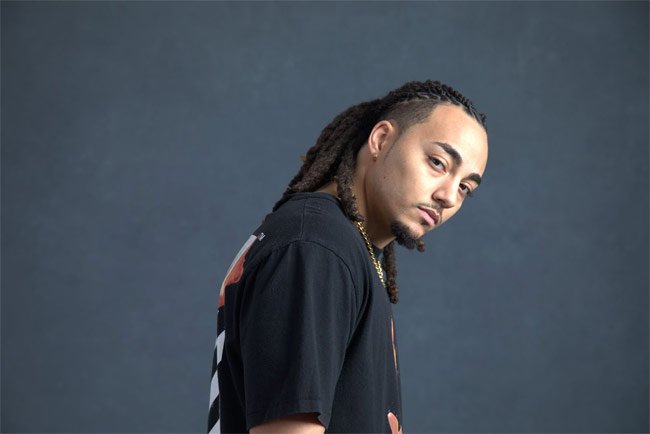 NEWS SOURCE: Garden State Hip Hop
July 8, 2022
Steven Malcolm debuts episode two of his From The Roots docuseries that debuted on June 23. Episode two entitled, The Growth highlights Malcolm signing his record deal with IVAV, a division of Curb | Word Entertainment.
"WITH THIS RECORD HE JUST WANTED TO GET BACK TO THE HIP-HOP SIDE." - Joseph Prielozny, A&R/Producer
From The Roots digs deep into the upbringing and rise of the Christian hip-hop sensation. His latest album, Tree is an eclectic depiction of Malcolm's past, present, and future. Recently, Tree accumulated more than 11.7 million combined DSP streams alongside the blazing hot single "Summertime" racking up more than 1.3 million combined DSP streams.
CATCH UP ON EPISODE 1 OF FROM THE ROOTS
Tree TRACKLIST:
Heavenly Father feat. The Fisk Jubilee Singers

All I Know

Summertime feat. Snoop Dogg & Jay-Way

On Point feat. KB

Believe In Me

Demons feat. Plan G & Jude Barclay

Rooftop Freestyle feat. Derek Minor

Red Light Green Light feat. Ty Brasel & Jay-Way

Accelerate feat. Canon

Ain't Playin feat. Social Club Misfits

Lately

Great feat. Waldo

Respect

Jah Ah De King

Glory On Me feat. Childish Major & Taylor Hill

Fuego (R3HAB Remix) feat. Shaggy
About Steven Malcolm:
Steven Malcolm makes faith-driven hip-hop that's as unique as his multi-cultural background. It's a sound rooted in rap's rhythmic delivery, pop's modern melodies, and God's word, glued together by an artist whose music has earned five Dove Award nominations and more than 70 million streams.
His new album Tree is an eclectic depiction of Malcolm's past, present, and future. Delivering powerful rhymes straight from heaven, Malcolm offers a blend of alluring bops for any occasion. Arriving on the heels of the 5-track EP All Is True, Malcolm boasts Shaggy, Social Club Misfits, and KB features on the album.
Malcolm is a dynamic, crafty storyteller that incorporates a broad range of creative influences into his music. He doubles down on his talents with his most reflective album to date, Tree which arrives on June 3. Each song reverberates like Sunday-morning spirituals filled with Saturday-evening energy. His powerful messages are reinforced with potent production by Grammy-winning heavyweights BoogzDaBeast (Kanye West) and FNZ (A$AP Rocky). Tree lands at a time when society could use a bit of growth and healing. "This being my third studio album focused on the growth and fruit that came from a foundation rooted in truth," Malcolm says.
Malcolm's messages of hope and redemption come from his own experience. Raised in western Michigan and coastal Florida, he grew up in search of stability. His father, a native Jamaican who had emigrated from Montego Bay, was deported back to the Caribbean when Steven was just 10 years old, and later passed away before the two could reunite. Steven's mother struggled as a single parent and eventually left town, leaving her son to fend for himself as a young college student. His life lacked a clear direction until he accepted a friend's invitation to attend a local church service that incorporated hip-hop, dance, and worship.
That church — the Edge Urban Fellowship — changed Steven's life. It gave him a community, as well as a place to make purpose-driven music. Between performances with the church's worship team, he finished work on his independent debut album, Monster's Ink, which became an underground success. Before long, Steven's reputation had extended far beyond the Midwest and attracted attention from major labels. He signed with Word Entertainment, a division of Curb Records, becoming the first rapper on a roster filled with the musical heavyweights of the faith-based world.
Released in 2017, the self-titled Steven Malcolm marked his major-label debut. Songs like "Hot Boy," "Never Let You Go," and the pop-rap tune "Party in the Hills" became hits, rooted in a wide-ranging mix of trap, boom-bap, South Atlanta hip-hop, and pop. He played nearly 100 shows that year — including arena dates on the Winter Jam Tour — and earned three GMA Dove Awards, laying the foundation for an even bigger splash with the album's follow-up, The Second City. Named after his father's hometown of Montego Bay, the so-called "Second City" of Jamaica, The Second City was a hard-hitting, lyrically driven record that focused on optimistic themes. The album debuted at Number 11 on Billboard's hip-hop chart in 2019 and received a Dove nomination for Rap/Hip Hop Album of the Year. It also produced several hit singles, including the Top 40 Christian hit "Not To Us / Good Love," and the Dove-nominated "Even Louder" remix featuring Natalie Grant (which earned more than 6 million streams), and "Fuego."
A blend of Steven's Jamaican roots and reggae influences, "Fuego" became one of the most diverse hits of his career and received several remixes. The tropical "Fuego (Remix)" arrived in 2020, featuring an appearance from Shaggy and gaining 2.5 million views with its cinematic music video. Shaggy also appeared on "Fuego (R3HAB Remix)," which was released later that same year, as well as 2021's "Fuego (The SoulBots Remix)," which featured vocals from Latin pop singer Melanie Pfirrman. Together, the "Fuego" remixes racked up nearly 6.1 million total streams across all DSPs in less than two years.
With the success of All Is True, Malcolm is eager to deliver Tree. It celebrates the next chapter of his music career and takes listeners on a journey with a husband, father, and artist destined to reshape his family and musical legacy.
About Curb | Word Entertainment:
Celebrating 57 years in business, Curb Records is one of the world's leading independent music companies. Owned and operated by Mike Curb since 1964, Curb Records has achieved 435 number one records, over 1,500 Top Ten records and charted over 4,500 total records. With over a half-century in operation, Curb Records has been influential in the careers of some of the biggest names in music, including Tim McGraw, Hank Williams, JrRodney Atkins, Lee Brice, LeAnn Rimes, The Judds, Dylan Scott, Sawyer Brown, Wynonna, Lyle Lovett, Jo Dee Messina, Hal Ketchum, and Desert Rose Band, among many others. Today's roster includes some of the top names across multiple genres of music. For more information, visit www.curb.com.
Steven Malcolm online:
###
For more info on Steven Malcolm, visit the JFH Artists Database.