GRAMMY-NOMINATED, MULTI-PLATINUM SELLING BAND MERCYME TO DELIVER 11th STUDIO PROJECT, ALWAYS ONLY JESUS OCTOBER 21st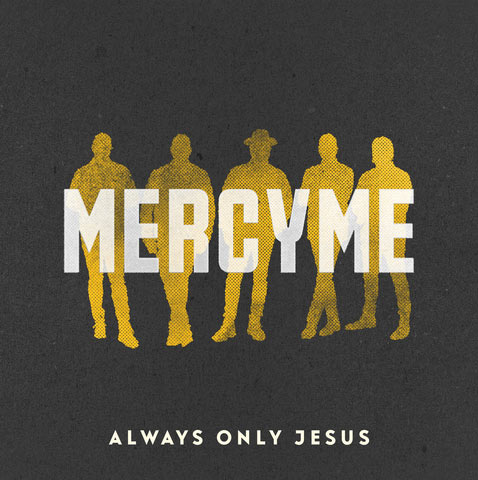 NEWS SOURCE: The Media Collective
September 9, 2022
Nashville, Tenn. (September 9, 2022) — GRAMMY®-nominated band
MercyMe
has announced that their 11th studio project,
ALWAYS ONLY JESUS,
will be available everywhere October 21, 2022. Starting today, the album can be pre-ordered
here
.
The 10-song collection (full track listing below) is filled with the musically inventive, lyrically substantive songs that have always been the bedrock of MercyMe's decades long career.
"This one in some ways is like a warm blanket to us—not just how we're playing—but the subject matter," lead vocalist Bart Millard says. "For me personally, if I ever needed this to be front and center, not just in MercyMe, but in my life, it's now. I can't wait to hear people sing these songs and worship. Every song points back to Jesus."
That message is crystal clear on the project's first single, "Then Christ Came," currently playing on 70+ stations, is No.19 on the Billboard AC Monitored chart, and No.12 on Billboard's AC Indicator chart. The song follows an impressive streak of 48 No. 1 radio singles that have not only fueled MercyMe's 28-year career, but also helped define the landscape of contemporary Christian music.
On ALWAYS ONLY JESUS, the band invited producers Brown Bannister, Tedd T. and Jordan Mohilowski to craft the project with them and learned to strike a perfect balance between relying on the tried and true and exploring new methods of creating. "It's a cool dynamic," says guitarist Mike Scheuchzer. "It's challenging to have been in it this long and to see how it used to be and how it is and try to find the best in all of it."
The result is a poignant album that is perfect for this time and for all time. "I feel like that's what we need right now is an anthem that we can all agree on," Scheuchzer says. "We may not agree on anything else, but we all agree that it's 'Always Only Jesus.' That's why the album feels like anthem after anthem after anthem because they are all definitive statements about Jesus."
MercyMe
is set to share new music, as well as plenty of fan favorites and chart-topping hits, when they return to Red Rocks for one night only, Oct. 17, 2022. The engagement will mark the band's second time to headline the iconic venue. They'll continue across the country throughout November. For all
MercyMe
tour info, visit
http://www.mercyme.org
.
ALWAYS ONLY JESUS
Track Listing:
01. Hands Up
02. Better Days Coming
03. Forgivable
04. To Not Worship You
05. Always Only Jesus
06. Heart Beats For Your Good
07. Grace Amazing
08. Lost In You
09. Then Christ Came
10. Nothing But The Blood
About MercyMe:
It continues to be a landmark time for the multi-platinum selling, GRAMMY® nominated, multiple American Music Award,
Billboard
Music Award and Dove Award winners MercyMe. They were recently named
Billboard's
Top Christian Artist of the 2010 decade, and in 2020 received their eighth American Music Award nomination. A major motion picture based on the life of frontman Bart Millard who wrote the mega-hit song "I Can Only Imagine" after the loss of his father, opened at a remarkable No. 3 at the box office on Mar. 16, 2018 (Lionsgate, Roadside Attractions). In conjunction with the movie release, Millard penned a memoir and the band released a collection of hits titled
I Can Only Imagine – The Very Best Of MercyMe
. In 2018 MercyMe was named Top Christian Artist at the
Billboard
Music Awards, was the top winner at the fan-fueled K-LOVE Fan Awards including a win for Artist of the Year, and was the GMA Dove Award Winner for Artist Of The Year. Since their debut in 2001, the band has sold more than 9 million units in CD, single and DVD sales, garnered more than 48 No. 1 multi-format radio singles, and had four consecutive mainstream radio hits. MercyMe made history in 2014 as "I Can Only Imagine" surpassed 2 million digital downloads, making it the first song in Christian music to go platinum and double-platinum in the digital domain. The song has now gone 4x platinum. In 2009,
Billboard
named MercyMe's "Word Of God Speak" the No. 1 Song of The Decade and the group the No. 1 Artist of the Decade in both the Christian Songs and Christian AC Songs categories, recognizing them as one of the industry's most notable talents. They have sold out venues throughout the US and Canada, including Radio City Music Hall, Red Rocks Amphitheatre, and have appeared on the Macy's Thanksgiving Day Parade, Good Morning America, GMA3, The Today Show, CBS This Morning, FOX New Channel's FOX & Friends, CNN, ABC News and in the pages of
Entertainment Weekly,
The New York Times, USA Today
and more. Their tenth album,
inhale(exhale),
is available now.
Get Connected with MercyMe:
Website //
www.mercyme.org
Twitter //
www.twitter.com/mercyme
Instagram //
www.instagram.com/themercyme
Facebook //
www.facebook.com/mercyme
YouTube //
www.youtube.com/user/mercymevideo
###
For more info on MercyMe, visit the JFH Artists Database.