MULTI-TALENTED SHELÉA TEAMS WITH COMMON HYMNAL TO RELEASE A NEW MODERN-DAY CHRISTMAS ANTHEM "MOTHERS AND SHEPHERDS"
Featuring Oakwood University's The Aeolians, The Song Is Available Digitally Now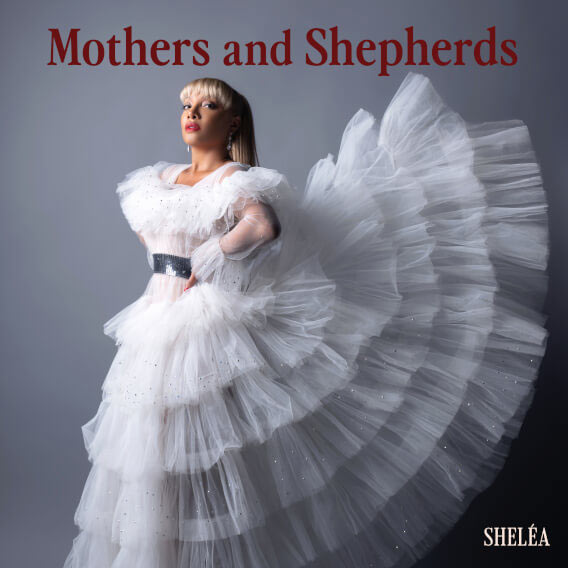 NEWS SOURCE: Ignition PR
November 28, 2022
November 28, 2022 (Los Angeles, CA) — This holiday season, 'Come now and hear the sound' of a different kind of Christmas song! "Mothers and Shepherds" is a modern-day carol that brings the beauty of Christmas into the harshness of today's world. Speaking to both those who are mourning and those who are seeking, "Mothers and Shepherds" reminds us that Jesus is and will always be the Savior of the word.
Originally released by Common Hymnal in 2019 by breakthrough singer-songwriter Brittney Spencer, today's version features Grammy-nominated songwriter and international star Sheléa who recorded it with the hope of making the song a Christmas fixture for many years to come. Sheléa has a deep and emotional connection with the song, and it shines through her powerful performance.
Working with legendary producers Tony Shepperd and Raul Ferrando, they showcase her vocal brilliance with a compelling arrangement, a world-class band, and a Budapest-based studio orchestra. The song also features the renowned choir, The Aeolians Of Oakwood University, Sheléa's alma mater. Additionally, the deluxe single includes an additional version by The Aeolians, with their performance produced by John Stoddart.
"'Mothers and Shepherds' is an achingly beautiful story that offers hope amid grief," says Los Angeles-based Sheléa. "I'm honored to be the vessel to tell it."
Sheléa is making "Mothers and Shepherds" a vital part of her Christmas repertoire and will perform it with the St Louis Symphony on December 15.
For churches wanting to include it in their Christmas programming this year, the stems are available from multitracks.com.
For more information on The Aeolians:
https://www.facebook.com/OakwoodUniversity/
https://www.youtube.com/oakwooduniversityhsv
https://www.instagram.com/oakwoodu/
For more information on Common Hymnal: https://commonhymnal.com/
About Sheléa
International recording artist and Grammy-nominated songwriter, Sheléa, whom Quincy Jones calls the finest voice of her generation, has a staggering list of credits. She performed at the White House for President Barack and First Lady Michele Obama; was the very first artist that Quincy Jones selected to play at his jazz club, Q's Bar and Lounge, in Dubai; traveled internationally as a featured vocalist in "An Intimate Evening with David Foster"; sang on the PBS-TV special 'Zoltan Maga: Live from Budapest with David Foster'; opened for Elton John; headlined a sold-out performance at The Royal Albert Hall, played Dorinda Clark in the biopic, The Clark Sisters: First Ladies of Gospel.
For more about Sheléa:
https://www.instagram.com/Sheléamusic/
###