PREMIER PRODUCTIONS ANNOUNCES THE BLESSING TOUR-WEST COAST FEATURING KARI JOBE, CODY CARNES & MARTIN SMITH
TICKETS FOR THE NINE-CITY TOUR ARE ON SALE TODAY, JAN 11th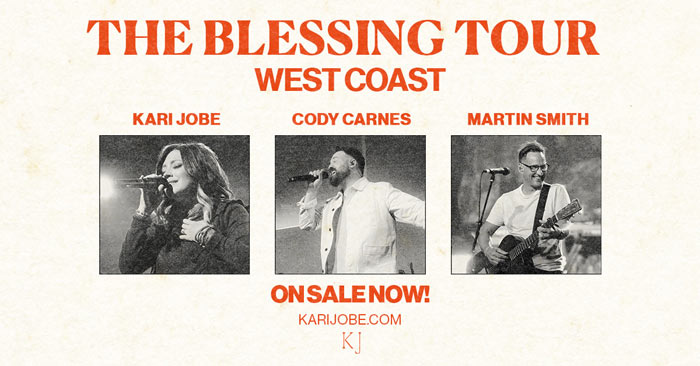 NEWS SOURCE: CMZPR
January 11, 2023
NASHVILLE, TN (January 11, 2023) Premier Productions, a leading independent producer of quality live entertainment around the world, has announced the west coast edition of The Blessing Tour featuring Kari Jobe, Cody Carnes, and Martin Smith. GRAMMY nominated Jobe has been a worship leader for nearly two decades and will hit the road with her husband, Carnes. Cody Carnes, 3x GRAMMY nominated artist, released his first-ever live recorded album, God is Good! in September 2022 and recently made his Grand Ole Opry debut, along with Jobe, in October 2022. UK worship artist, Martin Smith, whose album, Dancing in the Fire is out now, rounds out The Blessing Tour kicking off on March 9, 2023 in Las Vegas, NV.
"Fans can't wait for Kari, Cody, and Martin to hit the road this spring, especially on the West Coast," said Mallory Willingham, Premier Productions. "They are all staples of the Christian Music world, and it's an honor to be a part of their growing impact. You won't want to miss these powerful nights of worship!"
"We are so excited to go back out to the West Coast for the Blessing Tour with our good friend, Martin Smith, this spring," said Kari Jobe & Cody Carnes. "We cannot wait to worship with you in these beautiful cities and sing some of our favorite songs- old and new. We don't want you to miss it; come and join us!"
Tickets go on sale to the general public today, Wednesday, January 11th at 10AM local time on PremierProductions.com.
DATE
CITY
VENUE
Thu, March 9, 2023
Las Vegas, NV
Church LV
Fri, March 10, 2023
San Diego, CA
Faith Chapel
Sat, March 11, 2023
Phoenix, AZ
Dream City Church
Sun, March 12, 2023
Los Angeles, CA
Calvary Community Church Westlake
Tue, March 14, 2023
Castro Valley, CA
Redwood Chapel Community Church
Wed, Mar 15, 2023
Reno, NV
Summit Christian Church
Fri, Mar 17, 2023
Nampa, ID
Nampa First
Sat, Mar 18, 2023
Seattle, WA
Overlake Christian Church Redmond
Sun, Mar 19, 2023
Eugene, OR
FBC Eugene
About Premier Productions:
Founded in 1996, Premier Productions has been a top 20 global promoter selling over 20 million tickets. Pollstar named Premier the #1 faith and family independent promoter in the last 10 years. Producing events that move the soul both nationally and internationally, Premier is proud to have helped raise more than $271 million to improve the lives of children and communities in 100+ countries worldwide. Whether it's a large multi-day festival, sold-out concert or intimate conference, Premier seeks to positively impact the lives of every attendee so they leave encouraged, happy and hopeful. Premier is currently promoting acts including, Dude Perfect, Lauren Daigle, Hillsong United, Elevation Worship, We The Kingdom, CocoMelon, Bluey, Blippi, Casting Crowns, Chris Tomlin, Kari Jobe, Wheel of Fortune Live & more
About Kari Jobe:
For nearly two decades, well-respected worship leader Kari Jobe has been using her gifts to lead people into the presence of God. When she began leading worship at age 13, she never imagined she would be nominated for three GRAMMY® awards, win multiple Dove Awards, have two RIAA Gold Certified singles, or be praised by the New York Times. In 2020, Jobe released her highly acclaimed GRAMMY-nominated album The Blessing (Live), which featured the worldwide hit "The Blessing" co-written by her, Cody Carnes and Elevation Worship's Chris Brown and Pastor Steven Furtick. She received back-to-back GRAMMY nominations for the song "The Blessing" and the album The Blessing (Live) for the 63rd and 64th Awards. She has more than 1.18 million YouTube subscribers and over 340 million channel views. Originally from Texas and now residing in Nashville with her husband Cody Carnes and their two boys, Canyon and Kingston, and they both serve at their home church The Belonging Co.
About Cody Carnes:
Cody Carnes is a worship leader who is passionate about creating space where innovative artistry and authentic worship can collide. As a songwriter, he's penned powerful church anthems like "Nothing Else," "Run To The Father" and "Christ Be Magnified," which are all part of his Grammy Nominated record title Run To The Father, which released in March 2020 (Capitol CMG). He's also co-written numerous songs recorded by his wife, GRAMMY-nominated Kari Jobe including the global hit "The Blessing (Live)." His most recent release "Too Good Not To Believe," featuring Brandon Lake is a true testimony song! Originally from Texas and now residing in Nashville, he often tours the country with Kari and their two boys, Canyon and Kingston, and they both serve at their home church The Belonging Co.
###
For more info on Kari Jobe, visit the JFH Artists Database.
For more info on Cody Carnes, visit the JFH Artists Database.
For more info on Martin Smith, visit the JFH Artists Database.