iNTELLECT and Procyse Are Challenging Listners To Look At "The Big Picture"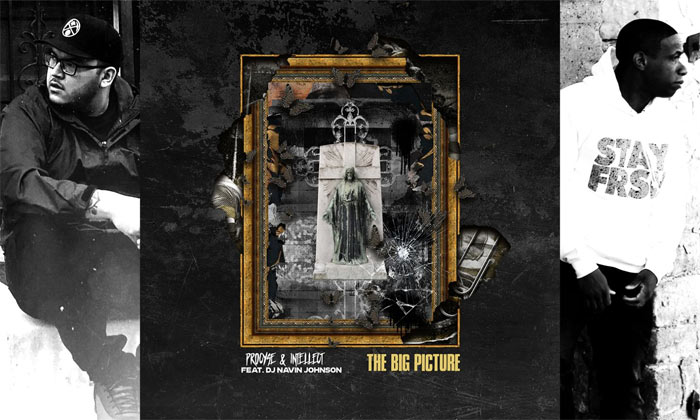 NEWS SOURCE: FiveTwenty Collective
January 25, 2023
Denver, CO & Sandusky, OH - "We destroy arguments and every lofty opinion raised against the knowledge of God, and take every thought captive to obey Christ," 2 Corinthians 10:5
When we are transformed by the truth, we can no longer attempt to adhere to the views of the world. We now understand there is a larger purpose that demands both reverence and submission. As our hearts are changed, the narrow scope that is seen by the flesh is not able to satisfy the Spirit within us.
Faith-based hip hop artists iNTELLECT (Ohio) and Procyse (Colorado) are raising a banner with their latest single, The Big Picture.
"Seeing the big picture has been the sole reason behind what we do," explains iNTELLECT. "God gives us a different perspective on everything. He provides us with purpose."
Procyse added, "We have been called to make an impact and this single is another step in that direction."
DJ Navin Johnson joins the boom bap duo adding his signature cuts to the production by F-Plus. The Big Picture hits digital music platforms on January 27, 2023.
Support
iNTELLECT: Instagram | Facebook | Website
Procyse: Instagram
Song Details
Title: The Big Picture
Artists: iNTELLECT, Procyse
Release Date: January 27, 2023
Production: F-Plus
Engineering: iNTELLECT
Feature: DJ Navin Johnson
About Procyse
Denver artist Procyse has always been inspired by the need to convey truth via music. Procyse boldly combines his heart for the gospel with his music in an effort to spread hope among the hopeless through a gritty boom bap sound.
About iNTELLECT
With a distinct flow, iNTELLECT has used his gift to spread the message of salvation through faith in Jesus Christ to areas throughout the Midwest. Drawing his inspiration from the Gospel and life experience, iNTELLECT combines biblically sound doctrine with hip hop beats. "Being that I grew up in a home with a Christian mother and an alcoholic father, my mother has been one of the most influential persons in my life. I watched how she constantly prayed for my father (who eventually came to salvation before his death) and I became a firsthand witness on how faith and prayer can change the direst of situations. I watched how she studied the Word of God and how she passionately lived the Christian life while I was growing up. Even though at times I had strayed away from the path, she always told me that God had a plan for my life. Her influence has helped me see the importance of not only living a life of integrity but also to present myself to God as one approved, a worker who does not need to be ashamed and who correctly handles the word of truth (2 Tim. 2:15)." ? Music and the Message have always been a passion for iNTELLECT. "I've always loved hip hop music; the beats, the lyrics, the whole nine. But at the end of the day, if it's not God-inspired, it's powerless." And recognizing the call to share his faith, iNTELLECT continues to use his talents and gifts to reach a lost generation.
###