The Arcadian Wild Share New Single "Lara" From New Album Welcome Out July 21
On Extensive US Tour Now Throughout 2023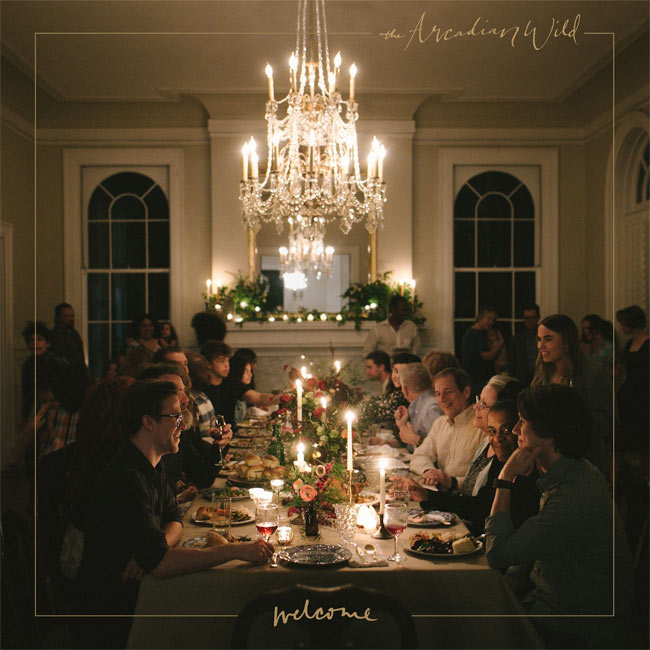 NEWS SOURCE: Missing Piece Group
June 7, 2023
June 7, 2023: Today, Nashville's The Arcadian Wild shared the new single "Lara" off their forthcoming album Welcome, which will be released on July 21 via Vere Music. They've also shared a video for the buoyant track, which is inspired by a friend who reached out seeking encouragement for their daughter, and a testament to believing in yourself and embracing the things that make you unique.
Watch the "Lara" music video
HERE
"This song has been through a lot," explains guitarist Isaac Horn. "I started writing 'Lara' in the summer of 2019 after hearing from a friend that her daughter was going through a rough and challenging season of life. It began as a song of encouragement and empowerment for my friend, something she could listen to when the world was really wearing her down. Several months later in early 2020, the world became very heavy for us all. During lockdown, I continued to work through 'Lara' and it became a source of comfort. When the news turned from bad to worse, I would sit down and play through it, trying to remind myself that no matter how far off, something good was coming.
Anger, grief, injustice, and division was hitting me from all angles, and it was easy to hide away in myself. But as I continued to write this song for my friend, I was encouraged to stand firm in the things I believe to be true and to continue moving toward the person I want to be. In early 2022, we finally went into the studio to record 'Lara' and I was making lyric editions even as we were tracking. Almost three years after penning the first note, the song still had something new to show me. I remember stepping up to the microphone, looking at my bandmates, and thinking to myself, 'We're here. We actually made it.' By January of 2022, 'Lara' had become a song celebrating resilience, a proof of hope. The person who finished writing this song was not the same person who began it. Too much had changed, and 'Lara' had been by my side the whole time."

Consisting of guitarist Isaac Horn, mandolinist Lincoln Mick, and fiddler Bailey Warren, the genre-bending trio wrote and recorded Welcome in their hometown of Nashville, TN, working with engineer Logan Matheny (Colony House, Hiss Golden Messenger) and mixer Shani Gandhi (Sarah Jarosz, Sierra Hull). The band approached the recording sessions for the album as live as possible, embracing the organic feel of their concerts with the help of double bassist Erik Coveney (Sierra Hull, Dave Barnes), who joined them on the studio floor. The band doesn't record or perform with drums or percussion, but instead relies on their vocals and instrumentations to provide the backbeat.
"When we're working on arrangements, we try to treat our band like a drum set: who is the kick, who is the snare, who is the crash, hi hat, etc. This approach helps each of us find our specific role in any given moment or section of the song, which again leads to a much more intentional and conversational arrangement."
The Arcadian Wild cut their teeth playing house shows, where they learned to treat their audience like family, and released their self-titled debut to widespread praise in 2015, racking up nearly 50 million streams on Spotify alone. Heavy touring followed and the group returned in 2019 with a second full-length LP, Finch In The Pantry, which debuted in the Top 10 on the Billboard Bluegrass Chart. When the pandemic forced the trio off the road in 2020, they shifted their focus to composing and recording a multi-movement song cycle that resulted in the 2021 EP Principum, which reached #3 on the Billboard Bluegrass Chart and helped earn the band performances everywhere from the Woody Guthrie Center to the Ryman Auditorium.
Welcome Tracklist:
1. Lara
2. Dopamine
3. Big Sky, MT
4. Shoulders
5. Little Bird
6. Sparrow
7. Corner
8. Gàrradh Seileach
9. Lift My Head
10. Two Kinds
11. Fable Of The Times
12. The End
Tour Dates:
June 7 - Boston, MA @ City Winery Boston
June 8 - Syracuse, NY @ Funk n Waffles
June 9 - Buffalo, NY @ Sportsmens Tavern
June 11 - Columbus, OH @ Rumba Cafe
June 23 - Lexington, KY @ The Burl
June 24 - Asheville, NC @ The Grey Eagle
June 25 - Mount Solon, VA @ Red Wing Roots Music Festival
June 30 - Crested Butte, CO @ Public House
July 1 - Manitou Springs, CO @ Lulu's Downstairs
July 2 - Denver, CO @ Soiled Dove Underground
July 11 - Charlotte, NC @ Neighborhood Theater
July 12 - Raleigh, NC @ The Pour House Music Hall
July 13 - Greer, NC @ The Spinning Jenny
July 14 - Dalton, GA @ OFf The Rails Summer Music Series
July 15 - Murfreesboro, TN @ Hop Springs
July 23 - Bardstown, KY @ Spalding Hall
July 25 - Lawrence, KS @ Venue 1235
July 26 - St. Paul, MN @ Turf Club
July 27 - Sioux Falls, SD @ Levitt at Sioux Falls
July 28 - Iowa City, IA @ Wildwood
July 29 - Evanston, IL @ SPACE
July 30 - Indianapolis, IN @ Hi-Fi
August 3 - Huntsville, AL @ The Common House
September 5 - Seattle, WA @ Tractor Tavern
September 6 - Portland, OR @ Alberta Rose Theatre
September 10 - Mill Valley, CA @ Sweetwater Music Hall
September 12 - Santa Cruz, CA @ Moe's Alley
September 13 - Morro Bay, CA @ The Siren
September 14 - Los Angeles, CA @ Knitting Factory - North Hollywood
September 15 - Phoenix, AZ @ The Rebel Lounge
September 17 - Louisville, KY @ Bourbon & Beyond Festival
September 20-23 - Nashville, TN @ AMERICANAFEST
September 30 - Atlanta, GA @ Buckhead Theatre
October 20 - Green Lake, WI @ Thrasher Opera House
###