SIBLING TRIO CAIN EXTENDS LIVE & IN COLOR TOUR THIS FALL
33 NEW TOUR DATES ADDED

FEATURING KATY NICHOLE & DAVID LEONARD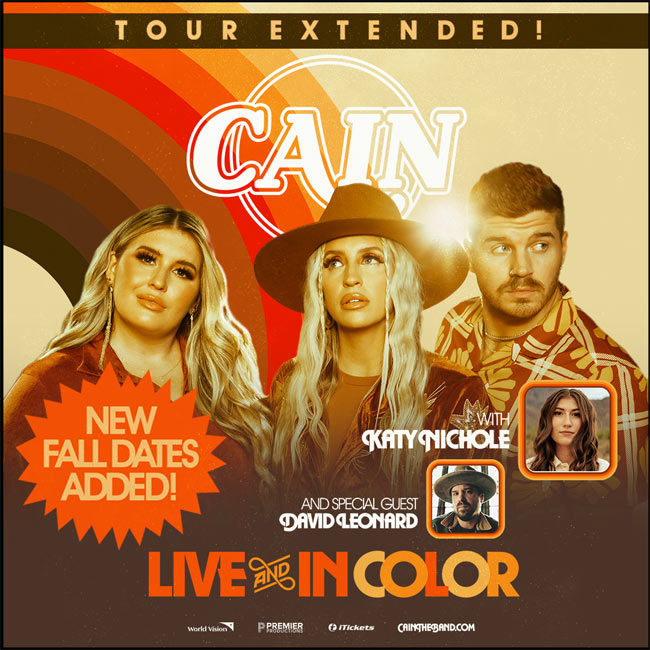 NEWS SOURCE: CMZPR
June 9, 2023
NASHVILLE, TN (June 9, 2023) After selling out 22 shows during their first-ever headlining tour this Spring, award winning sibling trio, CAIN, has added 33 new tour dates to their Fall 2023 calendar, extending the CAIN Live & In Color Tour presented by World Vision, promoted by Premier Productions. Joined by the incredible Katy Nichole and GRAMMY nominated artist David Leonard, CAIN Live & In Color will kick off Wednesday, September 20, in Baton Rouge, LA.
"This fall, we are coming to 33 cities across the US on our LIVE AND IN COLOR Tour," said Taylor Cain. "We were inspired to name the tour LIVE AND IN COLOR because wearing matching colors has become part of our tradition. We want the audience to join us in wearing the chosen color for each night and together we create a family experience for everyone."
"We're trying to do something new with our tour! We want people to get to know who we are and the other artists joining us." added Logan Cain. "We promise you are going to experience something very unique which includes fun and entertainment as well as ministry, worship and a chance to encounter the presence of God."
"The spring leg of the tour was so much fun! We want everyone who comes to feel part of our family and to be reminded that we are all part of one body, no one greater and no one less," said Madison Cain. "So come experience it yourself. We're waiting for you!"
"We've had such great feedback from audiences who attended the spring tour. They have overwhelmingly described the tour as being very "authentic". There is no divide between the stage and the audience; everyone at the show is on a journey with CAIN, Katy, and David," said Josh "Mags" Magnin, Talent Buyer, Premier Productions. "Backstage they have created a culture that is reflected onto the stage. The culture of the tour is truly all about family - from the crew, artists, band members, venue staff, and yes, the babies - where they have formed a bond that carries into the entire night. From start to finish, it's an experience where you journey with all three artists with heartfelt passages, passionate worship moments, and top hits. We have all worked together to craft an experience that will capture the essence of CAIN's authenticity, passion, and fun-loving spirits from the stage. Premier is excited to launch the fall leg of this tour and continue to tell the story of their 'Commission.'"
CAIN LIVE & IN COLOR presented by WORLD VISION FALL 2023 TOUR
Wednesday, September 20, 2023
Thursday, September 21, 2023
Friday, September 22, 2023
Saturday, September 23, 2023
Sunday, September 24, 2023
Wednesday, September 27, 2023
Thursday, September 28, 2023
Friday, September 29, 2023
Saturday, September 30, 2023
Wednesday, October 18, 2023
Thursday, October 19, 2023
Saturday, October 21, 2023
Wednesday, October 25, 2023
Thursday, October 26, 2023
Saturday, October 28, 2023
Thursday, November 2, 2023
Saturday, November 4, 2023
Tuesday, November 7, 2023
Thursday, November 9, 2023
Friday, November 10, 2023
Saturday, November 11, 2023
Sunday, November 12, 2023
Tuesday, November 14, 2023
Thursday, November 16, 2023
Friday, November 17, 2023
Saturday, November 18, 2023
Pre-sale tickets for CAIN Live & In Color presented by World Vision will be available exclusively at CAINtour.com. Pre-sale tickets will be available on Thursday, June 15 at 10AM local time and tickets will go on-sale to the public on Friday, June 16, at 10AM local time. Additional information and tickets are available at CAINtour.com
ABOUT CAIN: The music of CAIN quickly became a mainstay at radio since their debut single "Rise Up (Lazarus)" was released in early 2020. Raised in Hartselle, Alabama as pastor's kids and now residing in Nashville, CAIN - Madison Cain Johnson, Taylor Cain Matz, and Logan Cain - got their first break opening for Dave Barnes and Andrew Ripp at a show in 2012. Now a decade later, they've toured with Zach Williams, Casting Crowns, TobyMac, on the K-LOVE Christmas Tour, and performed on the Grand Ole Opry stage. CAIN launched their first tour this past Spring.
They've hit No. 1 back-to-back at radio with their first two singles, "Rise Up (Lazarus)" and "Yes He Can," both songs from their first full-length album Rise Up. They also won a K-LOVE Fan Award for Top Breakout Single ("Rise Up (Lazarus)." CAIN is also multi-nominated for the GMA Dove Awards (Best New Artist, Pop/Contemporary Album for Rise Up, Recorded Music Packaging for Rise Up, Christmas/Special Event Album for Wonderful). They have also been nominated for a 2021 American Music Award (AMA). Their new worship project, Honest Offering, is out now with new single, "Any More" releasing this Summer.
It has been said that you if spend five minutes with the members of CAIN you'll feel like you've spent the afternoon in the sunshine. Their joy spills over onto each person they meet, their bright smiles as contagious as their stunning harmonies. Pouring their joy into their music, CAIN has discovered what it's like to live their calling while doing their favorite thing - singing about Jesus.
About Premier Productions:
Founded in 1996, Premier Productions has been a top 20 global promoter selling over 20 million tickets. Pollstar named Premier the #1 faith and family independent promoter in the last 10 years. Producing events that move the soul both nationally and internationally, Premier is proud to have helped raise more than $271 million to improve the lives of children and communities in 100+ countries worldwide. Whether it's a large multi-day festival, sold-out concert or intimate conference, Premier seeks to positively impact the lives of every attendee so they leave encouraged, happy and hopeful. Premier is currently promoting acts including, Dude Perfect, Lauren Daigle, Hillsong United, Elevation Worship, We The Kingdom, CocoMelon, Bluey, Blippi, Casting Crowns, Chris Tomlin, Kari Jobe, Wheel of Fortune Live & more
###
For more info on CAIN, visit the JFH Artists Database.