KAYLA BAILEY RELEASES FULL-LENGTH ALBUM "WASTELAND" TODAY
Christian Singer-Songwriter's Most Anticipated Album is Now Available on All Buying and Streaming Outlets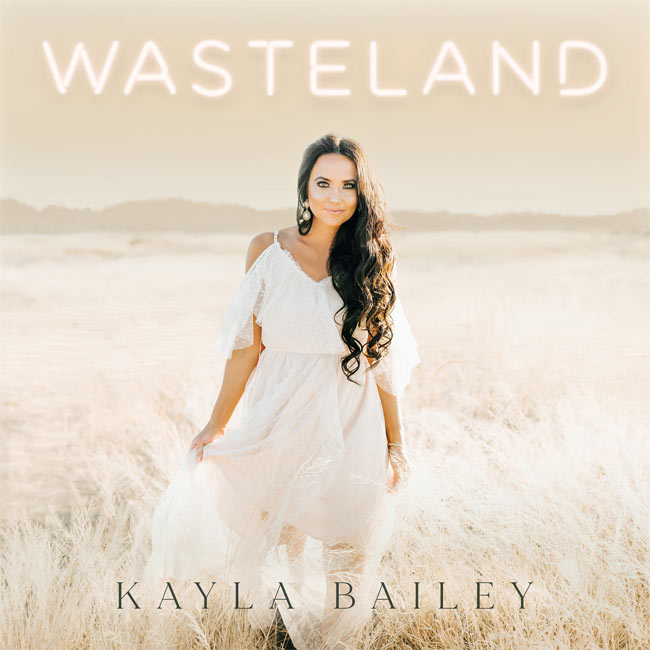 NEWS SOURCE: INOV8 PR
June 9, 2023
NASHVILLE, TN (June 9, 2023) - Christian artist Kayla Bailey officially announces the release of her long-awaited full-length album "Wasteland." With 12 profound tracks, the album is now available for purchase and streaming at all major music outlets worldwide.
"Wasteland" showcases Bailey's dynamic range as an artist, capturing the ebb and flow of life's journey through a collection of deeply personal songs. She takes listeners on a transformational journey through valleys and wilderness seasons, which ultimately lead to a closeness to God.
The album's tracks range from the up-tempo, anthemic song "Never Lost" to the heart-rending "Wilderness" that perfectly encapsulates Bailey's personal struggles. It features collaborations with spoken word artist and rapper, Just Steve in "No Man's Land," and co-written songs with acclaimed songwriters Charles Harke and Austin Davis in "Closer," and Andrew Holt & Austin Davis in "New Creation."
"'Wasteland' is much more than an album to me, it is a testament to God's faithfulness in the wilderness of life. The project mirrors my own journey through hardship, fear, and hope, which I believe many people can relate to especially after the challenging times we've recently faced," says Kayla Bailey. "The album's message is simple yet profound: no matter what you're going through, God is there guiding you, drawing you closer to Him, and transforming you into a new creation."
All songs on the album are produced by Cory Nelson, except for "Closer" and "New Creation" which were produced by David O. Ramirez at the renowned Gnome Studios in Nashville, TN. The album was recorded at Haxton Road Studios, in Bentonville, AR, and Gnome Studios in Nashville, TN.
As a testament to Bailey's songwriting prowess and her ability to connect with listeners, "Closer," the first single off the album, debuted at #1 on the CRC Weekly and Monthly charts.
Kayla Bailey's "Wasteland" is now available for streaming and purchasing on all digital music platforms, and fans can look forward to more in-depth exploration of the album's tracks in the weeks to come. CD's are available for purchase at https://www.kaylabailey.com. Vinyls will be available very soon!
Connect with Kayla Bailey:
https://www.kaylabailey.com/
https://www.facebook.com/KaylaBaileyMusicMinistries/
https://www.instagram.com/kayla_bailey/
https://twitter.com/KaylalaBailey
About Kayla Bailey:
Known for her soulful voice and heartfelt lyrics, Kayla Bailey is a respected artist in the Christian music industry. With her raw storytelling and melodic prowess, Bailey captures the hearts of her listeners. Her music, while deeply personal, is universally relatable, giving voice to the shared human experience of struggle, resilience, and faith.
###