Allen Thomas Releases First Project In Two Years, 'No More Bars'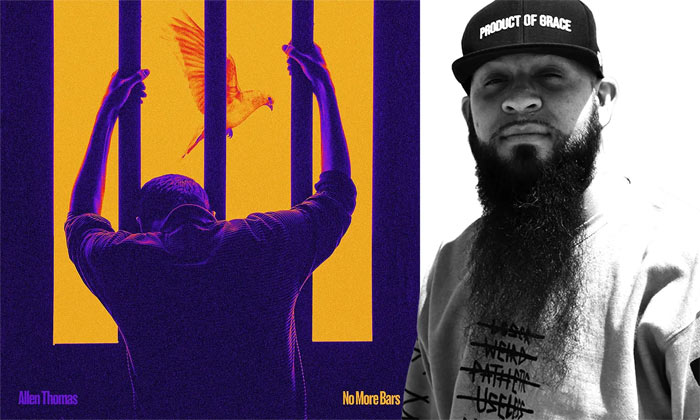 NEWS SOURCE: FiveTwenty Collective PR
June 15, 2023
San Antonio, TX - "There is therefore now no condemnation for those who are in Christ Jesus. For the law of the Spirit of life has set you free in Christ Jesus from the law of sin and death. For God has done what the law, weakened by the flesh, could not do. By sending his own Son in the likeness of sinful flesh and for sin, he condemned sin in the flesh, in order that the righteous requirement of the law might be fulfilled in us, who walk not according to the flesh, but according to the Spirit." [Romans 8:1-4]
Modern society appears to embrace a sense of hopelessness. Individuals feel trapped and lose their joy. Wickedness runs rampant while the righteous are persecuted. How can mankind escape imminent destruction? There is One who has the ability not only to restore but to set free those who are held captive. Be it by physical chains or spiritual oppression.
"Dear brothers and sisters, when troubles of any kind come your way, consider it an opportunity for great joy." [James 1:2]
For more than a decade, through 10 albums and several single releases, Allen Thomas has shared the Gospel using hard-hitting, southern hip-hop. No More Bars is the Texas emcee's first project drop since 'Chronicles of a Prodigal' in 2021. The 13-song project is set to hit digital streaming platforms on June 18, 2023.
"No More Bars is music that convicts to bring freedom" - Allen Thomas
No More Bars features the singles "Fearless" (featuring AyeItsAron) and "Anvil" (featuring Randy Emerson).
From the exposition of "Heaven's Trailer" to the resolution of "Final Destination," Thomas, alongside his featured artists, are intent on showing listeners how to escape the pressures of the world. Guests on the album include Hilgy, C-Micah, Drew Weeks, YD Kris, and more. No More Bars demands attention, sonically, from beginning to end.
Whether you are seeking inspiration in a time of struggle, or simply looking for a soundtrack that will get you hyped to conquer the day, look no further than Allen Thomas' No More Bars.
Support Allen Thomas: Linktree | Twitter | Instagram | Facebook | TikTok | YouTube | Spotify | Apple Music
Album Details
Title: No More Bars
Artist: Allen Thomas
Release Date: June 18, 2023
Production: Dizzla D, Jacob M. Productions, Kado Beats, Lazy Rida Beats, Retro 1, RJ Full Range
Engineering: Jacob Muniz, RJ Full Range
Features: Antwoine Hill, AyeItsAron, C-Micah, Darrin Miller, Dre L.O.C., Drew Anderson, Drew Weeks, Hilgy, L-oh-L, Randy Emerson, Solid, Taylor Martin, Tommy Chapa, Tony Angel, YD Kris of Da Young Disciples
Tracklisting
Heaven's Trailer
Cypher
One Way, One Name
Faithful with the Towel
Nip it in the Bud
Worry No More
Recognize
Gang
Anvil
Catch the Drip
Fearless
This is the Way
Final Destination
About Allen Thomas
Born in Southern California, God found Allen Thomas in 2009 through a radical encounter and he has never been the same since. The world enticed Thomas to use his gift to glorify evil, but the Lord lead him to preach Sermons Over Beats. Narrow Is the Road that has been a "White Knuckle Ride", with some "Beautiful Scars" along the way.
Thomas' purpose, and calling from God, is to preach the Gospel of Jesus Christ without compromise.
Jesus is the only way to the Father and OUR great commission is to spread the Good News that He still saves. Thomas humbly uses his platform in obedience to Christ until the work is well done in Jesus' Name.
###