Dex the Nerd Who Loves Jesus Gets Nostalgic On New Project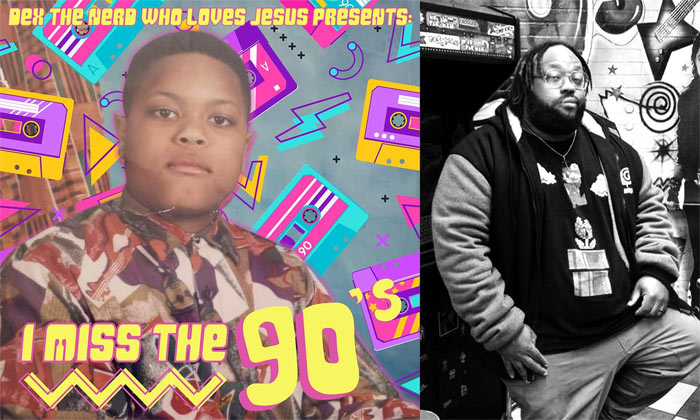 NEWS SOURCE: FIVETWENTY COLLECTIVE PR
July 13, 2023
Detroit, MI - "Each time he said, 'My grace is all you need. My power works best in weakness.' So now I am glad to boast about my weaknesses, so that the power of Christ and work through me." [2 Corinthians 12:9]
Dex the Nerd Who Loves Jesus has been hard at work in 2023. Since joining Polished Arrow Music the Michigan emcee has gone through a re-introduction season as he establishes himself within faith-based hip hop. With the release of singles such as "Our Blessings," "Fruit," "Samson," and "The Reckoning," Dex has proven himself among the elite lyricists of the genre.
Now, with his first official project release on Polished Arrow, he is not only showcasing where he is going, but Dex is giving listeners a look back to where he has been.
"I Miss the 90's demonstrates that Christ is the centerpiece of Dex's message and the music that he puts out," said Polished Arrow Music's lead and fellow artist iNTELLECT.
I Miss the 90's is a collection of records from the Dex the Nerd Who Loves Jesus vault. The project also features two new songs, including "Power Up" in collaboration with hip-hop legend Kaboose.
Produced by Praise, "Power Up" is a video game-infused record describing the Christian walk. Various game titles are used as metaphors for the challenges believers face along their journey. Are you going to lose or "Power Up"?
Dex and Kaboose attack their verses with energetic intensity while Praise crafts the setting with video game-inspired sound effects. Anyone who came up on classic Nintendo, Playstation, and Sega gaming will naturally gravitate to the nostalgia that "Power Up" delivers.
I Miss the 90's hits digital music platforms on July 14, 2023.
Support Dex the Nerd Who Loves Jesus: https://linktr.ee/dexthenerdwholovesjesus
Title: I Miss the 90's

Artist: Dex the Nerd Who Loves Jesus

Release Date: July 14, 2023

Label: Polished Arrow Music

Production: Praise

Features: Kaboose, BRM
I Miss the 90's Intro

Power Up

Around Me

Nah Playa

I Miss the 90's Interlude

Gone Ahead Shake It Off

Slow Down

Never Leave

I Miss the 90's Outro


For the Christian, this world isn't a luxury, it's a battlefield and war isn't easy. God is in the business of transforming lives. As a new creation in Christ, Dexter, transformed by the Holy Spirit, changed his rap name as well as his focus.
Dex began to see that it was less about the music and more about giving glory to God, reaching the lost, and edifying believers. Dex has 15 years of experience in music as a producer, rapper, and creative director. He has been the creator and director of several labels and his mission is to share the Gospel through music, and art.
###