VERE MUSIC AND BRICKHOUSE ENTERTAINMENT WELCOME POP SINGER/SONGWRITER MARY-CLAIR TO ROSTER
19-YEAR-OLD TEAMS UP WITH MULTI-GRAMMY AWARD- WINNING SONGWRITER & PRODUCER TEDD T. FOR DEBUT SINGLE "HEAVEN IN THE WAY"
Growing up in Music City, Mary-Clair developed a strong love for music and live shows at a young age. She has been writing since she was 10 years old drawing stylistic inspiration by icons like Justin Bieber, Miley Cyrus, post Malone and Jon Bellion. Her new single, "Heaven In The Way", shows her authentic nature and desire for her music to connect with people who have gone through similar experiences.
"I am so excited and honored to be a part of the Vere and Brickhouse family," shares Mary-Clair. "All I want to do is sing songs that impact and inspire people. I believe with this team and the grace of God we can do just that. I am so proud of this song. It's been two years in the making and I can't wait for people to hear it."

"Heaven in the Way" is the first of many to be released, with Vere on board to distribute while Brickhouse will serve as management.
"As a new artist Mary-Clair has already built an impressive team including Tedd T. and Brickhouse Entertainment," says Rusty Harmon, President of Vere Music. "Mary-Clair's vocals and songwriting are undeniable. Vere is excited to join this team and partner with this obvious up and coming talent."

For more information about Mary-Clair, please visit https://www.maryclairmusic.com/.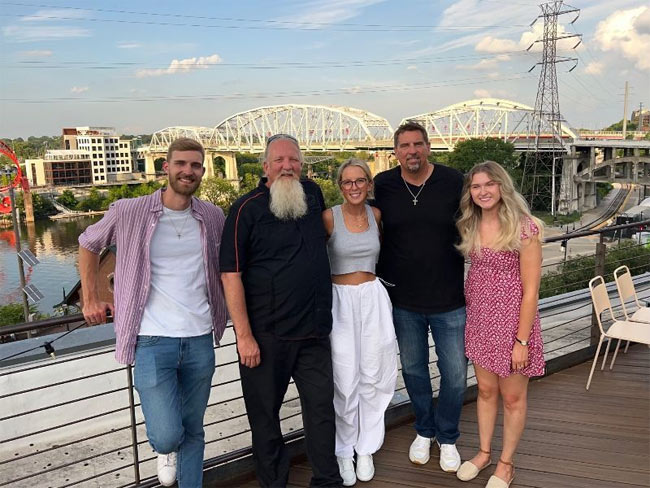 From left to right: Caleb Gauntt, Scott Brickell, Mary-Clair, Rusty Harmon, Paige Heinemann
About Vere Music:
Vere Music was created in 2020 to provide record release marketing campaigns, major label services and distribution for independent artists and labels who want to maintain their creative vision without sacrificing ownership or control. Vere offers customizable services including digital marketing, product management, radio promotion, sync licensing, content creation, and global music distribution through a partnership with Warner Music Group's independent distribution arm ADA Worldwide. Helmed by noted industry leader Rusty Harmon with Project Manager Paige Heinemann, Vere Music is focused on developing a roster of established and developing artists eager to build and sustain meaningful careers.
About Brickhouse Entertainment:
BrickHouse Entertainment exists to help artists navigate the music business, including record label relationships, music publishing, live shows, touring, merchandise, book & movie deals, publicity, sponsor relationships, endorsements, and strategic partnerships.
BrickHouse Entertainment currently manages MercyMe, Micah Tyler, Iveth Luna and Micah Christopher, It has previously managed and consulted many artists including Audio Adrenaline, Switchfoot, Phil Wickham, Rend Collective, Sidewalk Prophets, among others. BrickHouse also managed the Rock and Worship Roadshow from conception through the first six years of its existence. With nearly 25 years in business and over 6,500 shows completed; BrickHouse continues to help artists develop lasting careers in the music industry.