JOSH BALDWIN TO MAKE GRAND OLE OPRY DEBUT AUGUST 17TH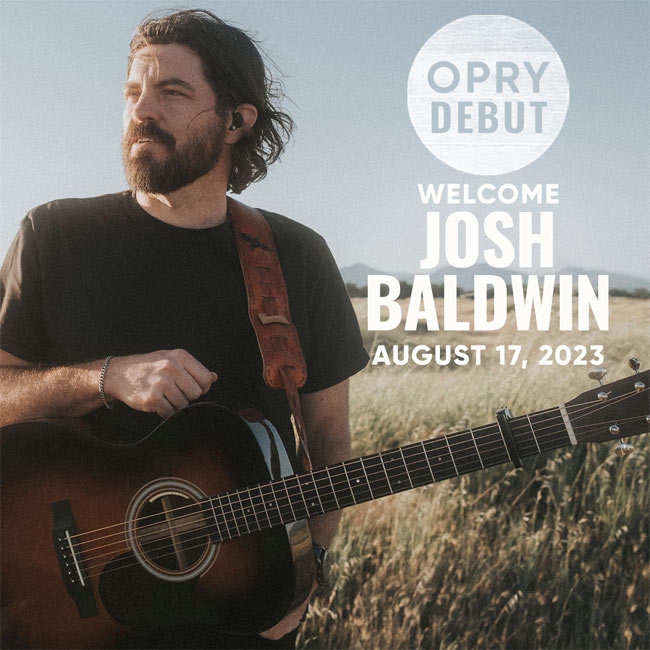 NEWS SOURCE: PFA Media
August 7, 2023
On Thursday, August 17th, Gold certified singer-songwriter and member of Bethel Music Josh Baldwin will make his much-anticipated debut at the legendary Grand Ole Opry. Baldwin is best known for his Gold certified single "Stand In Your Love" which was featured on Bethel Music's 2019 album VICTORY. He most recently appears on Come Up Here with "Time and Time Again." Tickets are now available HERE
"I'm so honored to be playing the Grand Ole Opry," shares Josh. "Growing up in the South, the Opry has been a staple in my family. I remember growing up and hearing about the Grand Ole Opry from my grandparents, my cousins, aunts, and uncles, and hearing the radio program. Not really being 'in' Country music, I don't think I even realized that was a dream I could have imagined, much less something I could accomplish. I think the fact I'm able to do this and be a part of it, while being in Christian music, is just so amazing and mind blowing. It just feels like hallowed ground in some ways to be able to be there and be a part of something that has been around for years and years."
This Fall, Josh will join Anne Wilson on "The My Jesus Tour" throughout the US. The 20-date tour kicks off September 28th in Webster, TX and will head up the East Coast with stops in Virginia Beach and Jacksonville before wrapping in the Midwest on October 29th in Wooster, OH. Tickets are now on sale HERE.
Josh Baldwin is a songwriter and worship leader who joined the Bethel Music Collective in 2014. Josh is known for his songs "Praises", featured on Bethel Music's Have it All, "You Deserve It All", from his solo project Rivers, and "Stand in Your Love", a song featured on Bethel Music's album VICTORY (2019) which reached #2 on the Christian Billboard charts. His latest album, Where the Glory Is (2022), is a reflection of his journey with the Lord and a return to the roots of pure worship. This album's lead single, "There Is Freedom", reached No. 21 on the Billboard Hot Christian Adult Contemporary chart and No. 30 on the Hot Christian Songs chart. He has appeared on numerous Bethel Music albums including VICTORY (2019), Peace (2020), Homecoming (2021), and most recently on Come Up Here (2023) with his song "Time and Time Again".
About Bethel Music
Bethel Music is a worship movement pursuing the presence of God and capturing fresh expressions of worship out of Redding, California. Bethel Music has grown from a local church music ministry to an internationally renowned collective of songwriters, artists and musicians. Brian and Jenn Johnson co-founded this movement in 2001 to raise up worshippers, take hold of their true identity, and pursue intimacy with God above all else.
Since 2001, the Bethel Music collective has released 17 worship albums, including Homecoming (2021), Peace (2021), Simple (2022), and most recently, Come Up Here (2023). Each album carries a unique theme and features some of the most well-recognized artists in the genre. In 2021, the label was nominated for 6 Dove Awards, and another 11 in 2022, spanning across categories like "Songwriter of the Year", "Worship Album of the Year", and "Inspirational and Rock/Contemporary Songs of the Year".
Since forming, Bethel Music has broken records, ranking in CCLI's top 25 songs since 2013. Their song "This Is Amazing Grace" has ranked in the top 25 songs since 2014, "No Longer Slaves" since 2016, and "The Lion and the Lamb" since 2017. In addition, "Reckless Love" has appeared in the top 10 since 2018, and "Living Hope" in the top 10 since 2019. Hitting a new stride over the last few years, Bethel Music has continually ranked at #6 in the top 10 radio market share.
###