Dex the Nerd Who Loves Jesus Draws Inspiration from The Beatitudes for New Single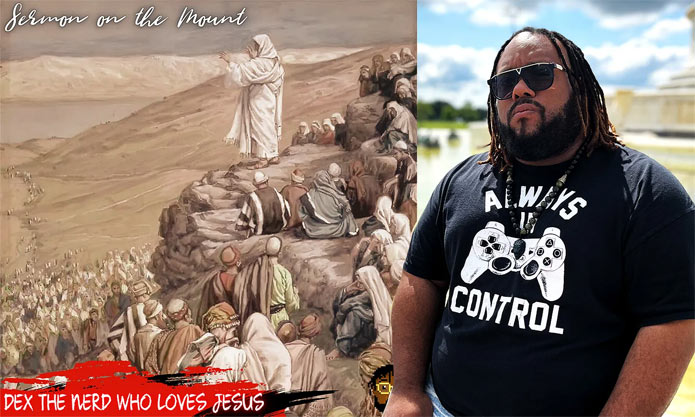 NEWS SOURCE: FIVETWENTY COLLECTIVE PR
August 11, 2023
Detroit, MI - "One day as he saw the crowds gathering, Jesus went up on the mountainside and sat down. His disciples gathered around him, and he began to teach them." [Matthew 5:1-2]
During his time on earth, Jesus had a unique way of drawing people to him. The people were eager to hear his words. As he traveled, the crowd that followed him continued to grow larger. The masses were ready for the message that He would share with them. Those same words are needed by society today. Here's the amazing thing, those who call themselves sons and daughters are able to spread that same Gospel and are called to do so.
"When Jesus had finished saying these things, the crowds were amazed at his teaching, for he taught with real authority - quite unlike their teachers of religious law."
Releasing on August 11, 2023, Dex the Nerd Who Loves Jesus shares the truth that Christ taught during the Sermon on the Mount.
From "The Beatitudes" to "The Golden Rule," the greatest sermon ever preached was able to simply and effectively speak into all areas of lives of those who have heard it. Dex takes this inspiration and rhymes confidently over production by Praise.
Utilizing scripture-driven samples, Dex paints the picture of being in the presence of Jesus on the mountainside. Sermon on the Mount is a straight-forward, focused record that fulfills it's intended purpose. To give hope and understanding to a world that is lost.
Support Dex: https://linktr.ee/dexthenerdwholovesjesus
Song Details
Title: Sermon on the Mount

Artist: Dex the Nerd Who Loves Jesus

Release Date: August 11, 2023

Label: Polished Arrow Music

Production: Praise
About Dex the Nerd Who Loves Jesus
For the Christian, this world isn't a luxury, it's a battlefield and war isn't easy. God is in the business of transforming lives. As a new creation in Christ, Dexter, transformed by the Holy Spirit, changed his rap name as well as his focus.
Dex began to see that it was less about the music and more about giving glory to God, reaching the lost, and edifying believers. Dex has 15 years of experience in music as a producer, rapper, and creative director. He has been the creator and director of several labels and his mission is to share the Gospel through music, and art.
###