RUSTY SHIPP RELEASE NEW MUSIC VIDEO FOR "LIVING WATERS"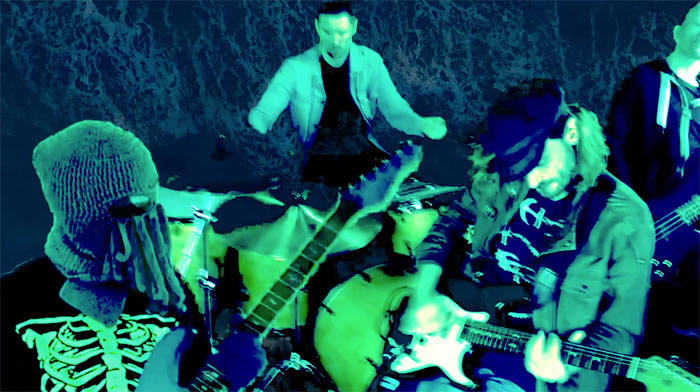 NEWS SOURCE: Rusty Shipp
August 22, 2023
The Rusty Shipp has docked once more to share the spoils of their voyage – this time with a new music video for "Living Waters" from the "Dark Side of the Ocean" album – ranked #5 Album of 2022 by the JFH Staff!
See the new music video HERE: https://youtu.be/8FN9VI-llqE
In true Nautical Rock 'n' Roll fashion – with footage looking like it was pulled from the bottom of the ocean, or maybe some old horror movie -- the band has clearly engaged "FULL-ON ROCK" mode. Hair (and tentacles) whirl about as the roaring ocean waves crash non-stop in the background, and the viewer's anchor of reality drifts toward the end of the video when it's hard to tell who's actually in the room and who's a hologram.
The band clearly had fun making the video, with several comical clips of band members flying through the air, or perhaps swirling about in the ocean – maybe in a whirlpool being sucked to the ocean depths? Russ T Shipp sings, AJ Newton drums, Doug Webster plays bass, and a new band member, listed on YouTube as "Klabautermann," is playing lead guitar… with a glowing skeleton chest and a face resembling the nautical, mythological figure Cthulhu.
Despite all the dark and seemingly ghastly colors, lighting, and imagery, the song is clearly intended to be an anthem of hope for world harmony, as Russ T sings in the chorus – with outstretched hands:
"Let the living waters flow and bring the world to life
Trickle down the darkest cracks that never get the light
Weaving in and out of every creature on the Earth
Pull us all into the harmony that we're created for."
See what the Shipp has up their sleeves by watching "Living Waters" HERE: https://youtu.be/8FN9VI-llqE
You can stream the song here: https://distrokid.com/hyperfollow/rustyshipp/living-waters-radio-edit
Buy the concept album "Dark Side of the Ocean" (digital/CD/vinyl) here: http://bit.ly.rs-webstore
And join the Crew at RustyShipp.com
###
For more info on Rusty Shipp, visit the JFH Indie Artists Database.