AOH Music to Release New Single, "Fall On Me," On Sept. 15th
"When you fall just a little, He's there He meets you in the middle"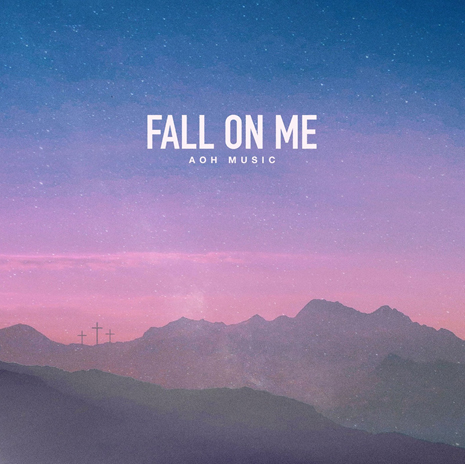 NEWS SOURCE: AOH Music
September 8, 2023
New York, NY. (Sept. 8, 2023) — AOH Music (vocalist Brianne Nealon, drummer Jimmy Meier, and guitarist/producer Jack Garno) reminds us that Jesus is always pursuing us, especially when we fall, with their new single "Fall On Me," releasing Friday, September 15th.
This song is about the transformation that occurs once we ask the Lord to come and fill our hearts with His Spirit. Every person's faith journey looks different, but there comes a point when the Lord asks for our full surrender, our full 'yes' and our full obedience.
"'Fall On Me' was written after a shifting encounter with the Lord…a realization of how powerful and tangible the Lord is when we allow Him to move in our lives", says Brianne. "The chorus of this song is a vulnerable, simple response in prayer to the lord, 'Fall on me, Fall on me, Jesus'. It was my upper room moment with Christ. As I sang these words, something in my spirit shifted. It was as if I crossed over a line that I never wanted to cross back over again. The Lord met me in a tangible way and my life hasn't been the same since. I pray this song brings peace and rest to your heart, and encourages you to enter your own upper room with the Lord".
This single is the third release following their EP, "Live at Ocean Way Nashville" which featured the songs "Abba Father", "Heal Our World" and "Light of the World". They earned immediate adds on hundreds of playlists, most notably Spotify's New Music Friday Christian and Amazon Music's Worship Now.

The band will set out on tour in the fall, playing faith-based concerts and events across the nation. In addition to AOH Music, Nealon, Meier and Garno lead worship nights and perform at faith-based concerts and retreats through the Array of Hope Ministry, where they met four years ago.

PRE-SAVE 'FALL ON ME' before 9/15
LISTEN TO 'FALL ON ME' after 9/15
Follow AOH Music on social media:
Instagram: instagram.com/aohmusic_
Facebook: https://www.facebook.com/aohmusic
TikTok: https://www.tiktok.com/@aohmusic_
Youtube: https://www.youtube.com/@aohmusic
Spotify: https://open.spotify.com/artist/1llt760POSmdKmBFiMaz3m?si=NzcyhZAsR7y06hQYOdMmVw
About AOH Music:
AOH Music is a three-piece band based in New Jersey, composed of vocalist Brianne Nealon, drummer Jimmy Meier, and guitarist/producer Jack Garno. AOH music has performed events on both coasts. The trio recently recorded a three-song EP at the iconic Ocean Way Nashville Studios which was released this past May and was received with great reviews and enthusiasm. They will be releasing their next EP titled, Relentless, in October.
###