Dex the Nerd Who Loves Jesus Takes an Honest View of the World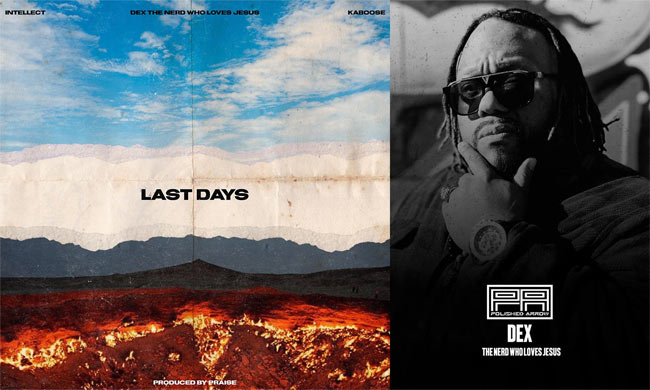 NEWS SOURCE: FiveTwenty PR
November 2, 2023
Detroit, MI - "Now the Spirit explicitly says that in later times some will depart from the faith, paying attention to deceitful spirits and the teachings of demons, through the hypocrisy of liars whose consciences are seared. They forbid marriage and demand abstinence from foods that God created to be received with gratitude by those who believe and know the truth." [1 Timothy 4:1-3]
Are we in the Last Days? The truth is that no man knows, not even the Son of Man. What we do have are signs that we are to be observant of that will warn us to stay prepared for the return of the Bridegroom. As tensions rise around the world, we remain on guard and hold close Christ's words…
…"I am with you always, to the end of the age."
On November 3, 2023, Dex the Nerd Who Loves Jesus drops a prophetic anthem via Polished Arrow Music.
PA labelmates iNTELLECT and Kaboose join Dex to slay the Praise-produced track. There is no easing in, Last Days hits you in the face from the start. The piano-driven melody is coupled with a thundering baseline that amplifies the energy of the emcee trio who showcase truth and expert lyricism.
If Last Days does not have you jacked for the return of Christ, then you might want to hop into Revelation for a refresher course.
Add Last Days to your workout, get up, and anthemic playlists!
Support Dex the Nerd Who Loves Jesus: Linktree | Listen to Last Days
Song Details
Title: Last Days

Artist: Dex the Nerd Who Loves Jesus

Release Date: November 3, 2023

Label: Polished Arrow Music

Production: Praise

Features: Kaboose, iNTELLECT
About Dex the Nerd Who Loves Jesus
For the Christian, this world isn't a luxury, it's a battlefield and war isn't easy. God is in the business of transforming lives. As a new creation in Christ, Dexter, transformed by the Holy Spirit, changed his rap name as well as his focus. Dex began to see that it was less about the music and more about giving glory to God, reaching the lost, and edifying believers. Dex has 15 years of experience in music as a producer, rapper, and creative director. He has been the creator and director of several labels and his mission is to share the Gospel through music, and art.
###