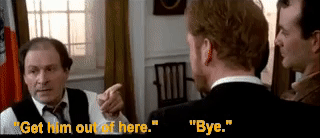 This Staff Member (For One Reason Or Another) Is No Longer On Staff At JFH
Yes, it's true. The person you're trying to get more info on, contact, or send an angry letter of complete disagreement in their opinion for some album they critiqued on JFH is no longer on staff, therefore has no staff page anymore.
There are several possible reasons as to
why
this person is not on staff. They either:
Finally acquired some kind of social life
Unearthed a spouse
Secured a job that actually pays
Firmly believe "Jesus Freak Hideout" really means Christians should "hide out"
...And so frequently abbreviates "Jesus Freak Hideout" incorrectly as "JFHO"
Think a dc Talk cruise is a brilliant idea
Didn't like the film Ghostbusters
...Or they like and accept the 2016 Ghostbusters reboot
Thought they were writing for the New York Times and then quit when they realized we're not
Got lost and are still wandering around their local Target
Can't seem to understand why every album does NOT deserve a 5-star rating
Can't find the humor in this particular page
Decided they no longer love us in the same way that you, yourself, or your mother might
Joined the Newsboys or Audio Adrenaline

...Or, like in Chewie's case, they died.

If you absolutely must contact this person that you are trying to reach but cannot, please send a "
General Inquiry
" (including the name of the person you are trying to reach) to us and hopefully we can forward your email to them (unless, like Chewie, they
died
). Otherwise, we're sorry, but we cannot help you (and you'll just have to live with that).
Thanks! ~
The JFH Staff
(The current ones)